What's New In Robotics This Week? 28.09.2018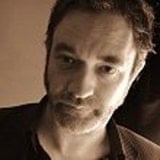 by
Emmet Cole
. Last updated on Sep 28, 2018 10:12 AM
Posted on Sep 28, 2018 7:16 AM. 6 min read time
-News from UR, Omron, ABB++
-HIT Robotic Group's 'quantum' partnership
-Cobot safety video
-Autonomous snowplows
-Robots on asteroids
-Five vids for Friday
-And much more!
Manufacturing & cobot roundup
One of China's leading robot manufacturers, HIT Robot Group, inked a "quantum-empowering" strategic partnership with quantum computing firm Origin Quantum Computing at the 20th China International Industry Fair in Shanghai. Via PR Newswire:
"HRG Robotics and Origin Quantum will work together to develop quantum computing models, software, algorithms, sensors, and blockchain technologies, supported by the two companies' technical capabilities in quantum computing hardware and software development."
The University at Buffalo released video from its online "Collaborative Robot Safety: Design & Deployment" course...


Meanwhile, Hyundai Heavy Industries announced plans to make industrial robots in China; in "Anatomy Of A Robot Revolution: Tracing The Origins Of Intuitive Surgical And iRobot" Forbes took a fascinating look at the history of the automation revolution; and IEEE Spectrum explored the "hunt for robot unicorns."
Georg von Wichert, head of Siemens' Robotics Research Group, Autonomous Systems and Controls spoke with journalists about the firm's use of advanced automation, including cobots...
Eltronic shared video of a cobot cell that uses a cobot from Universal Robots for tube and ring assembly and welding preparation tasks...
ABB introduced its IRB 1100 bot at the China International Industry Fair 2018. The IRB 1100 is ABB's smallest, lightest robot and is designed for small parts assembly. (H/T Automation.com)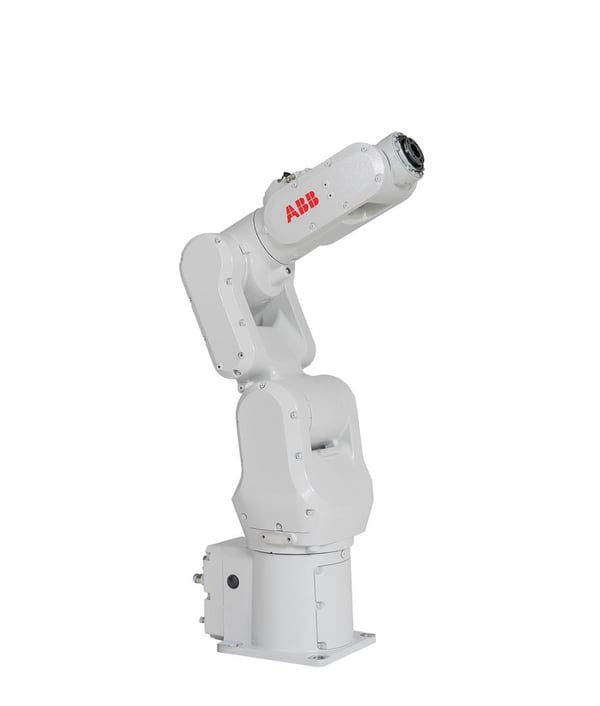 The IRB 1100 is available in two variants - (4 kg payload and 475 mm reach and 4 kg payload and 580 mm reach). Credit: ABB
Omron annunced plans to unveil a new cobot at PACK EXPO 2018.
Elsewhere...
Autonomous snowplows developed by Yeti Snow Technology are being prepped for trials at Oslo airport, Norway (one of the busiest airports in Scandinavia).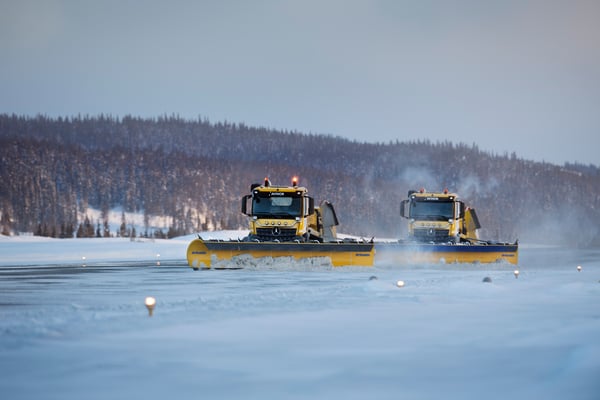 The autonomous vehicle system developed by Yeti Snow Technology. Credit: Semcon.
Via Semcon:
"[We] are really pleased that we are now able to launch this pilot scheme at Oslo Airport. Our aim is to complete 40 operations to ensure that the system is working as intended and see how we can develop it further. We are then hoping that more world airports will be interested in this technology," says John Emil Halden, project manager at Semcon.
The Caresses project brings experts from Europe and Japan together to develop a system that will enable robots to adapt the way they move, talk and gesture "depending on the individual it is interacting with."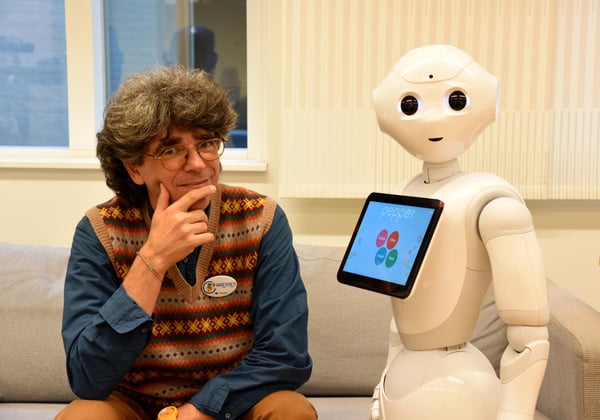 Alessandro Saffiotti is working on a system that can accommodate cultural differences. Credit: Örebro University.
Via Alphagalileo:
"The idea is that robots should be capable of adapting to human culture in a broad sense, defined by a person's belonging to a particular ethnic group. At the same time, robots must be able to adapt to an individual's personal preferences, so in that sense, it doesn't matter if you're Italian or Indian," says Saffiotti.
A survey of 1031 Americans aged 18 and over by Study.com about which tasks they would happily entrust to a robot has found that the highest rates of acceptance are for house cleaning (73%) and package delivery (73%), while the lowest rates were for providing legal defense (14%) and driving your kids to school(14%). (H/T DigitalTrends)
Miso Robotics' burger-flipping bot Flippy is back on the robot cooking scene, with news that the bot has been successfully helping to prepare fried chicken tenders and tater tots in Dodger Stadium, home of the Los Angeles Dodgers baseball team. (H/T Pasadena Now)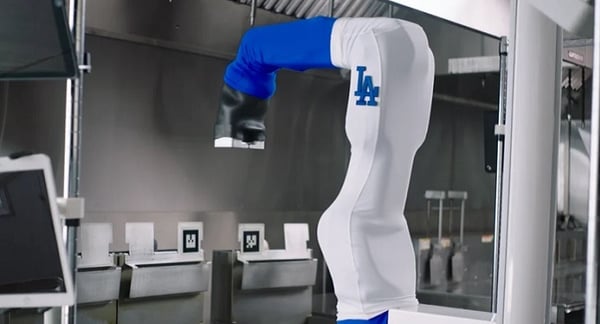 Flippy has helped prepare more than 10,000 lbs of chicken tenders and tater tots at a rate of up to 80 baskets of food per hour.
Credit: Miso Robotics
In other reading:
I'll be back next week with more of the latest cobot and robot news and videos. Until then...
Five vids for Friday
1. German-based artist Piet Schmidt is exploring the world of human-robot interaction with an eerie artwork involving a robot and ancient technology for making humans feel self-conscious --a mirror. (H/T DigitalTrends)
2. Engineers have developed a low-cost electronic skin that can be "uniformly coated on three-dimensional surfaces" and is able to detect and distinguish mechanical stimuli. (H/T PhysOrg)
3. Researchers at Cambridge University, UK have created a robotic lettuce leaf peeling system that's "capable of performing the peeling process – with full leaf removal – 50% of the time, with the process taking an average of 27 seconds to complete." (H/T Cambridge University)
4. A team led by researchers at City University of Hong Kong has created a 0.15mm thick millibot with soft caterpillar-like legs that can adapt to adverse environments. The bot's multi-legged design also reduces friction, enabling it to move in fluid. (H/T The Engineer)

5. Japan's space agency JAXA has successfully landed two robot probes on the surface of an asteroid. (I use the word 'landing' in the broadest sense, as these probes are actually designed to bounce across the asteroid's surface. )