What's New In Robotics This Week - 24.08.2018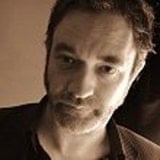 by
Emmet Cole
. Last updated on Aug 24, 2018 8:02 AM
Posted on Aug 24, 2018 7:00 AM. 9 min read time
-Manufacturing & Cobot Roundup
-Meet 'Fusion'
-"Cranky" bots improve human performance
-Marine bots, space bots
-'Officer Promobot' reporting for duty?
-And much more!
Manufacturing & cobot roundup
Engineers at Keio University in Japan have created a robot that defies easy categorization: it's a telepresence robot, a remotely-operated exoskeleton w/ prostheses, and a cobot that enables multiple humans to collaborate.

Dubbed Fusion, the dual-arm system can be used to remotely demonstrate how a task should be performed or (via some straps) it can be used to physically move the wearer's limbs in real-time. We may not see this bot in manufacturing facilities in the immediate future, but could such a system one day enable remote cobot training and programming? (H/T IEEE Spectrum.)

It certainly looks cool...
Purple Robotics recently signed U.S. distribution deals with Olympus Controls and Thinkbot Solutions and has plans to add about six more, according to reports. In May 2018, Purple Robotics officially launched the PR10, "the world's first dual electric vacuum gripper."


Moon Jeon-il, president of the state-run Korea Institute for Robot Industry Advancement (KIRIA) has hinted that Korea should lessen its dependency on "foreign countries" for robot parts and software. In an interview with Business Korea, Moon also noted that "the robotics industry in Korea has been making rapid progress thanks to active support from the government and continuous efforts by the industry and academia" and that "the technology level of the Korean collaborative robot sector has risen faster than those of other sectors."


Yaskawa Motoman and the Robotics & Advanced Manufacturing Technology Education Collaborative (RAMTEC) have announced a new educational partnership in Ohio, USA. The partnership will "expand RAMTEC's curriculum to provide advanced robotic training and certifications that will be available to students in Central Ohio and around the state." Fox28 Colombus was there...
Meanwhile, China is emerging as a "battleground" for the "crucial arm gear market," according to Nikkei Asian Review:
As global demand for industrial robots swells, three companies find themselves in a pitched battle for supremacy in the market for a quality-defining component of robot arms.

The producers of small precision reduction gears used in robot arm hinges occupy a subsegment once dominated by Japan's Harmonic Drive Systems. But China's Leaderdrive is catching up fast. Further turning up the heat is Japan's Nidec, the industrial motor giant that recently began making these gears.
Miguel Ibarra, a senior in mechanical engineering at San Jose State and an intern at Walters & Wolf Glass used a UR10 cobot from Universal Robots fitted with a gripper from Robotiq to fabricate bayonets and then feed them to another location. Ibarra spoke about the project this week...
It is often said that you should never see how sausages or legislation are made, lest all your fanciful and naive illusions about the world fall away. However, I think we can make an exception for this specialist sausage packing robot, which can handle up to 800 sausages of the Frankfurt/hotdog type and up to 1,000 cocktail sausages per minute...


Researchers at the University of Minnesota are working on a system (arxiv PDF) that could enable humans and cobots to collaborate underwater using hand-gesture recognition...
In other reading:
Elsewhere...
If you've been reading "What's New In Robotics" for a while, you'll know that there is a market of at least one for cranky robots. I appreciate cuddly, polite, service-oriented bots as much as the next person, but there's something to be said for bots that are not always so obliging. Could it be that there is a time and place for domestic robots to serve, but also a time and place for domestic robots to keep you on your toes?
So, I was delighted to read this week that researchers have found that "'Bad' humanoid robots just paying attention to human performance may energize attentional control—as does human presence." That's a fancy way of saying that humans up their game when overseen by a cranky robot...
The World Robotics Conference 2018, held in Beijing, ended August 19th and the roundups have arrived:
"China's specialized robots are ready to counter potential nuclear leaks, military threats" (Global Times)
"Our Favorite Robots From China's 2018 World Robot Conference" (Interesting Engineering)
"China shows off automated doctors, teachers and combat stars" (PhysOrg)

ASV Global and TerraSond announced the successful completion of a hydrographic survey for charting off the coast of Alaska. The survey was carried out by an ASV Global C-Worker 5 unmanned vessel alongside a survey ship acting as the mother vessel. Fitted with a multibeam echosounder, the C-Worker 5 carried out 53% of the 10,649km survey.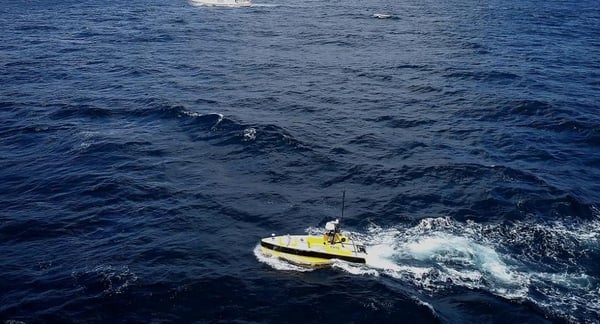 Pic: The ASV C-Worker 5 charting the sea floor along a remote stretch of the Aleutian Islands coastline. Credit: ASV Global

NASA's former Chief Scientist, Ellen Stofan, told a US Senate subcommittee that the search for ancient life (probably in the form of fossil microbes) on Mars is so complex that NASA should support sending humans to Mars alongside robots in order to effectively complete the work. (H/T Space.Com.)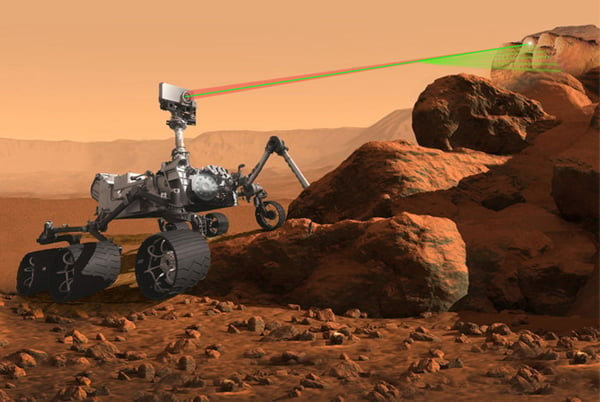 Pic: NASA's Mars 2020 rover is designed to be able to identify potential traces of ancient life on Mars. Credit: NASA
It's been a while since Promobot (The Bot That Escaped) featured in the news, but reports emerged this week that the Russian robot may be about to make its debut offering policing services in Kazakhstan, Uzbekistan, and China.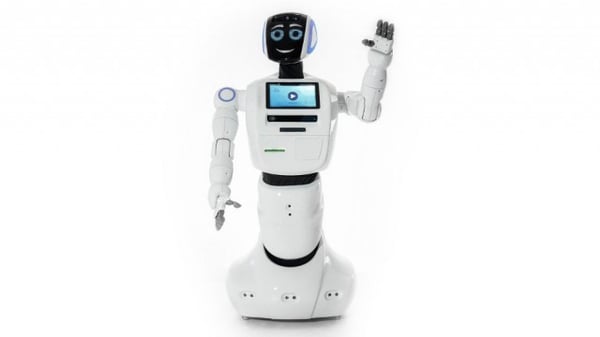 Pic: "Officer Promobot reporting for duty"? Credit: Promobot.
Via Azer News:
"The robot will patrol an area 24 hours a day, conduct video shooting, recognize faces, by integrating with the police database of record-keeping of criminals. It will also reveal such key words as "terrorism", "bomb" and others, and send alerts to the service. There is also a function of reading of fingerprints to ensure that in case of detection of a suspicious person his identity could be verified on the spot", [Development Director Oleg Kivokurtsev] added.
I'll be back next week with more robotics news. Until then...
Five vids for Friday
1. Mouser and Grant Imahara toured Cyberdyne in Tokyo, Japan to see how the firm is using technology "to return personal mobility – and hope–" to patients.
2. Researchers from M. Ani Hsieh's robotics lab at the University of Pennsylvania are investigating ways to use ocean currents as a natural, renewable source of energy for marine robots. If successful, their research could enable widespread marine exploration at a relatively low cost.

3. With a US$600 budget and two motors to work with, engineering students from the University of California, Davis created a machine that can tie shoelaces. (H/T Mashable.)
4. A Yale study has found "significant improvements" in the social skills of children with Autism Spectrum Disorder after just a month of working with a social robot. The bot models positive social skills and engages children and caregivers in storytelling and other socializing activities.

5. A UK study has found that robots can exert a kind of peer pressure over behavior of children 7-9 years old: "when children took a test alongside several robots, participants would give the same answers as the robots even when the robots were obviously wrong."