What's New In Robotics This Week? 02.11.2018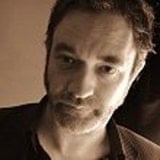 by
Emmet Cole
. Last updated on Nov 02, 2018 2:00 PM
Posted on Nov 02, 2018 9:08 AM. 9 min read time
-ABB's US$150m cobotics facility
-News from Hahn Automation, NACHI, Syncron, Mujin++
-Algorithm outperforms lawyers
-Space bots: rovers and landers
-Five Vids for Friday
-And much more!


Manufacturing & cobot roundup
Industrial robot giant ABB has announced a US$150 million investment for construction of "the world's most advanced robotics factory" in Shanghai, China. The facility will see humans and robots collaborate on the development of advanced manufacturing technologies.
Via ABB:
Milestone investment will combine connected digital technologies, state-of-the-art collaborative robotics and cutting-edge artificial intelligence research to create the most sophisticated, automated and flexible Factory of the Future.
The new facility is expected to be in operation by the end of 2020.
German multinational MANN+HUMMEL needed to increase productivity in auto parts manufacturing without adding more operators to the production line. The solution? Cobots from Universal Robots...


Hahn Automation Group, (the German company that recently purchased cobot maker Rethink Robotics' patents, trademarks, and software), has announced plans to open its first U.S. manufacturing facility in Windsor, Connecticut. (H/T Plastics News)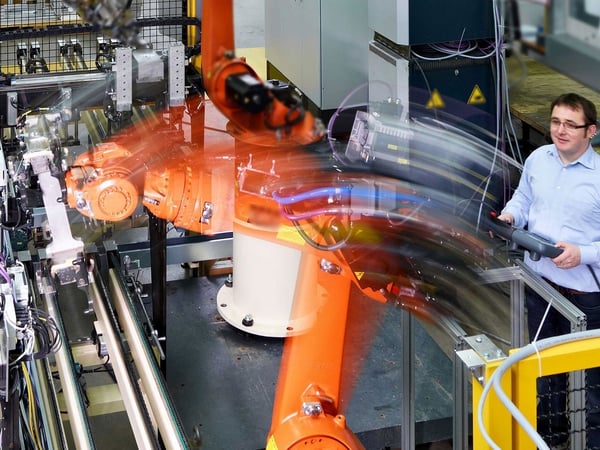 The 12,000-square-foot facility is expected to start operations by late December. Credit: Hahn Automation Group

New research from Syncron has found that within the next 12 months 99% of manufacturers plan to invest in predictive analytics, 96% plan to invest in machine learning and 95% plan to invest in AI.

Valiant TMS released video showing one of ABB's YuMi cobots enabling hands-free collaborative assembly...


In a piece for SciTechEuropa, Dr Khasha Ghaffarzadeh, the Research Director at IDTechEx shared some insights into the "new wave" of bots that are updating traditional robotics:
These new robots will be mobile, collaborative and/or more intelligent. They are exiting factories to diffuse into more aspects of life. This is a transformational change. Indeed, as our leading report suggests, new robots will grow to make up 40 and 50% of the overall robotic market in 2026 and 2030. This is from a low base today and in spite the fact that the entire robotic market itself will likely grow 3.2-fold in a decade.
A start-up spun out of Tokyo University called Mujin has developed prototype robot controllers that could potentially bring full automation to warehouses and fulfillment centers. JD.com has been testing and operating Mujin's prototype system in what it describes as "the world's first fully automated e-commerce warehouse" in China since June.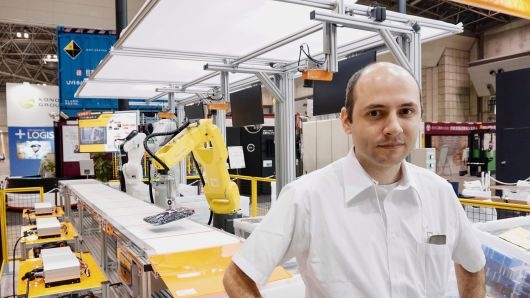 Mujin's co-founder and CTO, Rosen Diankov. Credit: Mujin
Via CNBC:
The key product here is the controllers — each about the size of a briefcase, one for motion planning and one for vision — that act as an operating system that can control the hardware from any robot manufacturer. If a goal such as grasping an object is input, the controllers automatically can generate motions for robots, eliminating the traditional need to "teach" robots manually. The result, according to the company, is higher productivity for users.
And NACHI released video of one of its new CZ10 cobot in action...
In other reading:
Elsewhere...
In a busy week for space bots, NASA announced that it will keep trying to make contact with long-serving Mars rover Opportunity, despite originally planning to cease the attempt this month. The rover went silent June 10, when it was blanketed by debris from a fierce Martian dust storm. (H/T PhysOrg)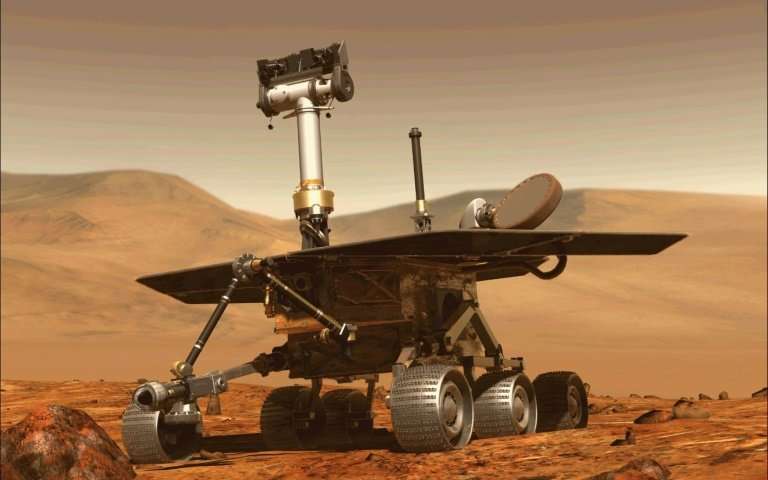 NASA's engineers are hoping that strong winds will blow dust from the rover's solar panels, enabling them to reestablish communication. Credit: NASA
Meanwhile, NASA JPL's InSight lander has been gathering significant news coverage in anticipation of its planned arrival on Mars, November 26. While some bots (like Opportunity, above) are built to wander, others are made to land and carry out their research from a fixed location. InSight's science mission is built for what JPL describes as "sedentary science":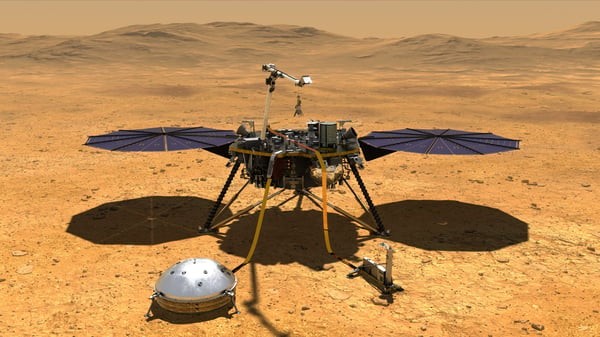 Artist's impression of InSight on the Martian surface. Credit: NASA JPL
After touching down in November, NASA's InSight spacecraft will spread its solar panels, unfold a robotic arm ... and stay put. [...] This sedentary science allows InSight to detect geophysical signals deep below the Martian surface, including marsquakes and heat. Scientists will also be able to track radio signals from the stationary spacecraft, which vary based on the wobble in Mars' rotation. Understanding this wobble could help solve the mystery of whether the planet's core is solid.
Power tool company Bosch and space logistics firm Astrobotic Technology Inc. are preparing to test experimental sensor technology that can assess how effectively mechanical systems on the International Space Station are running by listening to and analyzing audio data. The experiment could begin as soon as May 2019. (H/T ZDNet)
Back on terra firma, lawyers expressed understandably varied reactions to a landmark study that pitted 20 experienced US-trained lawyers against the LawGeex Artificial Intelligence algorithm. The task? Spotting risks in everyday non-disclosure agreements.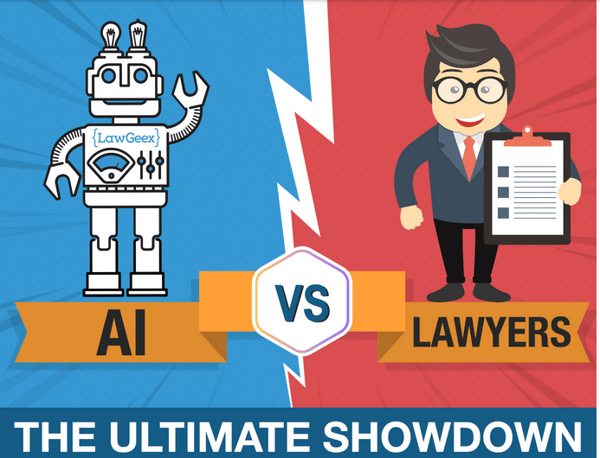 Credit LawGeex

The AI achieved an accuracy level of 94%, compared to an average accuracy level of 85% across 20 human lawyers. While human lawyers took an average of 92 minutes to complete the tasks, the algorithm was leaning back with its feet up in just 23 seconds.
Finally, the world's first robot delivery service launched this week in the UK, using Starship Technologies' autonomous mobile bot system. (The Telegraph has more.)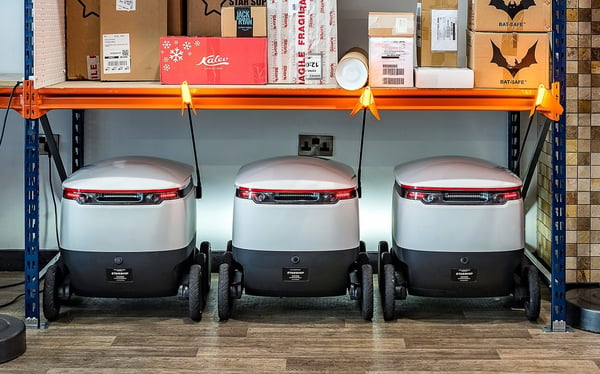 Delivery bots preparing for Milton Keynes. Credit: Starship technologies
Come visit next week for more of the latest robotics and AI news on this planet (and sometimes beyond)!
Until then...
Five vids for Friday
1. Researchers from NVIDIA unveiled a deep learning-based system that allows a robot to perceive household objects. The underlying algorithm --which was trained using only synthetic data-- enables a robot to perform simple pick-and-place operations on known household objects.


2. Aethon's TUG hospital bots really got into the Halloween spirit this week. Typically used for delivering medicine and other mission critical supplies around medical facilities, on this occasion the bots came with candy instead. Good Morning America was there.



3. Oh Jun-Ho, a professor at Korea Advanced Institute of Science and Technology, creator of humanoid bot HUBO, and founder of Rainbow Robotics, is on a mission to design robots in ways that make humans healthier and happier. Oh is working with cobots which are "cheaper, easier to use, and built to work alongside humans." (H/T QZ)
4. U.S.-based engineers have created a modular robotic system which can reconfigure itself to overcome obstacles and achieve tasks. (H/T IEEE Spectrum)
5. DARPA, the U.S. Army and Sikorsky, released video from recent testing of DARPA's Aircrew Labor In-Cockpit Automation System (ALIAS) on an S-76B helicopter. Conducted at at Fort Eustis, Virginia, in October, the tests included low-level terrain flight, confined area takeoffs and landings, landing zone selection, trajectory planning, and wire-obstacle avoidance. (H/T DefenseOne)