What's New In Robotics? 27.09.2019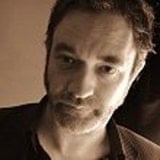 by
Emmet Cole
. Last updated on Sep 27, 2019 12:01 PM
Posted on Sep 27, 2019 7:01 AM. 10 min read time
Good morning. In this week's news mix: Doosan launches cobots in China, INESC-TEC unveils prototype mobile cobot system for hospitals, and CABKA deploys mobile cobots. We also greet Spot's release, stand in awe at Atlas' floor gymnastics antics, check the pulse of a busy medical robotics sector, and much more!
Cobots & manufacturing
The UR16e launch dominated last week's news cycle, but it wasn't the only important cobot news story to emerge from the China International Industry Fair (CIIF).
As Robotics & Automation News reported Monday, cobot maker Doosan officially launched its cobot range --which offers a reach of 900 - 1700mm (35.4 - 66.9 inches) and a payload of 6 - 15 kg (13.2 - 33.1 lbs)-- in the Chinese market, following successful product launches in Europe and North America earlier this year: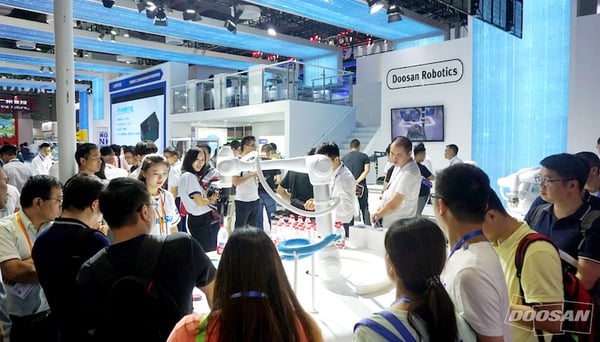 One of Doosan's cobots impressing visitors to the CIIF. Credit: Doosan
Byungseo Lee, CEO of Doosan Robotics, says: "We are honored to bring our cobots to China, a strategic ground to many global technology leaders and a hub for Asia's six-trillion-dollar manufacturing industry.
"Doosan cobots address the need for safe and sophisticated robot colleagues in diverse fields of automation businesses in China – they will maximize productivity and empower humans in various workplaces."
Portugal's INESC-TEC unveiled video of a prototype mobile cobot system this week that's designed to help humans move trolleys through medical facilities...

New research has found that humans working with robots value reliability (absence of error) more than transparency (the bot's ability to "communicate its intent, reasoning and future plans to humans").
Jointly conducted by the United States' Army Research Laboratory and the University of Central Florida's Institute for Simulations and Training, the research suggests that humans can --understandably-- be quite unforgiving when it comes to robot errors. This effect occurs, researchers discovered, regardless of whether the bot explains itself afterward or not. (H/T TechXplore)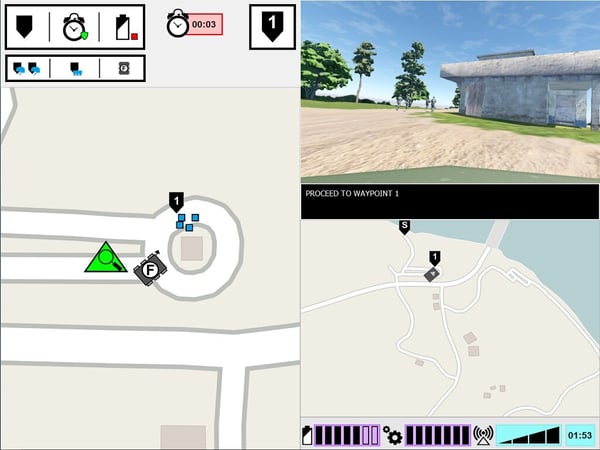 The researchers used simulations to gauge the impact of robot reliability
on trust between humans and robots. Credit: US Army
A notable week for the the Army Research Lab also saw The Economist report on the latest version of 'RoMan' --a mobile cobot manipulator fitted with a three-finger adaptive gripper from Robotiq.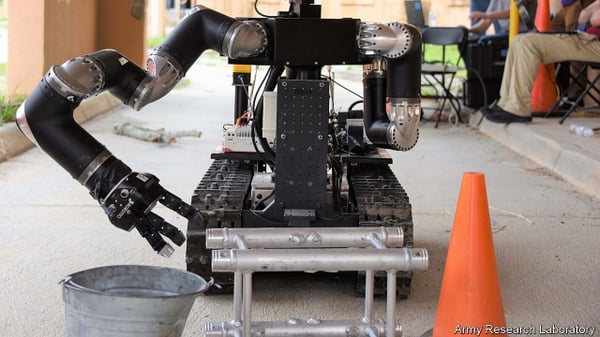 Credit: Army Research Lab
Via The Economist:
After a pause for thought, it reaches out an arm, takes hold of a branch, lifts it up and drags it clear. Though this is a trivial action for a human being, it is a breakthrough for robots, according to Stuart Young of the Army Research Laboratory (ARL), in Adelphi, Maryland, who is in charge of the RoMan project. And it has implications for the future of robotics.
St. Louis, Missouri-based CABKA manufactures around 5,000 pallets each day and has deployed a MiR500 mobile cobot as part of a new, fully automated production line to "minimize dependency on temporary workers while improving product quality, worker safety and plant cleanliness and efficiency," Automation World reported: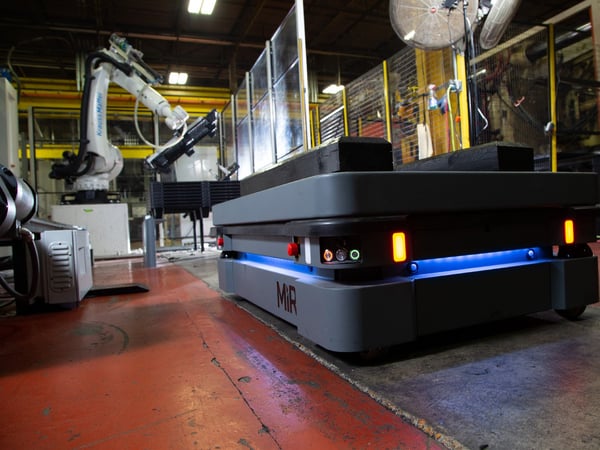 A MiR500 mobile cobot approaches an injection molding machine. Credit: MiR
CABKA estimates that the first MiR500 robot travels about three miles each day supporting one production line. With 11 lines planned for autonomous material transport with multiple MiR robots, workers and fork truck drivers will be relieved from many miles of manual material handling, allowing CABKA to redeploy those workers to higher value tasks.

Elsewhere...
Boston Dynamics' Spot quadruped was officially released this week, but with the proviso that with just 20 available and use-cases for the multi-talented bot yet to be developed, companies will have to apply for test access and discover their own applications. (H/T The Verge)
Wired commented:
[...] your expectations for what Spot can do are probably wrong. What you don't see in the videos of Spot opening doors and fighting off humans are the outtakes, the many times that the robot fails. These machines actually rely heavily on humans to be useful. So when leasing Spot, [Boston Dynamics] has to sit down with a customer and make it plain that this ain't YouTube anymore: Spot has a particular set of skills and shortcomings that human workers need to accommodate.
New Zealand's first robotic feed pusher debuted on a South Island dairy farm recently and owners have already reported an increase of around one litre per cow per day in milk production along with significant labour cost reductions.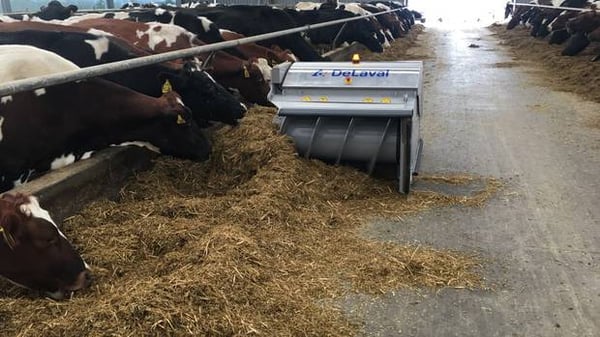 Credit: DeLaval
The New Zealand Herald reports:
DeLaval's OptiDuo remixes and repositions supplementary feed in barns and on feed pads to ensure cows have constant access to refreshed feed. [...] The farm had previously been using a tractor-mounted tyre to push feed to the winter milking herd, which required a trip to the barn every night after 9pm. The OptiDuo robot works 24/7 and features a twin-spiralled rotating auger that lifts, mixes, and aerates the feed while repositioning feed closer to the fence.
Finally, a hectic week of medical robotics news saw AVRA Medical Robotics Inc. submit its fully autonomous medical robotic system to the U.S. Food and Drug Administration for approval (H/T The Robot Report) and a new report on how ROSA the surgical robot helps surgeons perform knee-surgeries in New York (H/T CBS New York).
But the big news came on Tuesday as Medtronic gave investors a first peek at its Hugo RAS, a new robotic system for soft tissue surgery.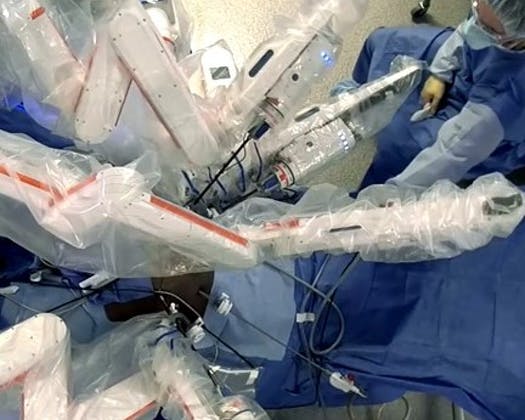 Credit: Medtronic
Via FierceBiotech:
At the investor presentation at a cadaver laboratory in Hartford, Connecticut, Medtronic said it's expecting an initial global launch and the start of clinical data gathering by the end of March 2020, in the second half of the company's fiscal year. The company is also planning to file for a CE mark before making FDA submissions, with the goal of securing a 510(k) clearance within two years.
Come back next week for more of the latest robotics news! Until then, please enjoy...
Five vids for Friday
1. The undoubted star of this week's robotics news is Boston Dynamics' Atlas --a humanoid bot with a new-found flair for floor gymnastics. In stunning new video, Atlas uses its whole body to show off its skills. (H/T USA Today)

2. Want to get your hands on a giant battle bot/robotic exoskeleton? Eagle Prime ("the current world champion Battle Mech", says MegaBots) has been put up for auction starting at USD1 and with no reserve. (H/T TechCrunch)
3. We've seen construction robots perform some amazing feats such as printing a house in 14 hours, but engineers at the University of Michigan have flown things to a whole new level with the creation of a system that uses drones fitted with nail guns to tack roof shingles into place!

4. NASA released new video of its incredible flying, tumbling, cave-exploring, floating, swimming 'Shapeshifter' robot this week. Truly a "morphing robot to explore all terrains," the Shapeshifter is one of NASA's Innovative Advanced Concept (NIAC) projects.

5. In brand new video from Carnegie Mellon University, Bin He, professor of biomedical engineering, discusses his research into the use of brain-computer interfaces to control digital devices from cobots and robots through to consumer electronics.