What's New In Robotics? 24.05.2019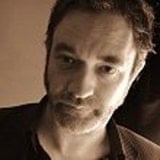 by
Emmet Cole
. Last updated on May 24, 2019 11:30 AM
Posted on May 24, 2019 7:06 AM. 6 min read time
Good morning. In this week's news mix: MIT unveils muscle-reading cobot, UR and Sepro sign agreement and Omron talks self-building cars. We also watch Agility Robotics' humanoid delivery bot in action, meet Stanford's Doggo, marvel at a flying, crawling, squeezing robot and much more!
Cobots & manufacturing
Researchers at MIT's Computer Science and Artificial Intelligence Laboratory have unveiled a system that helps humans lift objects by monitoring muscle movements.
MIT News reports:
Dubbed RoboRaise, the system involves putting electromyography (EMG) sensors on a user's biceps and triceps to monitor muscle activity. Its algorithms then continuously detect changes to the person's arm level, as well as discrete up-and-down hand gestures the user might make for finer motor control.
Cobot maker Universal Robots has signed a partnership agreement with plastics industry automation specialists Sepro Group that will integrate Sepro's Visual Control System with Universal Robots' cobots.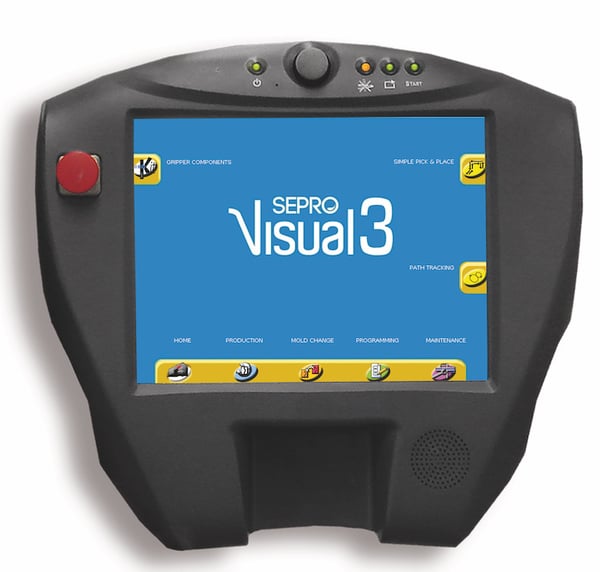 Credit: Sepro
Robotics & Automation News reports:
The Visual Control Platform was developed by Sepro especially for robots used in plastics injection-molding machines. Under the terms of the agreement, Sepro will provide global services for solutions from Sepro and UR. [Sepro's] extensive network allows Sepro to deliver local support and the same quality of service for cobots as it does on Cartesian and six-axis robots.
In video released this week, Bruno Adam, Omron's mobile robot business director in Europe, spoke about the company, which recently agreed a partnership with cobot maker TechMan Robot. Adam envisions a world in which cars can build themselves...
Cobots should not be thought of as traditional robots, Universal Robots' Sales Development Manager Ben Courtright told Hawaii's KITV4 this week:
"It's a tool in the workers tool belt that can be a screwdriver, it can be a drill, it can be an augmented arm to take away carpal tunnel risk injuries. So it's really designed to make workers more efficient and effective throughout the day."
In other cobot and manufacturing news:
Elsewhere...
RE2 Robotics has received USD3 million to develop an underwater robotic hand with tactile feedback for the U.S. Navy.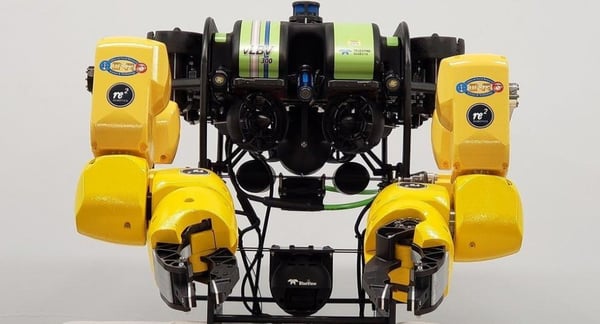 Credit: RE2 Robotics
Via AUVSI:
Known as Strong Tactile mARitime hand for Feeling, Inspecting, Sensing and Handing (STARFISH), the program will create an "advanced end-effector for mine countermeasures (MCM) and explosive ordnance disposal (EOD) missions" for U.S. Naval expeditionary forces [...] STARFISH will give operators the ability to locate, identify and neutralize hidden and visible explosive threats on land and underwater.
NVIDIA has unveiled a system for robot simulations that could enable millions of complete simulations to take place without human intervention.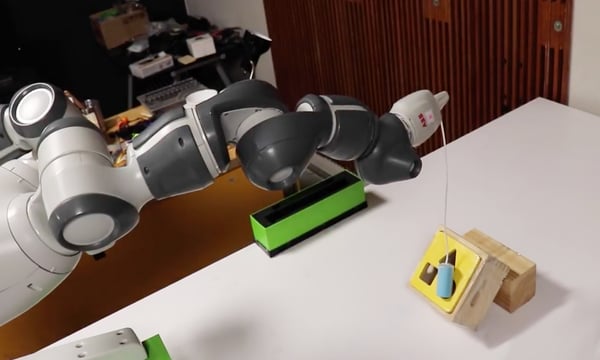 Credit: NVIDIA
Via IEEE Spectrum:
In their experiments, the NVIDIA researchers used a cluster of 64 NVIDIA Tesla V100 GPUs, with the cuDNN-accelerated TensorFlow deep-learning framework, to train a robot to perform two tasks: placing a peg in a hole and opening a drawer. For the simulation, the team used the NVIDIA FleX physics engine.
Researchers from Ben-Gurion University of the Negev in Israel revealed an amazing experimental drone this week that can fly, drive and squeeze into tight spaces.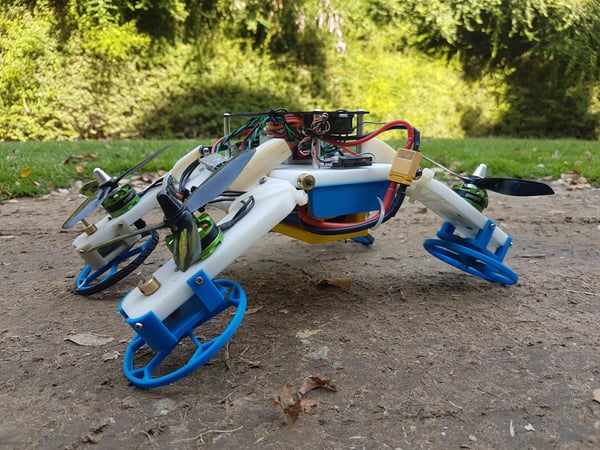 EurekAlert! reports:
STAR can fly over obstacles or run underneath them. The sprawl, which adjusts from a flat configuration to 55 degrees allows the robot to transform its movement from a flying quadcopter to a car-like robot. It also adjusts its width to crawl or run on flat surfaces, climb over large obstacles and up closely-spaced walls, or squeeze through a tunnel, pipe or narrow gaps.
Meanwhile, in other headlines:
Come back next week for more of the latest robotics news! Until then, please enjoy...
Five vids for Friday
1. Berkeley released video this week showcasing the latest upgrades to the galago-inspired Salto robot, including the ability to jump in place and make its way through obstacle courses. (H/T Berkeley News)
2. The Istituto Italiano di Tecnologia's Dynamic Legged Systems lab released stunning video this week of its new quadruped robot HyQReal pulling a small, 3300kg (7275.25 lb) passenger airplane.
3. Ford Motor Company and Agility Robotics have been developing a humanoid system for package delivery. Video released this week shows the bipedal Digit in action. (H/T The Verge)
4. Students at Stanford University unveiled a new bot called Doggo this week. Built from scratch using off-the-shelf components, Doggo cost around USD2,600 to build, but best of all, the team have made their design available on GitHub under an MIT license. (H/T PC Mag)
5. Peter Fankhauser, co-founder of ANYbotics, spoke with Pytagus TV this week about the amazing quadruped bot ANYmal.