What's New In Robotics? 21.02.2020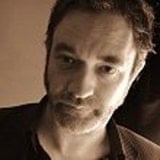 by
Emmet Cole
. Last updated on Feb 21, 2020 8:00 AM
Posted on Feb 21, 2020 7:00 AM. 8 min read time
Good morning. In this week's news mix: Sharework showcases cobot research, cobots a trend to watch in 2020 (IFR) and Tung Pei Industrial embraces TM cobots. We also meet a snake-inspired rescue bot, marvel at a stem-cell delivering microrobot and much more!
Cobots & manufacturing
The European Union-funded Sharework project is tasked with creating human-robot collaborative solutions for future manufacturing. On Tuesday, the Sharework team released video showcasing the CEMBRE sub-project, which aims to develop a logistics station that enables cobots and humans to work together on inspection and loading/unloading tasks...

Human-robot collaboration is one of the top robotics trends to watch out for in 2020, according to the latest from the International Federation of Robotics (IFR).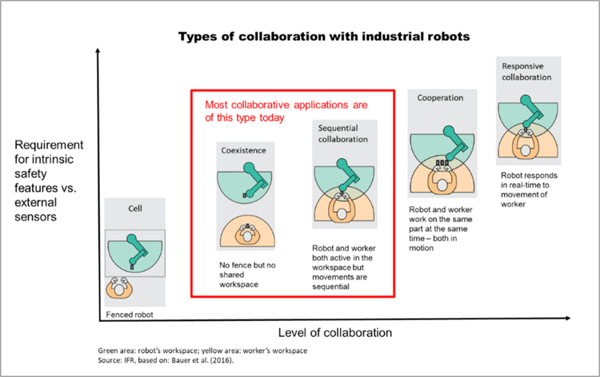 DIfferent levels of human-robot collaboration require different levels of safety. Credit: IFR
Via IFR:
The range of collaborative applications offered by robot manufacturers continues to expand [...] With the technology of today, human-robot collaboration has already a huge potential for companies of all sizes and sectors. Collaborative operations will complement investments in traditional industrial robots.

Taiwan-based bearing manufacturer, Tung Pei Industrial has been using a TM cobot to spare their workers from repetitive lifting tasks and to help pack finished bearings. New video shows the cobots in action...

OMRON released snazzy new video of its autonomous mobile manipulator solution in action this week. The system, which is designed to support flexible manufacturing, combines a self-navigating LD mobile robot base with OMRON's collaborative robot arm and Robotiq grippers....
Elsewhere...
The kingsnake is expert at moving its body over cluttered terrain, making it an excellent candidate for bio-inspired disaster robot designs. Upon studying the snake's movements in detail, researchers at John Hopkins University discovered that kingsnakes tackle obstacles like steps by partitioning their bodies into three sections: front and rear sections that "wriggle back and forth [...] like a wave" and a middle section that remains stiff, "hovering just so, to bridge the height of the step."
Building on that discovery, mechanical engineers have built a robot that mimics the variable kingsnake's versatile locomotion capabilities. (Paper.)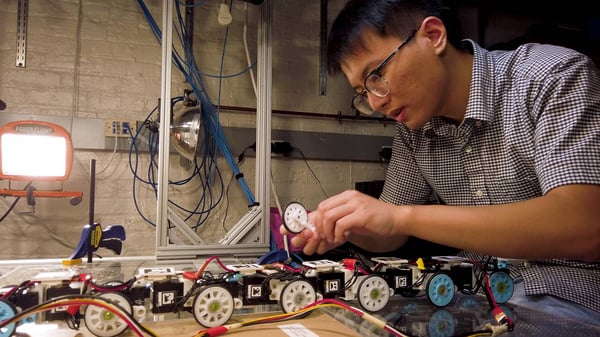 Credit: Will Kirk / Johns Hopkins University
Via John Hopkins:
Compared to snake robots from other studies, [assistant professor Chen] Li's snake robot was speedier and more stable than all but one, and even came close to mimicking the actual snake's speed. One downside of the added body suspension system, however, was that the robot required more electricity.
Knee cartilage can be regenerated using stem cells but traditional surgical injection methods are accurate just 20 per cent of the time. To address this issue, Korean researchers have developed a microrobot that can carry stem cells to the desired location with a delivery efficiency of up to 95 per cent. Last Sunday, the team announced that they have successfully used the system on a rabbit.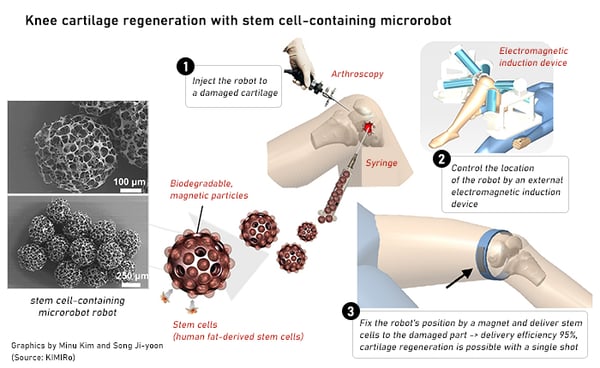 Credit: Korea Institute of Medical Microrobotics (KIMIRo)
Pulse News reports:
The researchers are planning to conduct additional animal tests in pigs and monkeys with an aim of launching a clinical trial within three years.
Danish firm UVD Robots has signed a contract with Sunay Healthcare Supply to provide several of its virus-busting disinfection robots to Chinese hospitals in an effort to COVID-19. The robots use concentrated UC-V light to destroy bacteria and viruses.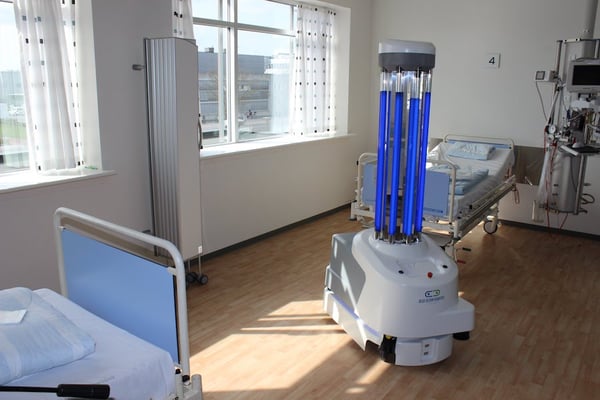 UVD's robots clean bacteria and viruses autonomously so humans don't have to. Credit: UVD Robots
Via BusinessWire:
Through Sunay Healthcare Supply's partners in China, the robots will be deployed in all Chinese provinces. "With this agreement, more than 2,000 hospitals will now have the opportunity to ensure effective disinfection, protecting both their patients and staff," says Su Yan, CEO of Sunay Healthcare Supply, a medical equipment supplier to the Chinese market.
Come back next week for more of the latest robotics news! Until then, please enjoy...
Five vids for Friday
1. On Monday, Festo Robotics unveiled Robotino 4, the fourth generation of its mobile platform for AGV and AMR training. Designed to prepare end-users for Industry 4.0 applications, Robertino 4 comes with extensive training documentation.
2. "Combining AI and robotics with traditional forms of creativity can help us think a little bit more deeply about what is human and what is machine," says Sougwen Chung in an enthralling TED talk released this week.

3. A pair of cobots at Boston University are learning how to cook and serve hot dogs autonomously, using temporal logic and reinforcement learning (training techniques that grade and 'reward' robots based on how well they perform each element of a task). Only one question remains: Where's the mustard?! (H/T Futurism)

4. The President of the European Commission, Ursula Von der Leyen, visited a Belgian research centre on Tuesday and met a few robots along the way. (H/T euronews)

5. Engineers from the University of Leeds in the UK built a robot that successfully navigated a narrow shaft within the Great Pyramid - in an attempt to solve one of the big mysteries in Egyptian archaeology. The project was the focus of a documentary released this week, so pull up a chair and enjoy this meeting of ancient architecture and innovative robot technology. (H/T Uni of Leeds)