What's New In Robotics? 14.06.2019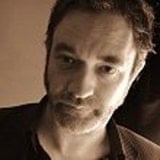 by
Emmet Cole
. Last updated on Jun 14, 2019 7:16 AM
Posted on Jun 14, 2019 7:01 AM. 7 min read time
Good morning. In this week's news mix: MIT algorithm predicts human movement, a prototype medical cobot is unveiled, and Ford's use of cobots "growing exponentially." We also meet a crab-inspired trash-collecting seabot, encounter totally the least ironic robot in all the world and much more!
Cobots & manufacturing
The use of cobots in medical applications continues to spread, making this a legitimate cobot trend for 2019. This week, researchers at Australia's Swinburne University of Technology unveiled a fully-working prototype cobot system that can provide laser therapy treatments for chronic pain caused by soft tissue injuries.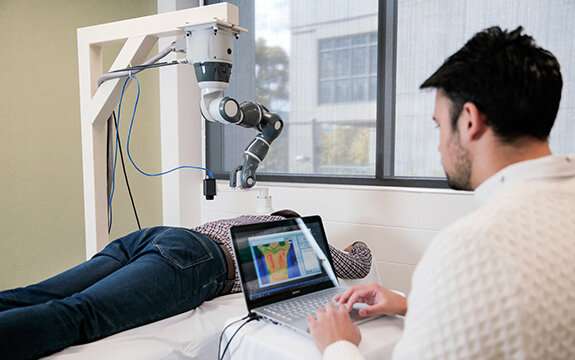 Credit: Swinburne University of Technology
Via PhysOrg:
"Using the same technology used in cricket to show whether the ball has made contact with the bat, a thermal camera scans the patient and locates injuries and inflammation by identifying hot spots in a thermal image," [project lead] Dr. Isaksson says. "The location of the hot spot is then sent to the collaborative robot that moves a low-level infrared laser into contact with the patient to perform treatment.
In the 2nd installment of Pierson Workholding's entertaining 'The Robot' video series, employees react to their new UR cobot and Jay Pierson mtakes a trip to Numatic Engineering to get an overview of the latest peripherals for the UR series, including Robotiq's Hand-E adaptive gripper...
MIT researchers have developed an algorithm that predicts where humans will move next, opening up new possibilities for human-robot collaboration. Via Science Daily:
"This algorithm builds in components that help a robot understand and monitor stops and overlaps in movement, which are a core part of human motion," says Julie Shah, associate professor of aeronautics and astronautics at MIT. "This technique is one of the many ways we're working on robots better understanding people."
The team will present their results at the Robotics: Science and Systems conference in Germany later this month.
Accenture showcased a nice cobot and Robotiq 2-finger gripper setup for handling petri dishes at the recent re:MARS conference...
Automaker Ford's use of cobots is "growing exponentially," Harry Kekedjian, Ford advanced controls and digital factory manager, told Industry Week: "The increase in efficiency they bring over traditional robots is opening up our eyes on different ways to process the work content that normally we wouldn't have thought of before," said Kekedjian.
AND&OR released video showing off a cobot-based packing system...

A new report from PMMI Business Intelligence predicts growing adoption of cobots, with the majority of participants predicting that cobots will experience a boom, "finding niche applications along the line for simple, slower motion tasks." Fulfilling e-commerce orders will drive growth, but there is still some way to go. "Four out of five OEMs offer fully integrated robotics on their machinery; only one OEM has incorporated cobots so far," said Paula Feldman, Director of PMMI Business Intelligence. (H/T Packaging World)
In related reading...
Elsewhere...
The crab-inspired SILVER 2 ('Seabed-Interaction Legged Vehicle for Exploration and Research 2') robot made its first dive off the Italian coast this week. Developed by researchers at the Institute of Robotics of the Scuola Superiore Sant'Anna di Pisa, in collaboration with National Geographic Society and Arbi Dario Spa, the eco-conscious bot is designed to detect and collect plastic pollution.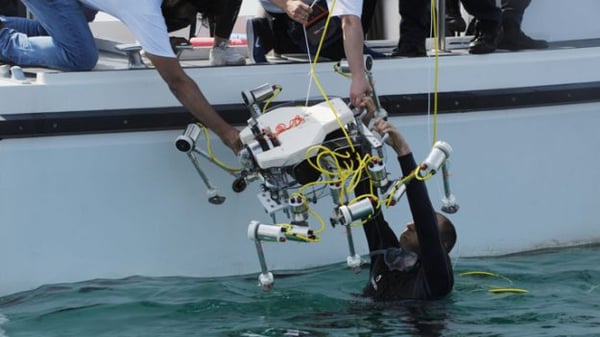 Credit: Laura Lezza / Getty Images
Project scientific coordinator Marcello Calisti told Sant'Anna di Pisa magazine:
"This bio-inspired robot can hop and jump in broader areas through a spring-loaded mechanism. The spring has a simple structure, energy storage and release, and simple control so the robot can jump through an instantaneous contraction of the spring. The crab-like legs include ankle joints which have good jump performance."
A team of student robotics engineers at Carnegie Mellon unveiled a remarkable climbing robot this week. Dubbed 'T-RHex' the bot uses microspines on its tapered toes to help it grip rough surfaces and make its way up steep slopes.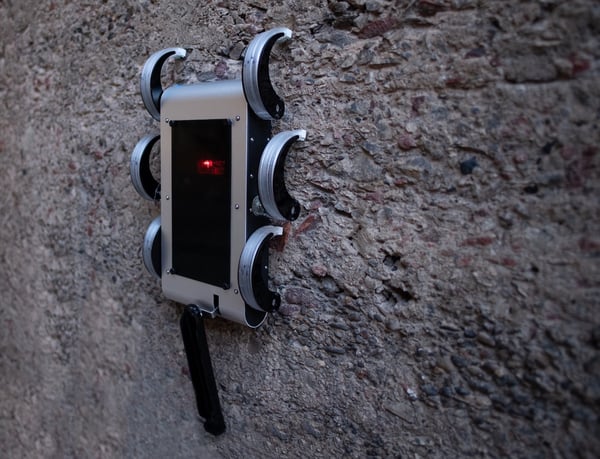 Credit: CMU
IEEE Spectrum reports:
Robots that use microspines to climb tend to be fairly methodical at it, since the microspines have to be engaged and disengaged with care, limiting their non-climbing mobility. T-RHex manages to perform many of the same sorts of climbing and hanging maneuvers without losing RHex's ability for quick, efficient wheel-leg (wheg) locomotion.
As Canadian singer Alanis Morissette proved beyond any doubt way back in 1995, the concept of irony can be difficult to define. Undaunted, researchers at Augsburg University unveiled 'Irony Man' --a bot with an ironic conversational style-- this week.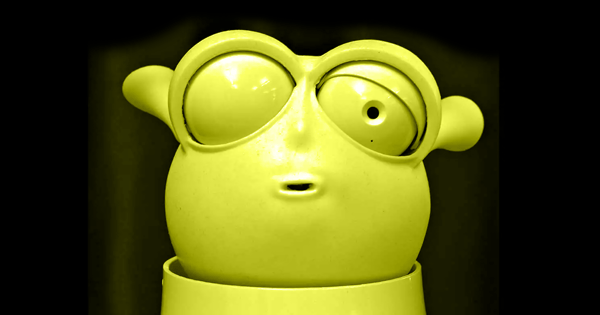 Irony Man Credit: HCM-Lab, Augsburg University/Victor Tangermann
Via Futurism:
In a test with 12 students, Irony Man was deemed more likable than conventional robots. But Irony Man's inability to know when to use irony could backfire. "The robot is not yet able to determine whether and when there is a good moment to employ irony," André said. "It may happen that the robot generates a funny utterance, but the user is irritated.

In other headlines...
Come back next week for more of the latest robotics news! Until then, please enjoy...


Five vids for Friday
1. Parul University is host to Mitra, India's "most advanced humanoid robot." New video shows the bot in action providing directions and erm... 'motivational advice' to students.
2. With giant cargo-carrying drones on the way, The Verge explored the current state of the technology and issues around regulation and energy consumption.
3. Video released this week showcases the tireless efforts of floor-scrubbing bot Neo.
4. Oussama Khatib, director of Stanford Robotics Lab, recently gave a fascinating introductory talk on various aspects of human-robot collaboration.
5. Mitsubishi Heavy Industries has unveiled a pair of firefighting robots designed to assist humans in fire-fighting missions.