The World Of Collaborative Robots Is About To Change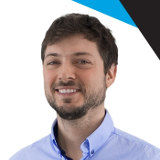 Throughout the last 10 years, the Robotiq team has helped thousands of manufacturers overcome manufacturing challenges using robots: from car component makers to electronics contract manufacturing firms; from first-time robot users to robotic experts looking at new ways to automate; and from Fortune 500 companies to family-owned machine shops.
So Many Unanswered Questions
Deploying a robot remains often too costly and too complicated. So if you're a first-time robot user, how can you get started? How do you get from your initial idea to a productive, working robot?
Even if you've already got a few robotic deployments under your belt, how can you scale up your robotics efforts throughout your factory—or across multiple factories? Do you even know how productive was your robot today?
This leaves us with many unanswered questions. That is why 6 months ago, everyone at Robotiq sat down and worked on solutions to simplify robot cell deployment.



Let's rock the RUC!


Tomorrow Is the Beginning of a New Chapter
After months of preparations, we gathered our partners, end-users and invited medias from all around the world to our home in Quebec City, Canada. The Robotiq User Conference (RUC) will present our vision of the future in collaborative robotics and what it takes to make it real.
We'll show it to you as well. Stay tuned for all the action this week. It's gonna be a busy one on all our social medias platforms!
See you there.
Samuel