Is Your Perception of Machine Tending Up To Date!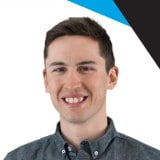 While I was getting my university degree, I worked for a machine shop. Aerospace, military and optical parts were machined in this enterprise. The workshop was highly automated and has the finest CNC machines on the market. The engineering team had a lot of discussions about automation, process enhancement and machine tending applications. The same reasons were always given for not automating more: It is too complicated, too expensive and you need a programmer full time.
Fiction
At that time I wasn't aware of all the technologies that are adapted to machine tending. In my mind, machine tending was exactly as the following video depicts.
This video is an explicit rebuttal to my former colleagues responses of: it is too complicated, it is really expensive and you need a programmer full time. What I discovered is that machine tending is really not what I was expecting.
Reality
Nowadays robotic technology is to a point where simple and relatively cheap robots can be used for machine tending. There is no need for fencing, no need for complex programming knowledge and the integration is easy.
A great example would be the robotic cell introduce at Inertia Switch, NY. This cell is the reality of everyday machine tending. A cell that every company can afford and that will boost your production and allow your employees to focus on what really matters; Quality.
The Cell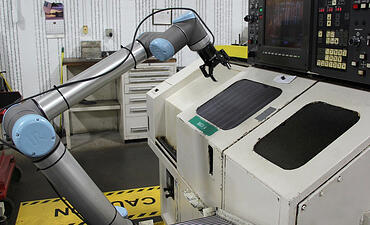 The cell that Inertia Switch is using includes a Universal Robots and a Robotiq 2-Finger 85 Adaptive Gripper, simply fixed on a table. The robot has no fencing because it is force limited. This means that the robot can detect if an impact occurs. The co-workers can work alongside the robot without undue risk. The Gripper used for this application is flexible which means that it can handle a fair number of different shapes, dimensions and materials without any modifications. So with a simple collaborative robot and a flexible robotic Gripper, you can feed your machine without touching anything. Robotiq also provides a kit with everything you need to integrate the Gripper on the UR robot very easily.
The ROI (Return On Investment) is fast. Most of the companies who have bought a Universal Robots for machine tending applications claim to have payback within 12 to 16 months.
What About the Operator?
For sure the operator will not feed the machine anymore, he will be able to focus on more important tasks. Metrology, maintenance and product quality could be his main focus. Everywhere plant managers are complaining about not having enough time to do maintenance or to verify every part... well, here you go, this gives you time right there. Most of the operators will also have relocated tasks, in fact even if you don't need a full-time programmer, you will still need someone to manage the robot and to make sure everything is working fine. This is the case for Slobodan Todoric, a former machinist who switch to collaborative robot programmer.
What I want you to question from reading this article is that machine tending may not be what you think it is! Make sure to get more information on the new technologies available today to practice machine tending properly. And be sure to find out how not to use an enormous robotic setup where they are not needed. Look at your needs and there is probably a robotic cell just right for you. To get more information on the 2-Finger 85 Adaptive Gripper used with Universal Robots follow the link below.
Related Article: