How to Guide for Installing Electric Gripper on ABB Robot
by
Guillaume Robert
. Last updated on Oct 08, 2015 2:07 PM
Posted on Apr 10, 2014 10:36 AM. 1 min read time
Robotiq team has gather information to support you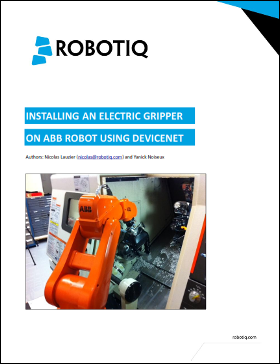 in the installation of an electric gripper on an ABB Robot.
Learn how to install an electric gripper on an ABB robot which is using DeviceNet. This information uses the 3-Finger Adaptive Gripper as an example for the installation, see how to set and configure a robotic gripper, detailing everything from hardware installation to communication configuration.
In this ebook you will learn how to:
Set up the mechanical interface at the robot's wrist.
Configure the DeviceNet network with the end-effector.
Add the unit type to the list of available unit types.
Activate the connection to the robot gripper.
Map the gripper IO.
Program the servo gripper.
So, if you are curious about looking a little more closely into these details, check out this valuable information. Get your ebook here.