Robotiq Team Back from Automate 2013
by
JA Carette
. Last updated on May 06, 2016 11:54 AM
Posted on Feb 18, 2013 11:21 AM. 4 min read time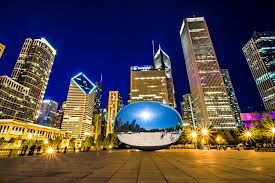 Guy Robert, Marketing Director of Robotiq has recently returned from attending the 2013 Automate show at McCormick Place in Chicago. As part of the Robotiq team at Automate he had the opportunity to present the latest Robotiq products, the newest 2-Finger Adaptive Robot Gripper -200 and the Kinetiq Teaching Tool; as well as visit partner booths and explore the latest offerings from other exhibitors. To profit from his visit to the exciting environment of Automate, I have asked him several questions, which I hope will give you a feel for the show and Robotiq's latest product releases.
Question: So in exploring all the booths and new products at Automate, what did you find to be most interesting about this years show, aside from Robotiq's new products, of course?
Automate 2013 marks the beginning of a new era in robotics. For years the robotics industry has been developing more and more flexible solutions. Although this trend is very prevelent, it remains a fact that the use of robots is not always accessible due to the complexity of robotic programming systems. Many SMEs can't take advantage of this new flexibility, because the systems are too complex. It is great to have flexible systems, but if, for example, the programming is too complex and costly making it difficult to achieve ROI, then it does not achieve the objective.
The arrival of new players such as Universal Robots and Rethink Robotics tend to add to the available flexibility: by making robotic programming intuitive. Robotiq has also been taking this approach since its inception with the tools it has created. Our Adaptive Robot Grippers and our new product - Kinetiq Teaching - though still in development have as an objective to offer flexible solutions which are easy to use for the end user.
Question: What was the reaction of the attendees to the presentation of the Adaptive Robot Gripper -200? Were they impressed by it's size and capabilities?
The new 2-Finger Adaptive Robot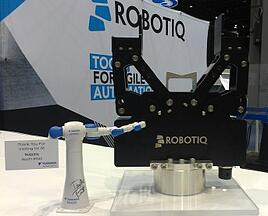 Gripper - 200 gained a lot of attention from the visitors this week at Automate 2013. It must be said that many people were waiting for a larger version of our Robotiq 2-finger Adaptive Gripper. Ever since the beginning of this project, we have been working with several people in the industry to understand their specific technical needs. We wanted to ensure that this electric gripper perfectly suited the needs of our customers. Its payload of 40 lbs, stroke of 200 mm and sealed casing make it very attractive for many applications in many industries.
Question: How was the idea of the Kinetiq Teaching Tool received by the people at Automate?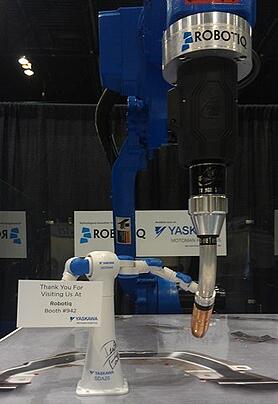 I believe Kinetiq Teaching targets a very urgent need in the industry. To easily hand-guide an industrial robot, record points and trajectories on the fly and instantly test the results, without actually having in-depth programming knowledge can be a big bonus for a company, especially those that manipulate a wide variety of parts or trajectories. For an application like robotic welding this represents a real advantage.
From the point of view of 'work method' this tool allows a welder to valorize his skills without asking him to acquire substantial robotic welding programming knowledge. A high amount of training time is therefore saved.
From a business perspective, Kinetiq Teaching can work with industrial robots that have already proven their worth, as in the present case of Yaskawa Motoman, and that companies probably already have on their plant floor. No need to buy a new robot to make manipulating pieces possible, instead you only need to add a device and a 'soft' component to make this possible.
Question: Was there a lot of discussion about the overall economic climate in manufacturing on the floor and what was your general impression about the overall economic climate in manufacturing as generated by the Automate attendees?
A preoccupation with the economy was less a subject of discussion at Automate 2013. The economic recovery in the automotive sector and the completion of the American elections are probably factors in this.
However, the crisis of 2008 has had a profound impact for robotic industry consumers. Indeed, the selection criteria for industrial consumers of robotics are strongly influenced by the effectiveness of the proposed solutions and the constant search for the best ratio between quality and price. Brief, more than ever, they want flexible robotic systems, easy to use, but at a reasonable price.
Well, Thank you Guillaume for sharing your experiences at Automate 2013, if you (the reader) have any experiences about Automate 2013 which you would like to share, please feel free to comment below, we would be very interested in your experiences too, especially what you thought of Robotiq's new products.