What's New in the World of KUKA?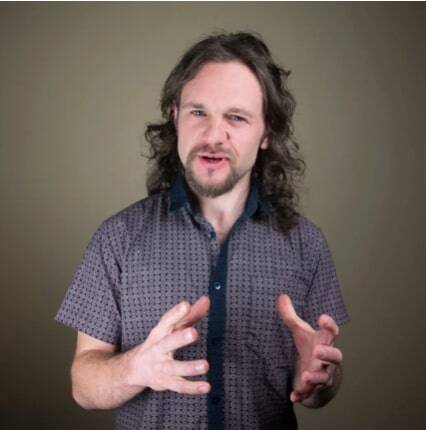 Today, the KUKA press conference was one of the highlights of our day. They talked about some of big topics of this year's Automatica. There was an exciting announcement for SMEs and some interesting ideas about the future of manufacturing robotics. We can't decide who the star of the event was: Their new KR AGILUS Fivve Series robots? or a certain pair of orange shoes? Here's a look at what's new in the world of KUKA.
The big focus of KUKA's presentation this year was Industry 4.0, which we've already seen a lot of at this year's Automatica. Here at Robotiq, we saw that Industry 4.0 was going to be 2016's hot topic back in January, but I don't think we realized it would be so big!
The Big One: Industry 4.0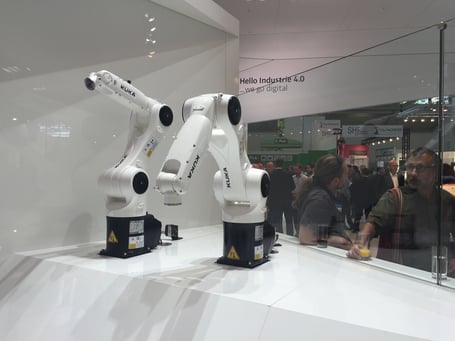 The drive behind KUKA's focus on Industry 4.0 was the basic question: How do we create more value for our customers?
They talked about the move towards smaller batch sizes, more customization and making the most of the fact that "the robot is the most generalist machine ever." Product life-cycles are getting shorter and shorter, which is driving a change in both manufacturing processes and practices.
As a result, KUKA is looking to develop a platform which, at the end of the day, will allow manufacturing to "reach the level of Internet." They want to move towards the "digitization" of manufacturing, allowing it to become much more flexible than traditional automation.
Collaborative robotics are a key part of this flexibility, as they are slim, light and have small space requirements. They talked about how to integrate humans and robots to colloborate together. It seems like security fences are going the way of the dodo.
KR AGILUS - Fast, Accurate and Flexible
Their newest arrivals were the KR AGILUS fivve and sixx Series (yes those are spelled correctly). These sleek white robots were pretty impressive, as they are both high speed and high precision. They are also able to achieve continuous precision throughout the work envelope.
Here's a video of a couple of the larger AGILUS robots dancing along to their own silent tune.
Both the fivve series and sixx series robots come with payloads of either 6kg or 10kg, depending on the model. They have a reach of either 700, 900 or 1100mm.
KUKA also announced breaking news that the smaller AGILUS KR3 will be available in 2 weeks. Its official launch will be in China because it is aimed at electronics manufacturing. It will be their smallest robot, weighing 26kg and with a 3kg payload. Like the rest of the series, it will also be aimed at high speed and high precision. KUKA says that it will be the fastest robot in its class.
The Future: Decentralized Robotics and SMEs
One demo, which you can see in this video, featured a couple of IIWA arms attached to omni-directional mobile bases. These are an example of KUKA's vision for the decentralized robotics of future.
Traditionally, manufacturing automation has been carried out in a very centralized way, with all operations being controlled by one big computer. The problem with this, they explained, is that smaller companies don't want these big computers.
KUKA is addressing this problem in a few different ways. Firstly, they are launching a brand new division especially for SMEs: KUKA Industries. Flexible manufacturing is very important for SMEs and KUKA wants to make it as easy as possible. Their AGILUS fivve robots are aimed at the flexible manufacturing of smaller parts.
KUKA's second driver to decentralized robotics is their own Cloud app. They say that they have been trying to get robots that talk to one another for the last 25 years. The Cloud is their latest step towards this goal. Using the KUKA operating system, users can have either a private or a public cloud, with integrated authentication and validation. They recognized that there is always concern about data security, but say that people trust KUKA from the beginning.
Outstanding KUKA Shoes!
Okay, so the new robots were pretty amazing. But, I've got to say, the coolest thing about the presentation were probably the orange shoes worn by KUKA's Innovation Director. They're the same color as the KUKA logo!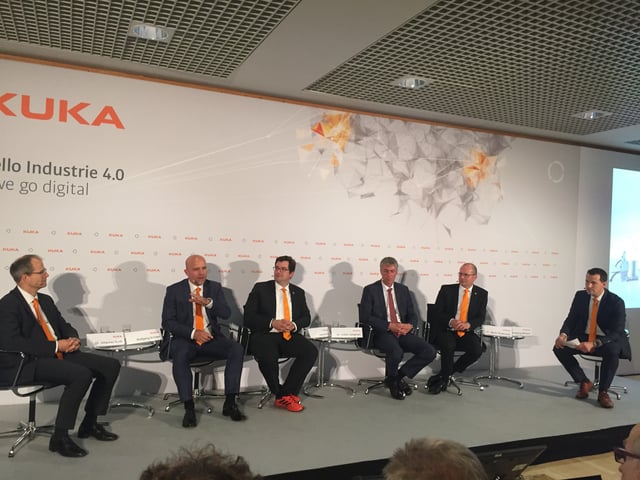 I'm thinking: We should all wear Robotiq Blue trainers for next year's Automatica! Who's with me!? … nobody?