What's New in Robotics this Week - Oct 7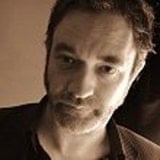 by
Emmet Cole
. Last updated on Oct 07, 2016 7:00 AM
Posted on Oct 07, 2016 7:00 AM. 8 min read time
World robotics report, a drone with wings, first driver's license for semi-autonomous vehicle, robotics startups and much more. Find out what's happening in our robotics universe this week. We hope that the news we have selected will interest and amuse you. Enjoy!

The International Federation of Robotics (IFR) released its annual report (PDF) this past week, and it contained some especially good news for the collaborative robotics sector.

Key points:
Global shipments of industrial robots rose 15 percent in 2015 (down from 29 percent growth in 2014) and are likely to increase by 13-14 percent annually over the next few years

By 2019, more than 1.4 million new industrial robots will be installed in factories around the world, bringing the number of industrial robots deployed worldwide to around 2.6 million units by 2019.

Europe leads the way in terms of adoption of robotics in manufacturing (65 percent of countries with an above-average number of industrial robots per 10,000 employees, are located in the EU. )
China is predicted to remain the main driver of robot growth, with almost 40% of the global robot supply being installed in China by 2019.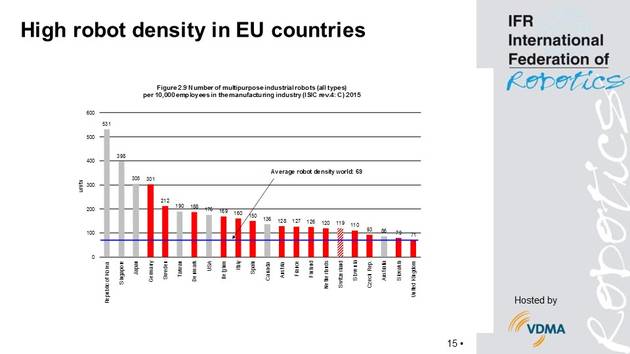 The IFR expects human-robot collaboration to "breakthrough" and become one of the main drivers for future growth in the robotics industry.

Industries predicted to adopt cobots at a growing rate include the automotive, plastics, electronics assembly, and machine tool industries.
Cobot maker Universal Robots welcomed the report's findings: "Universal Robots welcomes the report which confirms the validity of our mission: lowering barriers and enabling automation in areas previously considered too complex or costly," says Chief Commercial Officer of Universal Robots, Daniel Friis.
"Our installed base of more than 10,000 cobots worldwide illustrates the dramatic growth potential of this game-changing automation technology. We enable small and medium-sized enterprises to optimize their competitiveness on the global stage with an average robot payback period of just 195 days."

Reuters published an interesting story about the report which focused on fluctuations in Chinese demand, which surged by 56% in 2014 and grew by 20% by comparison in 2015. The story also highlighted the important role cobots are expected to play over the coming years:

"Compact and easy-to-use robots that collaborate with humans would have a breakthrough in the next few years and would drive the market, it [the IFR] said. Such robots are more suitable than large, caged robots for the electronics industry, where demand for industrial robots jumped 41 percent last year, the IFR said."

See more coverage from Manufacturer's Monthly, Engineering.com, and CXOToday.


A Drone with Insect-Inspired Folding Wings (Swiss NCCR)
European roboticists have developed an insect (and origami)-inspired drone that combines lightweight, compact design and endurance.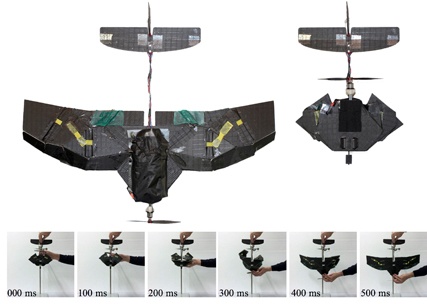 Check out the demonstration video here.
"What makes these wings different to previous solutions is the origami techniques used to produce it, creating the perfect folding structure," reports the Swiss NCCR. "First, the research team looked for examples from nature which exhibit folding patterns with a high size reduction and one degree of freedom to fold the wing with single and intuitive movement in a short amount of time. Coleopterans (beetles) were found to not only have the perfect wings, but also control wing deployment from the base of the wing, making them easier to artificially replicate."
'"The ability to create a lightweight, durable drone that is capable of being easily transported and quickly deployed moves us not only closer to commonplace use of robots in locating victims after natural disasters, but also in land and space exploration, aeronautics and civil inspections."


Sam Schmidt Receives Nation's 1st Driver's License for Semi-autonomous Vehicle (Las Vegas Review-Journal)
Sam Schmidt, a paralyzed former IndyCar driver became the first person to receive a driver's license for semi-autonomous vehicle this week.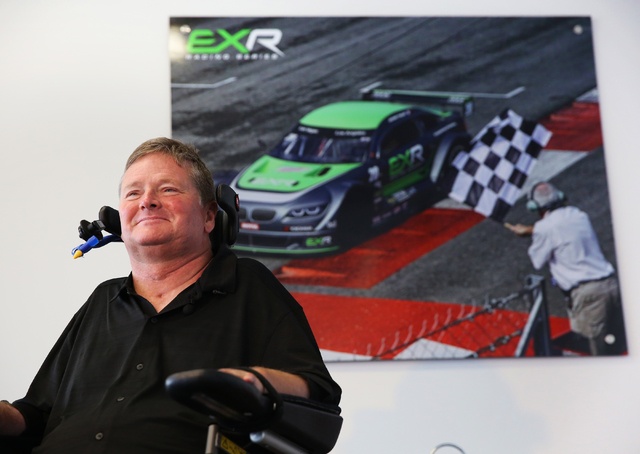 "Lt. Gov. Mark Hutchison presented Schmidt with the special driver's license in front of about 100 spectators gathered for a ceremony and demonstration held in the shadow of the Las Vegas Motor Speedway, where Schmidt logged his first victory as an Indy Racing League driver in 1999," the Las Vegas Review Journal reports.
The modified vehicle is controlled by a helmet. Schmidt can accelerate by blowing into a tube; inhaling activates the brakes. Meanwhile, four infrared cameras mounted on the modified Corvette's dashboard follow Schmidt's head movements, allowing him to steer.
"When you think a car like this is only helping one person, you quickly find out it helps many and it even helps our country," said Mike Long, president and CEO of Arrow Electronics.

"Together, we've rapidly taken the SAM car from 'might-be-possible' to fully practical," Long told the Las Vegas Review Journal. "Innovation provides freedom, and that's what Sam just got and that's what the state of Nevada is helping us give him."
The Legacy of Willow Garage…The "PARC" for Robotics (readwrite)
An interesting read (despite some awkward use of English) for those curious about the recent history of robotics, this piece looks at the amazing impact of robotics research development and incubation company Willow Garage.
Founded by Scott Hassan in 2006, Willow Garage was a major contributor to the development of the open source "Robot Operating System" (ROS) software. Willow Garage also created the PR2 and TurtleBot robots, before shutting down in 2014.
It's not as if all that talent just disappeared though. Far from it.

Former Willow Garage employees are involved in several high-profile robotics companies including Savioke (the robot butler manufacturer), Suitable Technologies (makers of the Beam telepresence robot), and Fetch Robotics, which has developed a picking and transport robot for logistics applications.


15 Must-see Robotics Startups at RoboBusiness 2016 (Robotics Trends)
The 12th annual RoboBusiness conference featured a range of exciting new robot startups.
Robotics Trends has the low-down (and a feast of videos to enjoy):
And Finally...
Google Builds a Robotic Hive-Mind Kindergarten (MIT Technology Review)
Trio of scientists land Nobel Prize in Chemistry with micro-robot (The Irish Times)
California proposes giving more freedom to test self-driving cars (Reuters)
A look at a Danish robotics cluster (Robohub)
Robots Are Developing Feelings. Will They Ever Become "People"? (Fast Company)
Forest inventory: Unmanned helicopters on a data collection mission (Alphagalileo)
Robotics Software for the Next Generation (Robotics Industries Association)
Your next nurse could be a robot (PhysOrg)
Is Toyota's new toy robot a loneliness killer? (Silicon Republic)
Inside the pizza chain that's replacing chefs with robots (CNBC)