What's New In Robotics This Week - Nov 3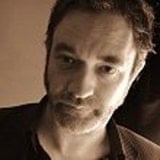 -Manufacturing & Cobot Roundup
-What's New In Robuttics?!
-The Mars Rover With 23 Eyes
-The Guardian GT
...and much more!
Manufacturing & Cobot Roundup
Veo Robotics, a US-based start-up that is working on technologies designed to convert traditional industrial robots into safe, collaborative systems, has raised US$12m of funding from backers including GV and Next47. The funds will be used to support product development and hire more experts in computer vision, engineering, product management and systems engineering roles.
Via Drives & Controls:
"This is a revolutionary time for global manufacturing," says Dr Patrick Sobalvarro, Veo's CEO and co-founder, who was previously president of Rethink Robotics. "For more than 100 years, we've been using machine tools that are unaware of their users and unable to respond to them intelligently."
Canadian integrator BOS Innovations demonstrated how Balluff sensors, networking, and IO-Link technologies can be used to improve an automated workcell...
Connected devices, including cobots, "bring sweeping changes" to the factory floor, according to the Financial Times:
"[Cobots] can learn by imitation. They tend to have cameras with vision recognition software. You can move the hand of the robot, you do a task and after a few minutes the robot is programmed," says Jonathan Cohen, portfolio manager of the $90m RoboCap UCITS Fund. This compares with 50 to 200 hours to program larger industrial robots, he adds.
Learn all about how to set up effective manufacturing cells quickly and safely using Robotiq's Lean Robotics methodology, here.
The international food manufacturing and processing industry is adopting industrial robots at an unprecedented rate, as shown by their popularity at the Gulfood 2017 trade fair. Saudi Gazette has the details:
Amid increasing consumer demand for convenience, sustainability and affordability, and tighter food safety regulations, manufacturers and producers need more efficient and cost-effective production, processing and distribution solutions to meet demands. These key factors are driving the global food robotics market, which is estimated to be worth $1.37 billion by the end of this year and is forecast to rise at a Compound Annual Growth Rate (CAGR) of 12.8 per cent over the next five years to reach $2.5 billion by 2022, according to a report by MarketsandMarkets.
Bhargav Dhakappa, in a fascinating article for The Hindu, asked "How to handle the robot invasion of human labour?":
We must start thinking about public policy in light of the new industrial revolution. The government should start engaging various trade and industry bodies to create consensus and enable a smooth transition. This will undoubtedly be a long process.
Rethink Robotics' Sawyer cobot had some fun on Halloween...
Sawyer has eased worker shortages and transformed furniture making processes at Moduform, a Fitchburg manufacturing facility, WBUR reported:
Trying to find people that want to do this work is very, very challenging," Weissman said in an interview in his office, surrounded by furniture all made in his factory. "We're lucky if we put an ad out there, if we get five or six responses." And, of those five or six, he insists not all of the applicants will pass a drug test or have a consistent work history.

Weissman says people don't want to stand on a production floor for eight to 10 hours a day, picking up a piece of wood and putting it through a sanding machine. "But the work still has to get done," Weissman said. "We have customers that still expect to receive their product."
Singularity Hub ran a great article ("Amazon Is Quietly Building the Robots of Sci-Fi—Piece by Practical Piece") on Amazon's robotics development, constrasting it with the fate of Willow Garage and others:
Where others have struggled to succeed, Amazon has been quietly progressing. Notably, Amazon has more than just a dream, it has the most practical of reasons driving it into robotics. This practicality matters. Technological development rarely proceeds by magic; it's a process filled with twists, turns, dead-ends, and financial constraints. [...] A good strategy, then, can be to build something more limited than your initial ambition, but useful for a niche market. That way, you can produce a prototype, have a reasonable business plan, and turn a profit within a decade.
urobot GmbH showed off a nice hand over process using a cobot...
Elsewhere, Design News reports that the global robot sensor market is set to expand by 50% by 2020; the Dragon 15 Robot Arm, which incorporates one of Universal Robot's UR5 cobots and is the first induction brazing robot to integrate an induction coil and an automatic brazing alloy feeder was launched; and The Korean Times ran a piece about calls for the introduction of a robot tax in South Korea:
As a strong advocate of the concept of robot tax, Lee Kwang-hyung, professor of bioengineering and brain engineering at the Korea Advanced Institute of Science and Technology, said the government should launch discussion on the new tax on a positive perspective of the future.

"Though there is positive projection of the future, I think those who research the introduction of AIs and related policies should stand on the negative side. Only then we can really prepare for the days to come," Lee said.
If you haven't already, make sure to check out Asian Robotics Review's superb 3-part series on Canadian robotics. The final part, published this week, takes you on a tour through Toronto and Montreal to the Maritimes, checking out some of Canada's leading AI, robotics, and exoskeleton pioneers along the way.


What's New In Robuttics?!
No, that isn't a typo.

The Internet derived great enjoyment this week from news that automaker Ford has created a bio butt-inspired, mechanical posterior (dubbed the 'Robutt') for testing the durability of its car seats.
First, the automaker uses pressure sensors to measure how real people get into and out of cars. Then it gathers the results to create a model for a Kuka robot arm to repeat the process 25,000 times using a model ass that's based on a large person. Ford says that represents 10 years of use, but the robot does it in just three weeks. Seats that pass the test are fit for use in cars.
The Mars Rover With 23 Eyes
NASA has revealed that the robot rover to be used on the Mars 2020 mission will have 23 cameras on board, more than any other rover sent to the red planet.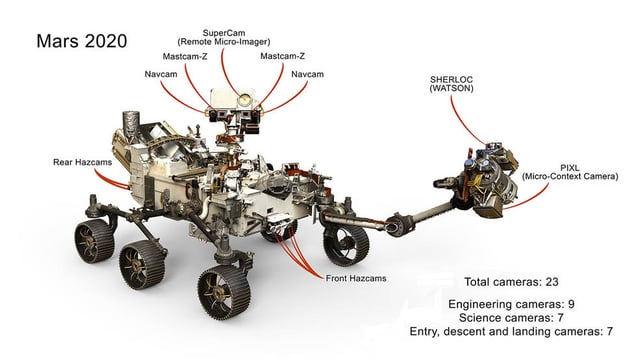 Caption: The Mars 2020 Rover will possess a record-breaking 23 cameras. The Spirit and Opportunity rovers had 10 cameras each, including on their landers; Mars Science Laboratory's Curiosity rover has 17.
Via NASA's JPL Lab:
NASA's Mars 2020 mission will have more "eyes" than any rover before it: a grand total of 23, to create sweeping panoramas, reveal obstacles, study the atmosphere, and assist science instruments. They will provide dramatic views during the rover's descent to Mars and be the first to capture images of a parachute as it opens on another planet. There will even be a camera inside the rover's body, which will study samples as they're stored and left on the surface for collection by a future mission.
For more on the Mars 2020 Rover's cameras see here.


The Guardian GT
The Guardian GT is a giant robot with two 7' long arms capable of llifting 1,000 lbs. Built to assist in cleanup and maintenance at nuclear facilities, the surprisingly dexterous machine can also flip switches and press buttons.
Via The Verge:
Two sensitive controllers are used to guide the huge robot arms, which follow the operators' motions precisely. To get a closer look at the action, video feed from a camera mounted on top of the Guardian GT is sent to a headset worn by the operator. And the controllers also include force feedback, so the controller gets an idea of how much weight the robot is moving. Each arm can pick up 500 lbs independently. The total effect is to make the human operator feel like they are the robot.
I may not be able to pick up 500 lbs with each arm just yet, but, undeterred, I'll be back next week with more news from the world of robotics. Until then, please enjoy these videos and links!
Robots will take 600,000 of UK builders' jobs by 2040 as construction experts warn of a 'fourth industrial revolution' (Daily Mail)
Pushing the Cutting Edge of Robots and Drones (Automation World)
The Farms of the Future Will Be Automated From Seed to Harvest (Singularity Hub)
U. of Michigan expert puts bird-like robot through its paces (PhysOrg)
Winnipeg trial shown footage of bomb robot detonating suspect package (National Post)
Hillary Clinton could have been president if not for robots, a new study says (Business Insider UK)
Do We Need Brain Implants to Keep Up with Robots? (Scientific American)
Brain surgery: The robot efficacy test? (Robohub)
Researchers Achieve 4D Printing of Programmable Shape-Changing Structures (AlphaGalileo)