What's New In Robotics This Week - July 07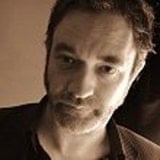 by
Emmet Cole
. Last updated on Jul 07, 2017 7:00 AM
Posted on Jul 07, 2017 7:00 AM. 11 min read time
Manufacturing & Cobot Roundup
Robotics and AI will generate far more high-quality jobs than the onerous tasks it will render obsolete but political leaders need to take action on regulation and education, writes Shahin Farshchi in TechCrunch: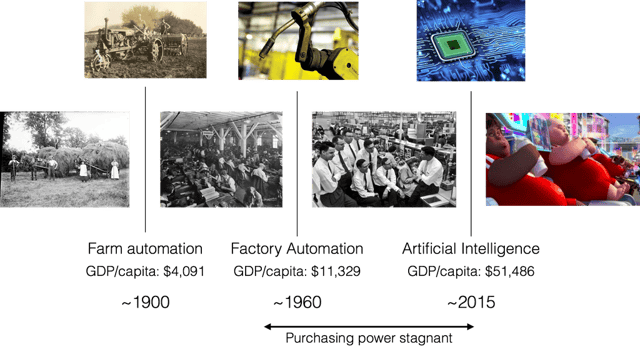 Caption: Purchasing power has remained stagnant, but technology has traditionally created more jobs than it has elimated, Farshchi argues.


Our leaders should be solving for 1) creating higher-quality jobs and 2) increasing the purchasing power of all Americans. . To do so, regulation must be put in place to accelerate adoption, and people must be trained to design and benefit from these magical systems. Unfortunately, neither candidate appreciated the massive lever robots can provide to not only increase our productivity as a country, but also replace low-quality tasks with high-quality jobs.
Artificial Intelligence is set to magnify the manufacturing workforce, according to Manufacturing Business Technology Magazine:
With robots attaining greater and greater degrees of sensitivity in their touch capabilities, they will be able to take over more assembly and movement-dependent activities on the manufacturing floor. At the same time, improvement in sensor and vision technology is creating smarter, lighter and friendlier co-bots that humans can work with safely.
Voodoo Manufacturing has raised $5m in a seed extension round led by General Catalyst, with participation from NextView Ventures, 645 Ventures, and Y Combinator's Continuity Fund:
We recently launched Project Skywalker, the first fully functional robot-operated 3D printer cluster. The use of a collaborative robotic arm will enable us to automate labor intensive processes such as plate "harvesting" — the act of removing and replacing a printer's build plate once a print is completed. We're automating much of the repetitive labor within the factory as part of a 90% reduction plan.

China's changing demographics are driving demand for Japanese industrial robots, according to Nikkei Asian Review:
Chinese companies are increasingly opting for automation to offset a serious labor shortage. Among members of the Japan Robot Association -- an industry group -- total China-bound exports of industrial robots surged 48.3% on the year in the January-March period, to 45.7 billion yen ($407.1 million).
The Asian robotics sector has finally taken off, says Asian Robotics Review. Universal Robots is "bullish on India," with the firm expecting to sell 1,000 co-bots within 5 years, according to a report in Economic Times.
A Robotiq gripper was spotted being used as part of a cobot labeling solution:


Hyundai Robotics is set to make China an advanced base for global market development, according to Business Korea:
Hyundai Robotics is working on formulating its current mid- to long-term strategy to foster China as a global production base. The company decided to add product R&D and after-sales service functions to its production base in China by 2021. Hyundai Robotics already announced a plan to use China as its global production base in April. The plan aimed to establish a joint production corporation with local Chinese companies by next year.
Rodney Brooks talked exponential manufacturing at Singularity University:


Shares of Teradyne Inc. TER, +4.01% jumped 5% on Wednesday, MarketWatch reported, following news that brokerage and investment firm Stifel had upgraded the stock to buy from hold and raised its price target to $39 from $32:
Analysts said the action is mostly based on its expectations for the company's collaborative robot business, which is meeting and often beating "some high expectations that were built in when this business was acquired two years ago".
Fastbrick Robotics is set to receive $2m in funding from Caterpillar for further development of its brick-laying robot:


Elsewhere, Robotics & Automation News reported on the innovative sensors empowering smart factory robots, TechCrunch featured FIngervision, a new "robot skin" built from off-the-shelf components, and the UK's Press and Journal reported on Scotland's first 'Arctic' manufacturing robot, which is being used to stack boxes at a food ingredient manufacturer.
New Robot Milks Scorpion Venom
A team of researchers from Ben M'sik Hassan II University, Morocco, has developed 'VES-4,' a bot for safely milking scorpions.
The team aren't doing this for fun, of course, as scorpion venom is used widely in medicine, including in cancer research. However, the milking process is traditionally manual and potentially deadly.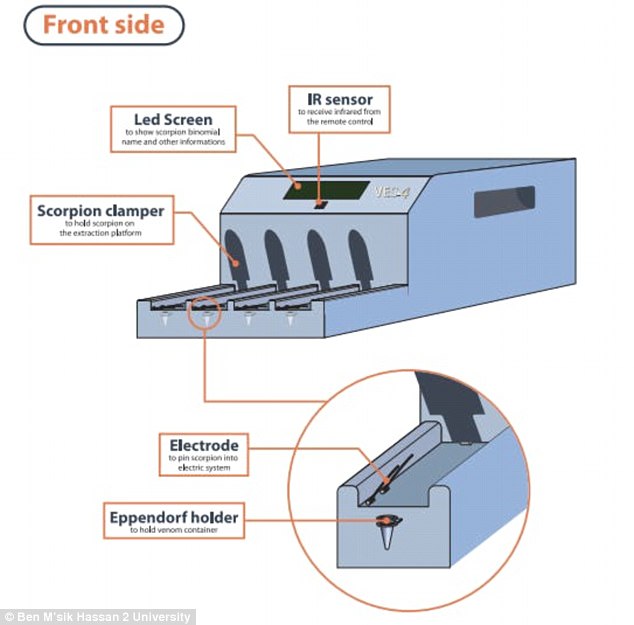 The bot begins by clamping the scorpion's tail and electrically stimulating it so that it releases venom, which is then captured and stored.

According to Wired, the robot has already been tested on multiple species of scorpions and can be programmed with specific settings for different species, with the bot displaying all relevant information on an LED screen.
From scorpion-milking to crab-processing now, with a story from rural Canada that shows how automation is helping to secure existing jobs and businesses.
CBC reports:
The world's first full-on crab plant robot sits inside a tall, plastic chamber roughly the size of a shipping container. A conveyer belt carries the splayed crab into the chamber, where a robot scoops them up and places them on one of two plastic saddles.

And then the blade descends.
Facebook Drone Completes Test Flight
Facebook's solar-powered drone completed a successful text flight at Arizon's Yuma Proving Ground in May, according to the company.

The 1,000-lb drone, which is designed to provide Internet access in remote locations and has a longer wingspan than a Boeing 747, failed on its first mission, so this week's news marks a huge milestone for the project --and the 4 billion people worldwide currently without Internet access.



Via Associated Press:
The drone flew with more sensors, new spoilers and a horizontal propeller stopping system to help it better land after the crash in December. It was in the air for an hour and 46 minutes and elevated 3,000 feet.

The drone flew with the engineering team watching a live stream from a helicopter chasing the drone, said Martin Luis Gomez, Facebook's director of aeronautical platforms.
In other drone-reated news, Chinese company DJI is to collaborate with Space53 in The Netherlands on issues around drone safety, a new discovery about bee vision may lead to the development of better cameras for use in drones and other bots, and CNBC explored some of the issues around drone regulation.


Promobot to The Rescue?
You can file our last story for this week under "Hmmm... Really?" It features the Russian-built Promobot, a name that should sound familiar to regular readers as we covered a story last year in which Promobot allegedly escaped its humans handlers and wandered into the street.
This time, Promobot apparently noticed a young girl climbing on a ramshackle set of shelves and despite not being programmed to do so, used its arm to steady the structure, just about preventing it (and its contents) landing on top of the girl.

Hmmm... Really?!



I'll be back next week with more robotics news. Until then, be safe out there and I hope you enjoy these videos and links!


7 robots that were inspired by nature (TechCrunch)
The house being build by robots and 3D printers (BBC)
Please ignore the robots (The Verge)
FRR Report: Our Sexual Future With Robots (Responsible Robotics)
EU Developing Robot Badgers for Underground Excavation (IEEE Spectrum)
Robot wars: Knee surgery marks new battleground for companies (CNBC)
Robots at Work and Play (The Atlantic)
NVIDIA, Baidu Collaborate to Power AI in Cloud Data Centers, Self-Driving Cars and the Home (aitrends)
'Robot waitress' draws customers to Pakistani pizza joint (Minnesota Star Tribune)