What's New in Robotics This Week - Jan 27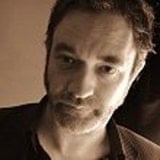 by
Emmet Cole
.
Posted on Jan 27, 2017 7:00 AM. 9 min read time
Making America's Robots Great Again; Building character through machine learning; Droneboarding; cobots; socially aware bots; the DragonflyEye and much more. Find out what's happening in our robotics universe this week. We hope that the news we have selected will interest and amuse you. Enjoy!
How to Make America's Robots Great Again (New York Times)
Unless the US government invests heavily in robotics many US manufacturers could end up buying their robots from China, according to experts cited in The New York Times, Wednesday.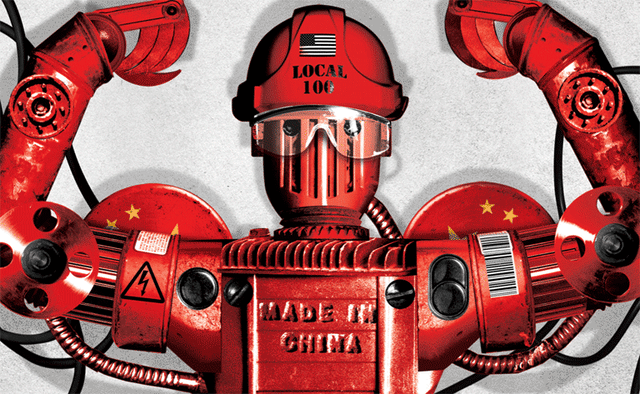 "If you look at the comparisons in investment between China and the U.S., we're going to lose," said Henrik Christensen, director of the Contextual Robotics Institute at the University of California, San Diego. "The investments in China are billions and billions. I'm not seeing that investment in the U.S. And without that investment, we are going to lose. No doubt."

Frank Tobe, the publisher and editor of a trade magazine called The Robot Report, said government investment was imperative.

"We better do something, or we're going to be behind the gun," he said. "We should be in the robot business, not just users of foreign robots."

If we don't, robot scholars said the president's plans for a resurgence in manufacturing could backfire. Today, we buy a lot of stuff made in China by Chinese people. Tomorrow, we'll buy stuff made in America — by Chinese robots.
Northeastern Helps Establish New Institute to Advance Robotics in Manufacturing (news@Northeastern)
It's not all doom and gloom for the long-term future of robotics in the US, however, as Northeastern University reported this week on its involvement in The Advanced Robotics Manufacturing Institute (ARM) --a consortium of 123 indus­trial and 64 gov­ern­ment enti­ties (including 40 academic institutions) led by an inde­pen­dent non­profit called Amer­ican Robotics.

And it's funded to the tune of USD250m.
"We are delighted that our fac­ulty are part of the Advanced Robotics Man­u­fac­turing Insti­tute, and look for­ward to working with industry and insti­tu­tional part­ners on state-of-the-art research in robotics and other autonomous tech­nolo­gies," says Nadine Aubry, dean of the Col­lege of Engi­neering and Uni­ver­sity Dis­tin­guished Pro­fessor at North­eastern. "I am con­fi­dent the team will develop inno­v­a­tive robotics sys­tems with human like dex­terity and adapt­ability, as well as safe and intu­itive human-robot inter­ac­tion capa­bility for the next gen­er­a­tion of U.S. man­u­fac­turing operations."
Building Character AI Through Machine Learning (Medium)
Brad Knox, an AI/robotics researcher based in Austin, Texas shared some fascinating insights about how to build "character" for artificial intelligences on Medium this week.

Disappointed with the current state of play in character design, which he depicts as predictable, overly simplistic, and inauthentic, Knox proposes a "puppeteer" process instead:
A human teleoperates the robot through many different scenarios. The teleoperator acts as an improvising puppeteer; he or she follows heuristics yet also empathizes with the robot and authentically responds to what happens, whether it be with curiosity, fear, or jubilation.

From these teleoperation sessions, we gather training data containing (a) teleoperation commands and (b) information about the context in which each command was given. A category of machine learning called supervised learning is applied to create a model of the puppeteer, which effectively answers the question

All of that happens during development. In the end user's hands, the robot is autonomously controlled by the model. The model of the puppeteer is the character AI.
Knox is putting all these ideas into effect as part of the bots_alive project ("Robots that play and find their way"), which is running on Kickstarter til Feb 16th.


Stanford Scientists Are Teaching a Robot How Not to Be Awkward in Public (Quartz)
While we're on the topic of robot character and personality, as Corinne Purtill observed in Quartz this week robots don't always do very well in crowds.
It's not so much that bots are socially awkward. It's that they tend to be socially unconscious.
In an effort to overcome this lack of social awareness, experts at Stanford are working on Jackrabbot --"a one-meter-high robot that can travel up to five miles per hour and, incidentally, looks adorable in a hat and tie."
Equipped with motion sensors and software that utilizes an algorithm based on hours of aerial video footage of busy sidewalks, Jackrabbot goes on regular expeditions through Stanford's busy campus making on-the-fly judgments about right-of-way and personal space. Since its March 2015 debut, the robot has made several dozen outings to test its software.
The team sees several potential applications for socially aware AI, including autonomous vehicles.
When computer-driven cars are sharing the road with people-piloted ones, they'll need to understand the informal etiquette that human drivers follow, and the cultural differences that make driving in Rome a different experience from driving in Boston.
With enough data, robots could tweak their movements to respond to local customs and social norms.
DragonflEye Project Wants to Turn Insects Into Cyborg Drones (IEEE Spectrum)
Over recent years, we've seen cyborg cockroaches, stingrays, and robots that use rat brain cells to operate.
Now scientists from Cambridge, Mass.,-based R&D company Draper and the Howard Hughes Medical Institute are working on a cybernetic dragonfly that combines miniaturized navigation, synthetic biology, and neurotechnology.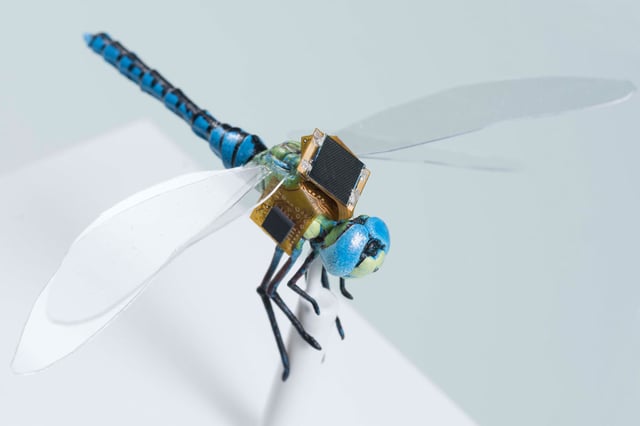 To steer the dragonflies, the Draper engineers are developing a way of genetically modifying the nervous system of the insects so they can respond to pulses of light. Once they get it to work, this approach, known as optogenetic stimulation, could enable dragonflies to carry payloads or conduct surveillance, or even help honey bees become better pollinators.

There are several unique technologies that have been implemented here: The group was able to pack all of the electronics into a tiny "backpack," meaning that small insects (like bees and dragonflies as opposed to large beetles) can fly while wearing it. Some of the size reduction comes from the use of solar panels to harvest energy, minimizing the need for batteries. There's also integrated guidance and navigation systems, so a fully autonomous navigation is possible outside of a controlled environment.
Robotic Fabricator Could Change the Way Buildings Are Constructed (MIT Technology Review)
A team at ETH Zurich in Switzerland is working on "a new class of robot capable of creating novel structures on a construction site," MIT Technology Review reported.
Dubbed "In Situ Fabricator1" the robot is a large and powerful bot that can operate with 5mm precision.
It is designed to operate semi-autonomously in a complex changing environment, it can reach the height of a standard wall, and it can fit through ordinary doorways. And it is dust- and waterproof, runs off standard electricity, and has battery backup. On top of all this, it must be Internet-connected so that an architect can make real-time changes to any plans if necessary.
'Droneboarding' Takes Off in Latvia (PhysOrg)
Meanwhile, in Latvia, the latest thing is "droneboarding," which involves being pulled along on skis by an extremely powerful drone.
The prototype is the work of Aerones, a firm that also makes drones for fire-fighting, human rescue and wakeboarding.

With their current droneboarding set-up, up to four snowboarders can be dragged across the ice at a time.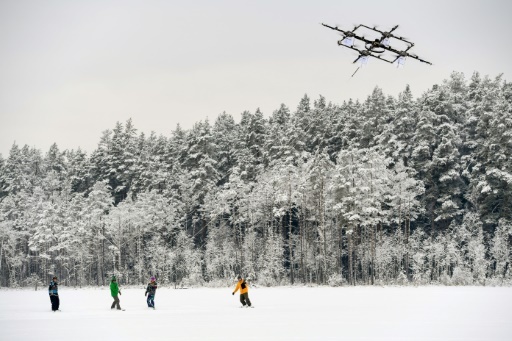 In theory the top speed is around 150 kilometers per hour (94 miles per hour), but piloting becomes difficult at that velocity, so today droneboarders have to make do with speeds of around 60 kph.

Even though flight times are still restricted to around 10 minutes using on-board batteries, a drone weighing 55 kilograms (121 pounds) is able to lift up to 145 kilograms.

Having cost 35,000 euros ($37,000) to build, Aerones is now looking to partner with companies and organizations working in firefighting as well as search and rescue to take the project to its next stage.
I'll be back next week with more news from the world of robotics and AI.
Until then, hope you enjoy these videos and links...
Collaborative Robots Get Friendly with Small Business (Design News)
Industrial Robot Meets Artificial Intelligence to Create Art (Engineering.Com)
5 Best Dancing Robots at CES 2017 (Robotics Trends)
Collaborative robots work safely beside humans (Canadian Metalworking)
Top tips for a career in robotics (Robotics & Automation News)
Chicago's Hype-Free 'Automate' Will Be CES for Smart People (inverse)
'How we built India's biggest robot company' (BBC News)
Pepper the robot gets a gig at the Oakland airport (TechCrunch)
Swarm of grapefruit-sized robots helps scientists unlock secrets of the sea (DigitalTrends)
Google puts up $1.5 million to help robots learn more like babies (The Verge)