What's New In Robotics This Week - Aug 19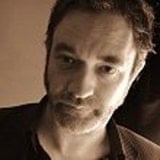 by
Emmet Cole
.
Posted on Aug 19, 2016 7:00 AM. 7 min read time
Bots help combat Asian labor shortages; world's worst bots; apple-picking robot; Toyota's AI funding; octopus robot; AI at the the Rio Olympics, and much more. Find out what's happening in our robotics universe this week. We hope that the news we have selected will interest and amuse you. Enjoy!
China's Factories Count on Robots as Workforce Shrinks (Wall Street Journal)


The first of two stories this week that highlight some of the ways in which robotics are helping to address labor shortages comes from the WSJ, which reports that demand for industrial robots in China is expected to reach 150,000 by 2018.
"China's appetite for European-made industrial robots is rapidly growing, as rising wages, a shrinking workforce and cultural changes drive more Chinese businesses to automation. The types of robots favored by Chinese manufacturers are also changing, as automation spreads from heavy industries such as auto manufacturing to those that require more precise, flexible robots capable of handling and assembling smaller products, including consumer electronics and apparel."
China faces serious labor shortfalls over the coming decades, with the UN predicting that the country will have less than 800 million workers available by 2050, down its 2010 peak of 900 million. In 2013, China was the world's largest market for industrial robots.


Can Singapore's Labor Crunch Spark a Robot Revolution? (Reuters)
Labor shortages are already impacting Singapore, following the introduction of strict immigration laws that have made it difficult for employers to find staff in the fast-food and other industries.
"While tech powerhouses such as Japan, the U.S. and Germany invest billions in robotics to compete commercially in the emerging sector, Singapore's robots push is driven by a much more urgent need: the survival of some labor-strapped small and medium sized businesses may depend on them."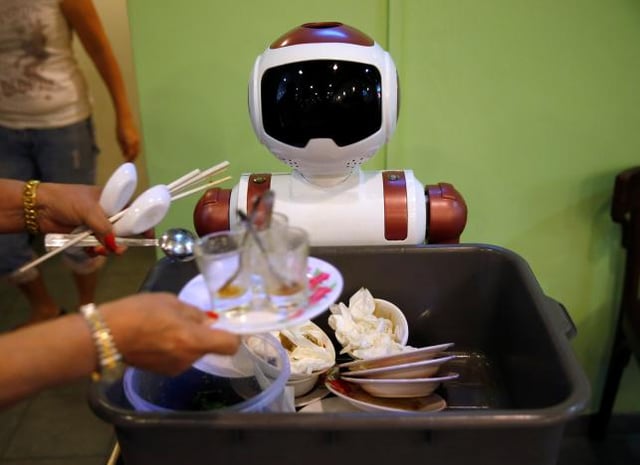 In an attempt to tackle the problem, Singaporean authorities have announced plans to spend S$450 million (US$333 million) over three years to fund robot development and deployment.

Hebocon: The Contest to Find the World's Crappiest Robots (engadget)
Tokyo is home to some of the world's most advanced robotics research. It is also home to Hebocon, a global competition designed to find the world's most useless robots. Competitors from across the world gathered to face off in sumo-esque death-match style competition. As Hebocon's official site puts it: "True Happiness can only be achieved through fighting hard, and then losing."


"It's no DARPA challenge, but when you see the robots in action you begin to realize it's almost as difficult a struggle. Most of the robots on show at Hebocon can't be controlled very well. Some can't be controlled at all, while others stay rooted to the spot, with parts spinning wildly out of control, hoping to knock their opponent away and out."
Fittingly, the winner of the competition (Ricky Chan from Hong Kong with his "Robot Controlled Controller Robot") responded by apologizing for his victory and complaining that he would have preferred to come second.

SRI Spin-off Abundant Robotics Developing Autonomous Apple Vacuum (IEEE Spectrum)
If you follow progress in the world of agricultural robotics, you'll know that fruit-picking is one of the most difficult challenges facing robots --all those leaves and branches present a difficult and cluttered environment for robots to operate in.
A handful of companies provide fruit-picking and handling robots, but as recently as 2012 in the United States, some 4.2 million apples were hand-picked, so there is a real market opportunity for robotics innovation.
Abundant Robotics (a Silicon Valley spin-off from SRI International) is now entering the space, hoping to bring robotic excellence to the apple-picking process.
"Besides the sheer entertainment value, the vacuum picking technique (an approach being used by other robotics groups) looks like it might be faster in operation and easier to implement than a traditional gripper. Since it only exerts pressure when its, er, orifice (?) is mostly sealed, it can pluck apples out of trees while leaves remain untouched, and as long as it gets close enough, it looks like the apples essentially pick themselves."

Toyota Funds A.I., Robotics Research at Michigan Campus (USA Today)
The University of Michigan (UoM) is set to receive US$22 million to advance research on artificial intelligence, robotics and autonomous driving, courtesy of a four-year grant from Toyota.
The move makes perfect sense, as UoM is already home to "Mcity" -- a 32-acre simulated city and facility, where a variety of automakers, suppliers and telecommunications companies are testing autonomous vehicle systems in a controlled environment.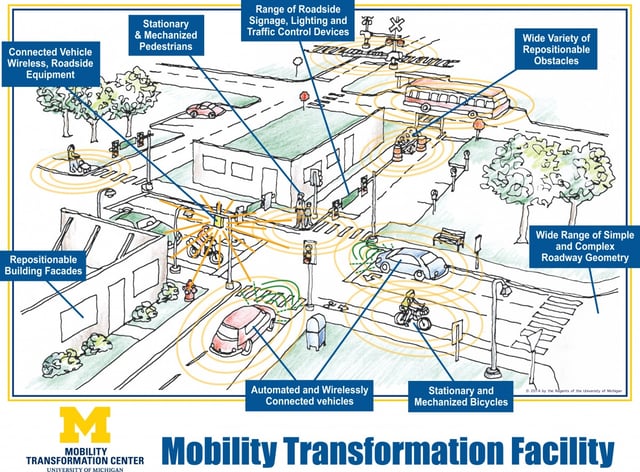 "The Japanese automaker, which employs about 1,300 people in Washtenaw County, most of them at a technical center just south of Ann Arbor, has budgeted $1 billion for the institute also known as TRI. TRI also has established partnerships with Stanford University in Palo Alto, Calif., and the Massachusetts Institute of Technology in Cambridge, Mass."
Soft Robotics: Scientists Develop this Amazing Octopus Robot (TechTimes)
Researchers at the BioRobotics Institute at Scuola Superiore Sant'Anna in Pisa, Italy, has developed a prototype bio-inspired soft robot, called "octo-bot."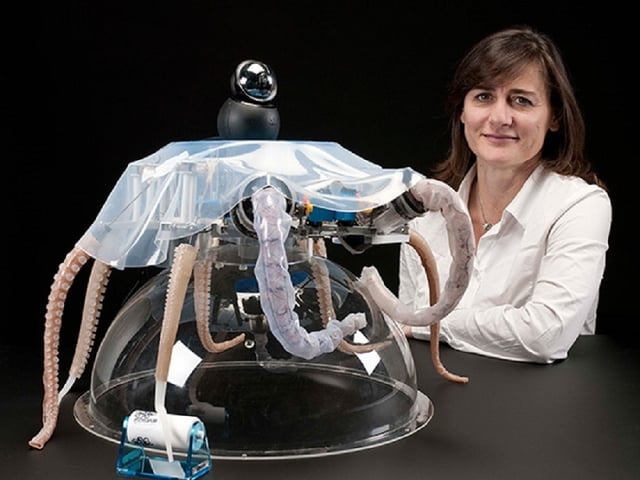 "[The researchers] zoned in on the octopus as its movements did not require ample use of brain power. The creature does not depend on instructions or cues from the central nervous system; rather, several of its movements occur quite spontaneously. This is largely due to the interaction of an octopus' body with the environment it is in.

This concept, referred to by artificial intelligence researchers as embodied intelligence, allowed the team to craft soft robots that are capable of a variety of activities, just like the real octopus. The octo-bot can not only crawl on the seabed, but it can also swim and clasp objects with ease."
The Washington Post is Using AI to Write Stories During the Rio Olympics (Futurism)
Last week, we covered reports on how robots are helping tv stations capture amazing underwater shots at the Olympics. Well, it turns out that an artificial intelligence may be composing some of the tweets and reports you're reading about the games too; especially if you read The Washington Post, the latest mainstream news outlet to add AI to its journalistic staff.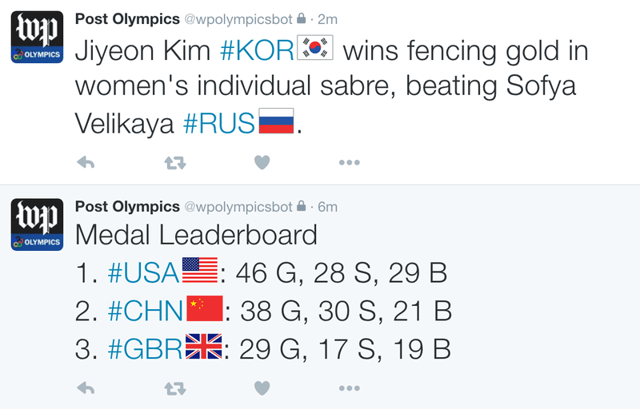 "The Post is using software of its own creation, Heliograph, to create content covering basic aspects of the games. The paper's site and Twitter (among other outlets) will start posting stories as early as tomorrow morning. The stories will be posted without a word written from a breath drawing human."
Journalists have nothing to fear from the introduction of AI, in my opinion.
Essential to the functioning of a healthy society, journalists are simply far too important to be replaced by a mere artificial intelli-- wait, what's that noise at the door? Argh! It's a Weaponized Editor Drone, sent to finish the rest of this week's roundup...


And Finally...


Singaporean start-up adapts factory robots to treat sports injuries (Manufacturers' Monthly)
Japan Is getting Even More Robot Hotels And We Are Jealous (Travel Pulse)
Ford wants your cabdriver to be a robot (Yahoo! Canada)
Why are all these robots staring at me? (The Verge)
How Rethink Robotics Sees The Future Of Collaborative Robots (Forbes)
Ford CEO promises autonomous vehicles for mass transit by 2021 (ZDNet)
The Surprising Reason Why Robots Have Faces (GE Reports)
Robotics crossing the frontier of fantasy (New Indian Express)