What's New in Robotics This Week - Apr 14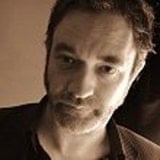 by
Emmet Cole
. Last updated on Apr 14, 2017 7:00 AM
Posted on Apr 14, 2017 7:00 AM. 9 min read time
Spot Bot joins the US Marines, manufacturing and cobot brief, new 3D computer vision challenge, TATA launches line of industrial robots for SMEs, and much more. We hope that the news we have selected will interest and amuse you. Enjoy!
Boston Dynamics' Spot Bot Joins the Marines
The US Marine Corps will start developmental testing of Boston Dynamics' quadruped Spot robot this Autumn, according to reports, with a limited technical assessment expected in 2018.
Robotics Trends reports that the "ultimate goal is for robots to help Marines in the field, whether with patrolling, reconnaissance or other ground tactics."

Via Military.com:
"the recently released Marine Corps Operating Concept, which highlights the significance of Marine-robot teaming in future conflicts, may create new opportunities for Spot to show off his tricks. Two of the little robots were delivered to the service Monday after spending months at Boston Dynamics getting strategic upgrades.

Now, the system features a radio and a 180-degree camera in the nose, as well as Teleop-assist logic, which will keep Spot from crashing into physical obstacles, even if the human operator directs it to do so."
In other military robotics news:
Challenger Aerospace unveiled the design of its new Stingray hybrid unmanned aerial aircraft.
The Daily Mail reported on a US$1.7 million U.S. Navy research project to create network of spy robots that can snoop on humans 'as a single entity with many eyes.'
General Atomics Aeronautical Systems completed an airborne demonstration of a Predator B UAS equipped with a radar warning receiver.


TAL Brabo Industrial Robot Range Launched
Indian firm Tata has launched a range of industrial robots aimed --at least initially-- at India's SME market.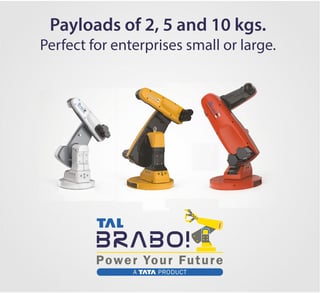 Caption: The newly launched TAL Brabo range of industrial robots.
From the Tata website:
"10 Kg payload robot which is easy to use, easy to program and easy to maintain. It has a flip back Capabilities and 360 degree rotation. With its 5 axes, it has higher repeat-ability at a speed of 2000mm/ second. It is operates on a single phase 230 V of power supply and can attain maximum payload of 10 Kg at full reach 750 mm to 850 mm. Its interface is fairly ingenious with mounting of tools, grippers, sensors etc and it is highly flexible to install along with ease in redeployment."


Via
Nikkei Asian Review
: The TAL Brabo is said to have helped manufacturers boost productivity 15-30% in trials. At 500,000 rupees to 700,000 rupees ($7,730 to $10,800), it costs 30-40% less than offerings from abroad.
Manufacturing & Cobot Brief
Nissan's recent implementation of Universal Robots' UR10 industrial cobots has been getting enthusiastic press this week.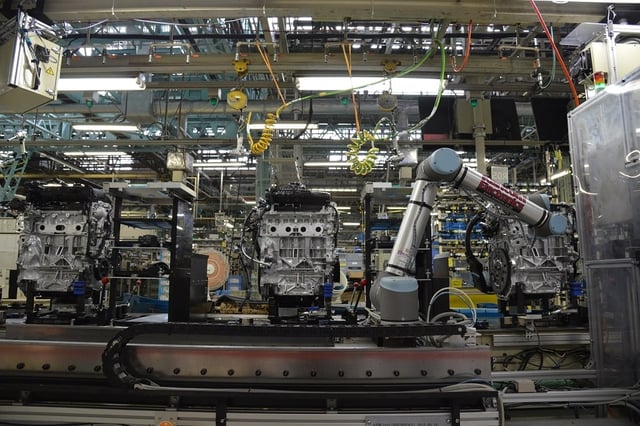 MIS Asia reports:
With Universal Robots' cobots, Nissan has automated its production processes and tasks that weigh up to 10 kg and require precision and reliability. With a reach radius of up to 1300mm, the cobots are designed to be more effective at tasks across a larger area, and can save time on production lines where distance can be a factor.

As such, the UR10 robot arms have enabled Nissan to experience a higher level of output and stability as well as time and cost efficiencies. In addition, they have reduced workload for Nissan's aging workforce, who were redeployed to less strenuous tasks.
Meanwhile, the Philippines' Business Mirror reported that Universal Robots is optimistic about its prospects in the country.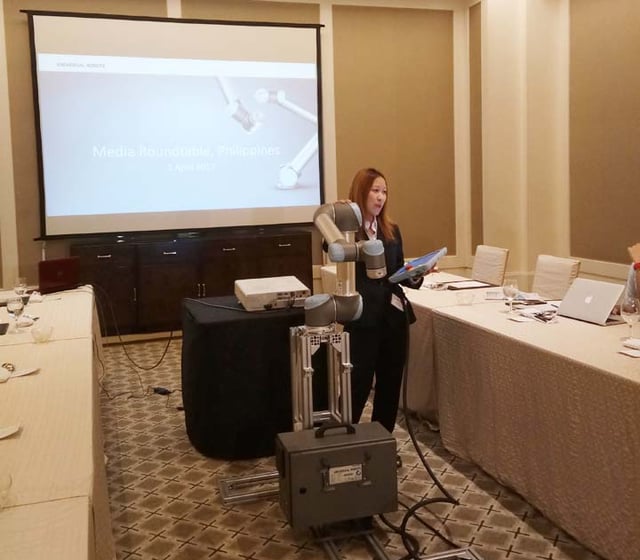 Caption: Shermine Gotfredsen, Universal Robots A/S general manager for Southeast Asia and Oceania, demonstrates UR's cobot.

Elsewhere, Fox News reported on Locus Robotics' autonomous warehouse robots, which have received a "Locus Robotics Advanced Navigation" upgrade that enables them to communicate more effectively with each other.


Automation World ran a story on Comau's "Industry 4.0-ready robotic workstation configuration that incorporates industrial robots, collaborative robots and AGVs" and another about "Robot control from the cloud."
While we're talking robotics and the cloud, EIT Digital announced the launch of its "Robot IoT Interface," which is designed to enable different types of robot and machine to connect to different cloud platforms. The interface was developed in collaboration with the French Alternative Energies and Atomic Energy Commission (CEA) and Poitiers-based startup Agileo Automation.
If you're interested in using force sensors for part inspection, make sure to check out this Engineering.com story:
In other cobot news, Vancouver shipyard group Seaspan is to lead a C$1 million investment in collaborative robotic systems company Novarc Technologies, which develops robots and advanced control techniques to make pipe welding more efficient, according to a report in The Motorship.
Packaging Digest ran "8 considerations for collaborative robots," which shares selected quotes from leading experts at Omron Automation, Rockwell Automation, Universal Robotics, and includes the following from Keith Voz, product manager for software, at Yaskawa Motoman:
Reverse justification? "Rather than a top-down drive from management, there's a pull from production workers who see that robotics can remove them from tiring, boring and sometimes dangerous tasks and into an opportunity for more meaningful work."
3D Computer Vision Challenge
The ImageNet Challenge, which has boosted the development of image-recognition algorithms, will be replaced by a new competition next year that aims to help robots see the world in 3D, according to a report in New Scientist:
The ImageNet team say it's time for a fresh challenge in 2018. Although the details of this competition have yet to be decided, it will tackle a problem computer vision has yet to master: making systems that can classify objects in the real world, not just in 2D images, and describe them using natural language.

"There is very little work on putting a 3D scene through a machine-learning algorithm," says Victor Prisacariu at the University of Oxford. Building a large database of images complete with 3D information would allow robots to be trained to recognize objects around them and map out the best route to get somewhere. This database would largely comprise images of scenes inside homes and other buildings.
I'll be back next week with more news from the world of robotics. Until then, I hope you enjoy these links and videos (which includes a short movie that was shot entirely by drone)!

The latest on FF Robotics' machine harvester (Good Fruit)
Roboticist Danica Kragic Talks Autonomous Systems, Ethics, and Being Featured by Vogue (The Institute)
Wall Street has gone gaga for robot stocks (Axios)
Billionaire investor to accelerate research in artificial intelligence in healthcare (EurekAlert)
Austin middle schoolers design innovative flood sensor (KXAN)
The FAA Just Released a No-Fly-Zone Map for Drones (Inverse)
The legal issues of robotics (Robohub)
We could soon face a robot crimewave ... the law needs to be ready (Yahoo! News)
The Risks of Bias and Errors in Artificial Intelligence (RAND Corp.)
Toyota shows robotic leg brace to help paralyzed people walk (SF Gate)