What's New In Robotics This Week - 07.09.2018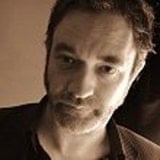 -Robotiq launches Force Copilot at RUC
-Cobot safety on Coursera
-Versius, a new surgical bot
-Configurable nano-bot swarms
-Five vids for Friday
-And much more!
Manufacturing & cobot roundup
Japanese motor manufacturer Nidec plans to acquire five German robotics companies by the end of March 2019, at a cost of roughly US$450 million.
Via Nikkei Asian Review: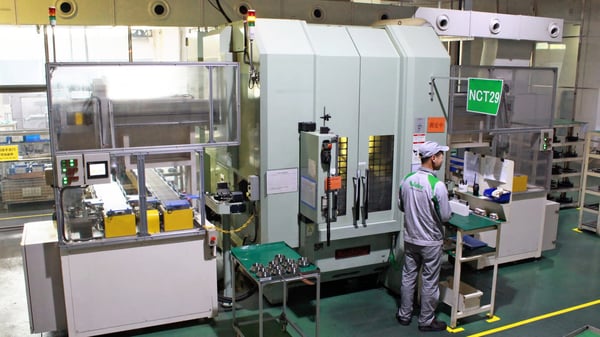 Pic: Nidec specializes in the manufacture of precision gearboxes. Credit: Nidec.
The Japanese motor manufacturer will kick off the shopping spree this month with the purchase of robot parts maker MS-Graessner, known for speed-reducing gearboxes key to moving the joints of robot arms. The deal is estimated at roughly 5 billion yen and will be made through subsidiary Nidec-Shimpo.
Robotiq's RUC event attracted some of the world's most widely-known figures in robotics, including Universal Robots'Esben Østergaard (discussed cobot safety with Robotiq's Samuel Bouchard) and A3's Jeff Burnstein (kicked off the event with a cobot market mystery). The RUC Technical Challenge tasked teams with assembling 300 kits for a company called 'PromoStuff Inc.' The result will be known later today, so stay tuned to the Robotiq blog for updates.

Robotiq launched Force Copilot, new software designed to operate Universal Robots e-Series' embedded force torque sensor. The Force Copilot accelerates the programming of a whole host of applications, including part insertion and surface finding.
Sarcos Robotics announced that it has secured US$30 million in Series B funding from a consortium of investors co-led by DIG Investment and Alex. Brown & Sons. (H/T BusinessWire)
All Axis Robotics showcased its "turnkey, automated deburring/sanding system" that uses a UR10 cobot for high mix/low volume machine and sheet metal shops...


LG Electronics "will continue to concentrate on expanding its robot business portfolio by actively pushing for mergers and acquisitions with companies in possession of appropriate technologies to secure a future growth engine," CEO and Vice Chairman Jo Seong-jin told reporters from Korea Times:
[Jo Seong-jin] said the tech firm has signed M&A deals with several robot startups since last year and "will become more active in carrying out such deals and forming alliances with schools and research institutes" in order to expand cooperation with external partners.
French firm NORCAN released fresh video of its autonomous mobile cobot 'Sherpa' in action. The bot is specially designed for material handling and order picking...
The Thai robotics market "has enough demand side support for South Korean robotics and automation firms to invest in the country thanks to Thailand's 4.0 policy," said Kim Jongheon, director of the Korea Institute for Robot Industry Advancement. (H/T NationalMultimedia)
The Bangkok Post also reported on Thailand and South Korea's plans to team up for future investment and market research on the robotics sector.
Asian Robotics Review explored Mayalasia's ambitious plans to turn part of the city of Johor Bahru into a major robotics manufacturing hub (with the help of Chinese firm Siasun, which plans to invest some US$3.5 billion in the region).
One of Denso's COBOTTA cobots was spotted helping out in the lab...
The University at Buffalo's Center for Industrial Effectiveness has released an online collaborative robot safety training course. Available for free on the Coursera platform, "Collaborative Robot Safety: Design & Deployment" is designed "for anyone seeking a framework to proactively guard against cobot safety hazards."
Researchers at Autodesk's BUILD space in Boston are working on a prototype human-robot collaborative system for use in the construction industry. The team recently tested their prototype in a construction scenario "that is highly constrained by spatial limitations, such as small construction sites, high degrees of impredictability or difficult kinematic solutions." The system will be shown at the forthcoming RobArch 2018 workshop "Tight Squeeze"...


Elsewhere...
Cambridge-based med-tech CMR Surgical has launched a new surgical robot, dubbed 'Versius.'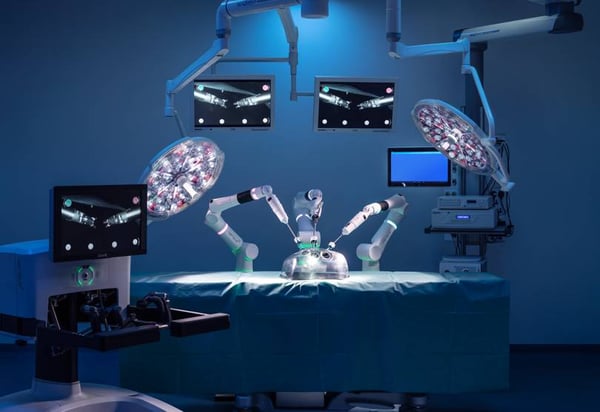 Pic: The new Versius medical robot. Credit: CMR
Via Wired:
Versius is only waiting for its CE mark, which should be secured in the next six months, before it can be sold to hospitals - or rather, offered as a managed service. The CMR team is planning on arranging for clinics to be able to pay smaller sums of money each year to use Versius, with access to all of its instruments, rather than having to pay at once for an expensive system that needs to be regularly refreshed with new instruments.
Researchers at The Chinese University Hong Kong have created a new method for controlling nano-robots that emulates natural swarm behavior. Using magnetic fields the team is able to control structural changes from extending, shrinking and splitting swarms to merging swarms together.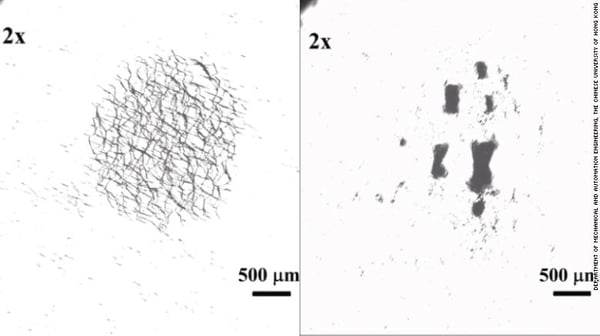 Pic: These pics show how the same swarm of nanobots can be structured in different ways. Credit: CUHK
The team hope that this technology could one day be used to remove blood clots and perform other operations at the nano-scale. (H/T CNN)
In other reading:
Toward animal-friendly robots (PhysOrg)
Laser-powered-drones may beat endurance hurdles (TechXplore)

iRobot's latest Roomba remembers your home's layout and empties itself (The Verge)

GreyOrange raises $140 million (VentureBeat)
This little robot swims through pipes and finds out if they're leaking (Fast Company)

I'll be back next week with more of the latest robotics news! Until then...
Five vids for Friday
1. Robat is a terrestrial robot that mimics bats' echolocation skills by using ultrasound to navigate. The bot successfully navigated an obstacle course in a large greenhouse recently. (H/T Science Mag)

2. Hanson Robotics released 'The Journey of Sophia the Robot' a sort of mini-manifesto for the humanoid bot (in which Sophia describes itself as belonging to "a new species.")
3. Lockheed Martin and the Drone Racing League launched 'The AlphaPilot Innovation Challenge' -a competition to develop AI technology that will enable an autonomous drone to race against a pilot-operated drone (and win). Teams will compete in a series of challenges for their share of over US$2 million in prizes.

4. McMaster University and Ryerson University are working with IBM and humanoid bot Pepper to see whether they can help patients change their routine behaviors to reduce the chances of skin cancer and other illnesses.
5. Meet 'Temi' --a new domestic bot that, it makers claim, is the first domestic service bot to use lidar for navigation.