What's New In Robotics This Week - 01.12.18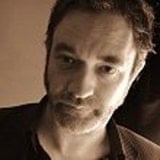 -Manufacturing & Cobot Roundup
-Bots of CES 2018
-Boeing's Prototype Cargo Drone
-Neural Mechanism Behind 'Uncanny Valley' Effect Revealed
...and much more!
Manufacturing & Cobot Roundup
Researchers at the University of Salford's Centre for Autonomous Systems and Robotics have built a variable stiffness robot arm that they hope will make progress towards larger soft robots.


Via The Conversation:
The larger a robot gets, the heavier it will likely be and the more dangerous it will become. But new materials may be able to help here. For example, the two-dimensional form of carbon known as graphene is very strong but lightweight and flexible. So perhaps we could one day see large graphene-based soft robots. With these kind of advances, factory workers could soon see the barriers lifted and find themselves working side by side with their robotic colleagues.
Car maker SEAT showcased the daily life of autonomous industrial robots...


Meanwhile, University of Nebraska researchers are working on soft robots with potential applications in the manufacturing industry...



Elsewhere, University of Florida graduate student Ulrich Adegbola is evaluating the efficiency of transplant robots for four growers in the floriculture sector. Adegbola is testing two robots --one from ISO Group, which can pick and place cuttings across conveyors and one from Visser, which places cuttings into biodegradable plastic strips for transportation.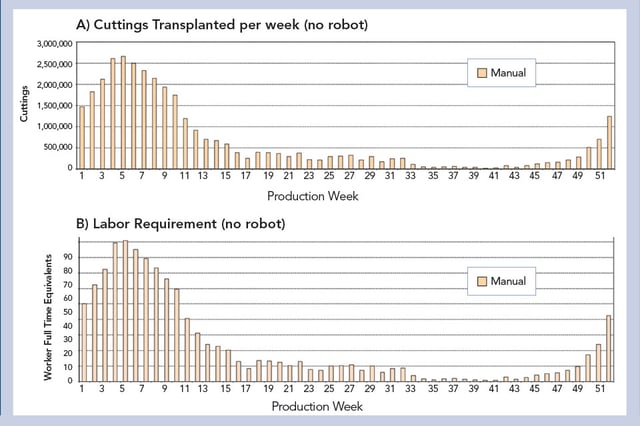 Caption: Without automation.
Growing Produce reports:
Every grower's situation is different with respect to the labor cost tradeoff for evaluating robotic transplanters. Robotics manufacturers can provide costing spreadsheets to evaluate return on investment. Work out your own cost to transplant cuttings manually as a point of comparison — in our grower survey it averaged $0.018 per cutting.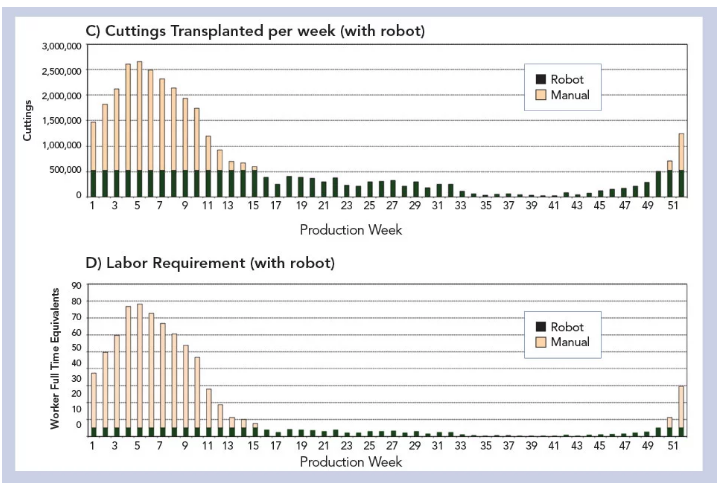 Caption: With automation.
Steel machinery maker Voortman showed off its V325 plate processing system and V808 robotic thermal cutting machine...


Packaging World reported on the growing use of cobots in cosmetics packaging applications:
In discussion with various robot suppliers it appears that the penetration of the collaborative automation approach at small CPG manufacturers is slow, but progressing. What is clearly evident is that configuring cobot cells requires a paradigm shift in "machine design"—from hard, or even programmable, automation to thinking of a person doing a multi-tasking job with multiple hands. So far I have seen cobot solutions for cosmetics products provided by Far East companies, and I can envision proliferation especially for short-run manufacturing.
One such paradigm shift in robot cell design is the Lean Robotics methodology. Find out more here.
NPR reported on a US-based furniture maker that's using cobots to increase productivity and profitability without job losses.
FISCHER showcased one of its automated systems that can inspect and analyze random samples in running productions...


AI will create more jobs than it destroys, due to the 'reinstatment effect,' says the American Enterprise Institute's James Pethokoukis.
Meanwhile, Carnegie Mellon's Tom Mitchell says that machine learning will fundamentally transform manufacturing just as the development of the steam engine and electricity did in the past. Via WESA:
"Jobs won't so much disappear, they'll just take on a new shape and form that pushes more toward the human doing non-routine parts of a job," Mitchell said. "They'll do more of the interaction with people part."
Porcelain maker Rosenthal uses Stäubli 6-axis robotic arms at their production site at Speichersdorf, Germany for handling and machining tasks. The result? Higher flexibility, and greater efficiency and quality in production...

Record growth in the semiconductor market is a good sign for industrial robot manufacturers, says Robotics & Automation News. The global factory automation market is expected to reach USD 241.27 million by 2023 at a CAGR of 8.59 %, according to a new report.
AWL-Techniek showcased a flexible manufacturing system it developed for furniture maker Vereinigte Spezialmöbelfabriken GmbH & Co. KG (VS Möbel). The bot produces 40 different end products (mostly chairs and table frames) integrating 9 different processes along the way...


Mechanical motion control component and industrial robot maker Hiwin Technologies reported consolidated revenues of US$71.2 million for December, with year on year growth of 34.06%. The firm has plans to set up factories in Japan, South Korea and Italy in 2018. (Via DigiTimes.)
CNC Solutions showcased a robot cell designed for deburring and materials removal...


Cobots are going to be a driver for growth in the manufacturing sector over the coming years, says Advanced Manufacturing:
Smaller, nimble, and with increasing numbers of sensors, collaborative robots are anticipated to account for 34% of industrial robot sales by 2025. The required investment has decreased as robots increase their market share: collaborative units can range in price from $25,000 to $45,000—a far cry from the $521,000 in today's dollars it cost to produce the first industrial robot in 1961.
HYRobotics' HCR-5 cobot showed off some of its skills...
Austin, TX-based Diligent Robotics, which is developing a cobot for use in hospitals, announced that it has raised USD$2.1 million in a new round of funding led by True Ventures.


Bots of CES 2018
CES 2018 has been running this week in Las Vegas and robots have been grabbing a lot of attention. Here ae just some of the highlights...
Honda revealed four new robots, including the 3E-D18, an autonomous off road vehicle...
Fortune reported as Hanson Robotics' humanoid bot Sophia took her first steps...


AdWeek explored the creative writers behind Sophia's personality, while the robot was interviewed by the BBC and Digital Trends...


Taiwan's Industrial Technology Research Institute revealed its Scrabble-playing bot, which uses special cube-shaped Scrabble tiles, enabling the robot to pick up the letters and drop them into place without disturbing the board...

LG's CLOi voice assistant robot experienced some stage fright, Sony's AIBO dog bot made a much welcomed comeback, and pole dancing bots turned heads.
One of the robot darlings of the show is the Aeolous personal service robot...


Via C|Net:
To be fair, this Rosie's still a prototype, but it's a working prototype. Right now, it can grab objects and hand them to you. It can hold a vacuum and clean your floor. It can learn different objects and where they go. In theory, it'll be able to clean your floors. By learning your objects, it'll be able to pick up a room.
Intel showed off its prototype 18-rotor Volocopter drone...


More CES coverage:
Asian Robotics Review "Meet The Smart Family of Intelligent Robots"
TechRadar "Best Robots of CES"
CNET "Meet The Robots of CES 2018"
WSJ "CES in 2 Minutes"
Euronews "Robots and Time Travel at CES 2018"
USA Today "The 5 Coolest Robots We've Seen At CES 2018"
Boeing's Prototype Cargo Drone
Boeing has unveiled a prototype 747lb cargo drone that can handle a payload of up to 500lbs.
The mammoth robot measures 15 feet long, 18 feet wide and 4 feet tall and was developed in under three months by the Boeing team.


Via Engadget:
Obviously Boeing's prototype is far from a commercial product, but the firm says it'll be used "as a flying test bed to mature the building blocks of autonomous technology for future applications."
Neural Mechanism Behind 'Uncanny Valley' Effect Revealed
The "uncanny valley" refers to that uncomfortable feeling some people report when a humanoid robot looks almost --but not quite-- human. (See video below for quick background.)
Now researchers at Japan's Osaka University have uncovered some of the neural mechanisms underlying the effect --and found that there could be implications for Parkinson's researchers.
Via AlphaGalileo:
They used functional magnetic resonance imaging (MRI) to investigate what brain region activates when participants observed the android's and the human's movements in the movies, wherein they were only slightly different in naturalness. The subthalamic nucleus is found to be responsible for detecting the android's slight awkwardness.

"Visual observation of the android, compared with that of the human model, caused greater activation in the subthalamic nucleus (STN), which plays an important role in motor control," says Takashi Ikeda, lead author of the study, which was published recently in Scientific Reports. Notably, the STN is involved in the process of impairing dopaminergic neurons in the deep brain structure in Parkinson's disease patients.
With uncanny regularity, I'll be back next week with more robotics news. Until then, please enjoy these videos and links!


The Final Ride of the Mail Robots (Atlas Obscura)
Pentagon Seeks Laser-Powered Bat Drones. Really. (Defense One)
Thiel-Backed Maidbot, Inc Creator Of Rosie The Robot Partners With BISSELL (PR Web)
NTU and Volvo to jointly develop autonomous electric buses in Singapore (AlphaGalileo)
The Aflac duck became a toy robot to help kids fighting cancer (Mashable)
These Enchanting Fireflies Are Actually A Robot Swarm (FastCoDesign)
Artificial muscles power up with new gel-based robotics (ScienceDaily)
Ocado to wheel out C3PO-style robot to lend a hand at warehouses (The Guardian)
Inside The Company Aiming To Put A Robot Into Every Home (Forbes)
ElliQ has raised $22 million for its social robot aimed at older adults (TechCrunch)