What's New In Robotics? 30.11.2018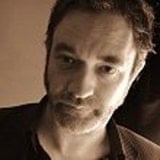 by
Emmet Cole
. Last updated on Nov 30, 2018 12:32 PM
Posted on Nov 30, 2018 7:00 AM. 9 min read time
-News from KUKA, Comau, 6 River Systems
-Amazon's AWS RoboMaker
-Johnson & Johnson's robot stockroom
-InSight Lands on Mars
-Global standards for drones
-Five vids for Friday
-And much more!
Manufacturing & cobot roundup
Industrial robot giant KUKA has announced plans to replace its CEO Till Reuter. Via Deutsche Welle:
In a statement, the DAX-listed company said the head of the supervisory board and Reuter "are discussing the premature termination of Mr. Reuter's Executive Board activities." It said the supervisory board had not yet discussed the changes. No further details were given.
Researchers from Japan's Ishikawa Senoo Laboratory have developed a dynamic human-robot interactive system consisting of a high-speed vision system and a high-speed robot hand. The team demonstrated some nice pick and play work, which is used here to demonstrate the system's accuracy...

Amazon's 'Deep Learning Team' announced the availability of AWS RoboMaker, a "new service that makes it easy for developers to develop, test, and deploy robotics applications, as well as build intelligent robotics functions using cloud services." Via BusinessWire:
AWS RoboMaker extends the most widely used open source robotics software framework, Robot Operating System, with connectivity to AWS services including machine learning, monitoring, and analytics services to enable a robot to stream data, navigate, communicate, comprehend, and learn. AWS RoboMaker provides an AWS Cloud9-based robotics integrated development environment for application development, robotics simulation to accelerate application testing, and fleet management for remote application deployment, update, and management.
One of Robotiq's 2-finger grippers was spotted carrying out some pick and place work and CNC operation in collaboration with a UR10 cobot from Universal Robots...

Carmaker Fiat is believed to be considering options for its robotics arm Comau, including a potential sale at a value of 1.5 billion euros to 2 billion euros (US$1.7 billion to US$2.3 billion), according to a report in Bloomberg:
The strategic review of the unit is at an early stage and no final decisions have been made, the people said, asking not to be identified because the deliberations are private. A sale process could start early next year, the people said. The business, which makes automated manufacturing systems and industrial robots, could attract bidders from China, another person said.
An AUBO-i5 cobot fitted with a Robotiq gripper was filmed serving coffee at a recent event...

Collaborative robotics fulfillment providers 6 River Systems, Inc. helped warehouses in the United States fulfill a million units in the week that included Black Friday, it revealed this week. The company claims that it is the first of its type to achieve the milestone. (H/T Boston Business Journal)
Johnson & Johnson provided a behind the scenes look at its highly-automated medical parts stockroom, located near Tokyo's Haneda airport... (H/T The Japan Times)
More...
Elsewhere...
After an almost seven-month, 300-million-mile (458-million-kilometer) journey from Earth, NASA's InSight lander touched down successfully on the surface of Mars this week.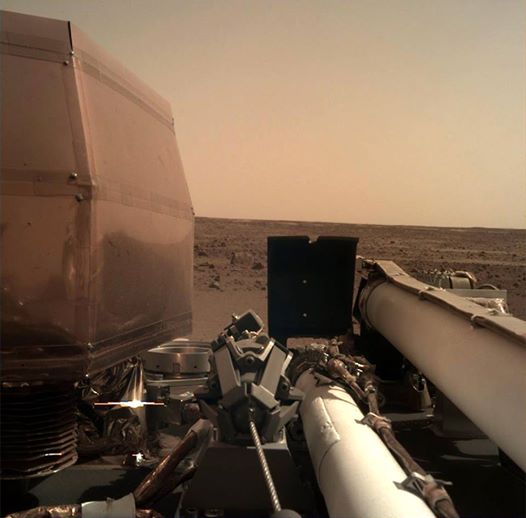 Foreground: InSight's first partial selfie. Background: Mars' equatorial plain. Credit: NASA JPL
Via Space.com:
"We hit the Martian atmosphere at 12,300 mph (19,800 kilometers per hour), and the whole sequence to touching down on the surface took only six-and-a-half minutes," said InSight project manager Tom Hoffman at JPL. "During that short span of time, InSight had to autonomously perform dozens of operations and do them flawlessly - and by all indications that is exactly what our spacecraft did."
InSight will start its work (inc. measuring "Marsquakes," mapping the planet's interior, and tracking Mars' rotation axis) in earnest in about 2 months and is expected to operate until Nov. 24, 2020.
Things are likely to get crowded on Mars over the coming centuries with a lot more humans expected to make the journey into space. One set of tools we'll need are AI systems for monitoring and managing planetary base stations.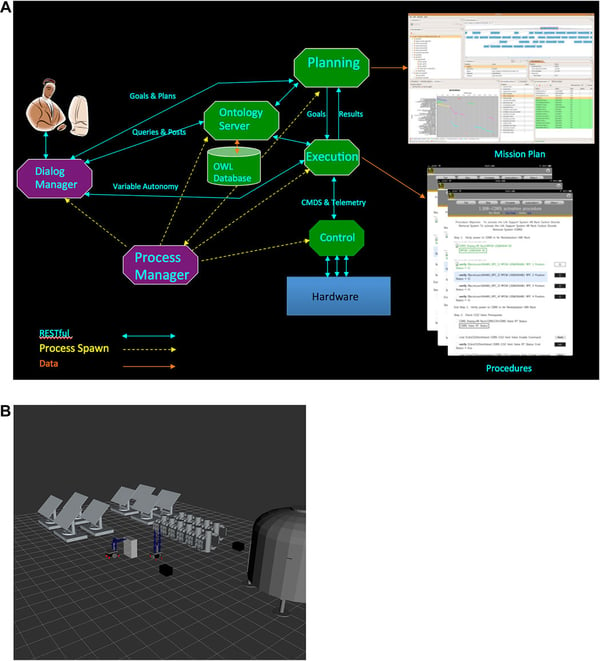 Credit: Science Robotics (2018). DOI: 10.1126/scirobotics.aav6610
With this in mind, engineers at U.S.-based TRACLabs Inc. have developed CASE ('Cognitive Architecture for Space Agents') --a prototype AI system that can manage critical tasks (such as maintaining oxygen levels and managing waste) on a virtual reality prototype of a planetary base. (H/T TechXplore)
SpaceBok, a robotic hopper designed by students from Zurich, Switzerland is currently undergoing testing in the European Space Agency's Mars Yard in the Netherlands. (H/T UPI)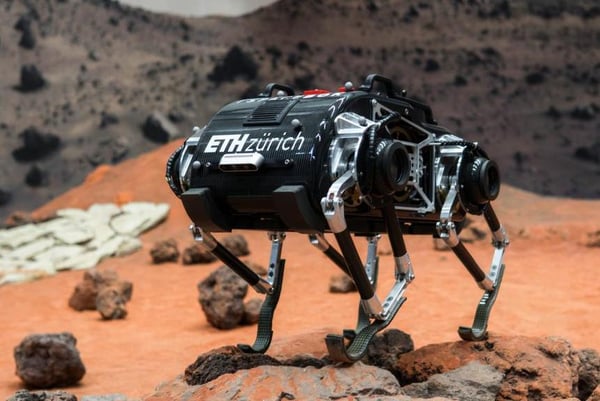 The SpaceBok 's preferred method of locomotion is hopping. Credit: European Space Agency
The International Organization for Standardization has released the first draft set of global standards for drone use. Covering topics as diverse as no-fly zones and geofencing through training, flight logging and maintenance requirements, the document (ISO/CD 21384-1; 'Unmanned aircraft systems') is open to public comment until January 21st, 2019.
In other news...
Five vids for Friday
1. Scientists in Morocco have developed a robot that's able to milk scorpion venom for use in medical research. At around US$8,000 per gram, The Financial Times notes, scorpion venom might just be the most expensive liquid in the world.


2. Togo imports an estimated 500,000 tonnes of e-waste a year, some of which local innovators transform into working robots. As the BBC notes, "innovators and entrepreneurs alike" are currently trying to come up with solutions that harness the potential and mitigate the dangers of e-waste.
3. Meet McBlare: a robotic highland bagpipe player developed at Carnegie Mellon University. McBlare uses a pump and regulator that continuously pumps air into the bag to inflate it. Magnetically-operated 'fingers' with pads are able to cover the bagpipe chanter's tone holes, producing sounds at different pitches. (WARNING: Contains bagpipe sounds!)
4. Oliver Groth believes that human physical intuition is the key "which enables our superior object manipulation skills and sets us apart in situations where the accurate, yet brittle computations of a machine might fail." Groth explored this and other topics at a recent TEDxDresden event.
5. Bipedal bot Cassie Blue explored and mapped portions of the Ford Motor Company's robotics building this week, overcoming problems with a capacitor in its left leg along the way. The building is currently under construction on the University of Michigan's North Campus.