What's New in Robotics? 28.01.2022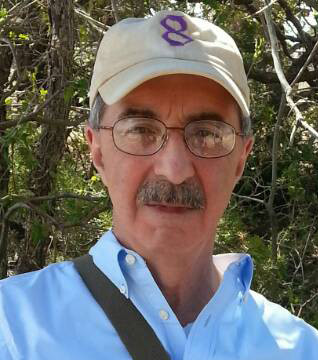 by
Tom Green
. Last updated on Jan 28, 2022 10:51 AM
Posted on Jan 28, 2022 9:51 AM. 8 min read time
News briefs for the week take a look at the Snowbot S1 robot snowblower, Exotec's combined Skypod AS/RS and Skypicker pick n' pack systems, Effibot's "follow me" AMR, an exosuit's impact on mobility for stroke victims, the largest-ever 3D-printed office building, and a "tough guy" mobile robot arm that unloads trailers at 800 boxes per hour.

Cold-weather robot as autonomous snowblower
Snow removal with powerful, gas-powered home snowblowers might be a tough act to follow for an autonomous, all-electric model that can handle only a maximum of 12 inches (30 centimeters) of snow depth.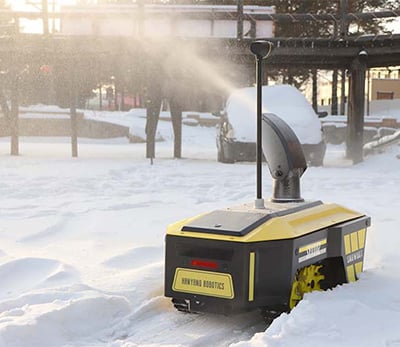 Shenzhen-based Hanyang Technologies, in marketing its "residential use" SnowBot S1 has a realistic outlook about the difficulties involved with the many types of snow as well as removing it, saying on its website: "We know there is a long way to go, for a smarter, easier, and better snow cleaning solution." The company is offering a $200 discount for early-bird buyers (available in October of 2022). Asking price: $1999. By comparison, the cheapest Husqvarna gas-powered machine, the ST124, retails for $699.
That said, the SnowBot S1 is a sleek-looking, treaded snow warrior with a hard rubber-tipped auger that scrapes the snow off the ground and into its housing before expelling it from its chute for up to 12 feet (about 3.6 meters) away. The Snowbot S1 is powered 4 high-efficiency motors running on a 1123 watt-hour, lithium-ion battery. "A full charge can work for 1.5 hours and clean an area of about 1500 square feet (for snow depth of 5 inches)."
LiDAR navigation and advanced positioning algorithm help Snowbot S1 to plot and autonomously execute a cleaning path. And it automatically stops when clogged.
Exotec's Skypod system nabs $335M for expansion
Throughout 2021, and quite possibly for the foreseeable future, spikes in e-commerce, continued COVID threats, and difficulties in recruiting workers have created a perfect storm for logistics vendors. Lille-based (France), Exotec, (founded in 2015), just nabbed $335 million (current valuation $2 billion) to scale its Skypod AS/RS and Skypicker pick n' pack systems into the eye of the storm.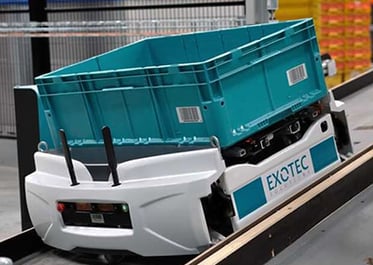 Exotec claims that its Skypod architecture is qualified at increasing storage density over rival AS/RS systems. Skypods are low-profile, goods-to-person autonomous robots that can go up a rack system (as high as 36 feet) to pick up a bin and deliver it to a packing station. Now, with the addition of its recent SkyPicker system, the bins or totes can be unloaded and packed for shipment. Ever fewer workers are needed to pick, pack and ship e-commerce.
"When they climb in the rack, they go at almost 5 feet per second, so this is a very fast piece of equipment," says Gilles Baulard, the company's EVP of sales.
"Exotec has always positioned its product as a service that can't replace humans altogether. An Exotec warehouse is run by a combination of humans and robots." However, with the addition of the Skypickers, Exotec is now positioning itself as a logistics advantage in a tight labor market.
We didn't invent the robot, says Exotec CEO Romain Moulin, we just invented how to make them run in 3D, which, he claims, makes all the difference (see video).
Spanish automaker to use French Effibot (AMR)
Also joining in the rush to supply e-commerce and factory-helper AMRs (Autonomous Mobile Robots) is another French logistics developer, Romagnat-based Effidence.
In collaboration with Spanish automaker SEAT S.A., Effidence developed its EffiBOT (AMR) and adapted the robot's operation to the processes at SEAT's Martorell plant.
SEAT integrated Effibots that can deliver parts to the assembly line and transfer material between different locations, which, says SEAT,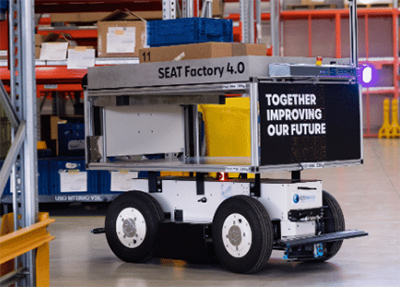 results in increased productivity.
In general, Effibot is an autonomous cart that operates like a handling assistant and can be used, claims the company, "in various use-cases, from picking/kitting activities to parts delivery, and in various warehouse and industrial environments."
The Effibot can self-map a route to a given destination and avoid obstacles along the way. Also, it's "follow-me" functionality enables it to follow a worker, and "can be configured for a person walking in front, on the left side, or on the right side of the vehicle."
The navigation system gives it a driving speed of up to 4 mph. Although a relatively slow AMR, Effibot's design offers safe aisle-crossing capabilities, can operate on uneven surfaces with up to 30-degree inclines, and is also able to move two-ways in order to improve maneuverability.
Robots raise mobility outcomes for stroke victims
"Stroke patients are often told they have one year to recondition their bodies after a stroke, and then that will be as good as it gets." One year to rehab, and that's it, is like giving someone's mobility a death sentence.
For 72-year-old, stroke victim William Roquemore, it had been seven years, and he was deemed too far gone to benefit from any rehabilitation.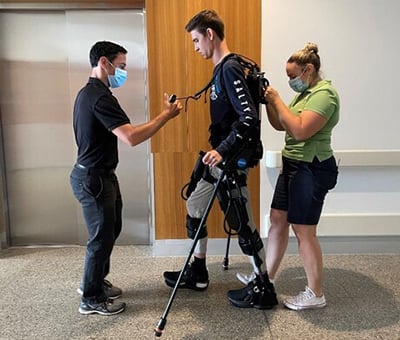 Then, his life changed dramatically for the better when he met up with the staff from the University of Texas' TIRR Memorial Hermann Health Center and their Ekso GT Robotic Exoskeleton from Ekso Bionics.
TIRR Memorial Hermann staff director, Dr. Fangshi Zhu, wanted to find out if robot-assisted therapy could help.
"The doctor told my wife I'd be no more than a vegetable, but I got better!" said Roquemore enthusiastically, while walking in the powered exosuit.
"Traditional therapy," said Zhu, "often involves more than one physical therapist to manually bring your impaired limb to the desired location or trajectories, and it can be very labor intensive, and even unsafe some times for the patient and for the therapist."
The exosuit never tired, and months of repetition paid off for Roquemore. He's now the subject of a success paper in the Journal of Neural Engineering, and feedback from his therapy sessions is helping Ekso Bionics make specific improvements to the Ekso GT, which will help other stroke patients to walk again.
3D tech prints largest-ever office building
Apis Cor, Florida-based robot/3D printing construction company, used its technology to build the world's largest 3D-printed building, a two-story office in Dubai, earning the company a Guinness Book World Record for the World's Largest 3D Printed Building on Earth.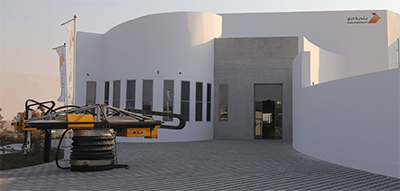 Although the 3D printer weighs 2 tons, it can be transported to various sites because of its compact dimensions and requires about 30 minutes for installation. "The printer is almost fully automated, though it requires two people to operate it and supply the material."
Sponsored by the Dubai Future Foundation, the two-story building measures 20 feet by 120 feet long by 40 feet wide, and took 17 days to print; the interior took 3 months to design and build out. According to Apis Cor, the building "required 50 percent less manpower to complete when compared to traditional methods of building." The startup also met the challenge of 3D printing in Dubai's harsh environment without humidity and temperature controls.
Apis Cor developed a gypsum-based, weatherproof material to run through the printer; while the 3D-printing machine was moved via a crane to re-position to work the building process. "The building sits on conventional foundations, and the 3D-printed formwork for the columns was reinforced with concrete and rebar."
Stretch: warehousing's new-best friend
The worst job in a warehouse has a best-new friend: Boston Dynamics' Stretch robot.
Frigid in winter, stifling in summer, and always awkwardly backbreaking, unloading containers and trailers at warehouse loading/receiving docks is regarded by workers as the nastiest of tasks.
"With its single massive arm, a gripper packed with sensors and an array of suction cups, and an omnidirectional mobile base, Stretch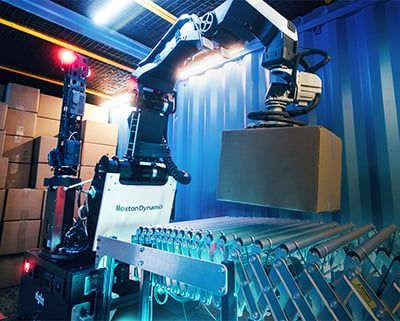 can transfer boxes that weigh as much as 50 lbs. (23 kg) from the back of a truck to a conveyor belt at 800 boxes per hour."
The robot weighs 2,650 lbs. (1,200 kg). With a base the same size as a standard pallet of 48x40-inch, Stretch conveniently fits anywhere a pallet can fit…like in a 45-foot trailer, for instance. Graced with a powerful, long-life battery "Stretch [can work] through an eight-hour shift, or up to 16 hours with the extended range option."
Boston Dynamics VP of Product Engineering Kevin Blankespoor envisages Stretch's typical day going something like this: "Stretch might spend the morning on the inbound side of the warehouse, unloading boxes from trucks. It might spend the afternoon in the aisles of the warehouse, building up pallets—those will go off to retailers or e-commerce centers. And it might spend the evening loading boxes back into trucks."