What's New In Robotics? 25.10.2019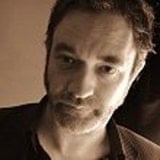 by
Emmet Cole
. Last updated on Oct 25, 2019 9:34 AM
Posted on Oct 25, 2019 9:19 AM. 9 min read time
Good morning. In this week's news mix: Mitusubishi teases new cobot, researchers unveil cobot-testing AR platform and industrial robot sales in India jump 39 percent. We also check out Edmonton airport's inspection drones, look forward to a Robotiq gripper being controlled from space and much more!
Cobots & manufacturing
Mitsubishi Electric unveiled the first of its new MELFA Assista series of cobots this week. The RV-5AS-D-S99 MELFA Assista promises positioning accuracies as low as ±0.02mm (0.007 in), a reach of 900mm (35.43 in) and a payload of 5kg (11.02 lbs).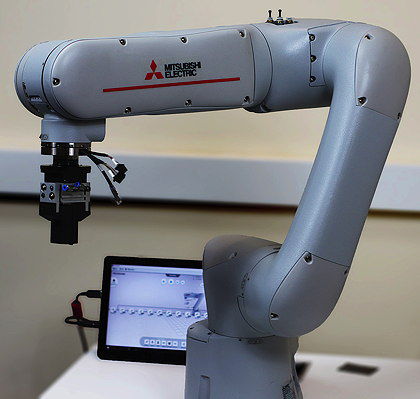 The RV-5AS-D-S99 MELFA Assista cobot. Credit: Mitsubishi Electric
Drives & Controls reported that the new cobot is due to go on sale in the first quarter of 2020 at a price of around USD33,600.
Meanwhile, Purdue University engineers have created an augmented reality platform that turns end-user and cobot into digital "ghosts." This isn't a Halloween prank though: the idea behind the "GhostX" platform is to help users plan and tweak their collaboration with a cobot before performing the task in the real world. And it's all achieved without any coding required on the end-user's part...

Wow, India. Sales of industrial robots reached a new record of 4,771 new units in 2018, an increase of 39 percent on 2017's 3,412 units, according to the latest figures from the International Federation of Robotics (IFR). India now ranks eleventh in the global annual supply, ahead of Singapore, Canada and Thailand. And with India's GDP predicted to grow by 7% in 2019, expect the country's appetite for automation to continue on its upward trajectory.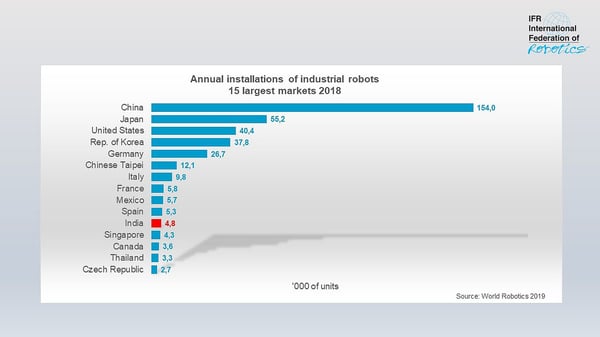 Credit: IFR
Via IFR:
"India is one of the strongest growing economies among the emerging markets in Asia," says Junji Tsuda, President of the International Federation of Robotics. "Whilst the recent global results were quite moderate, India saw an impressive growth rate of 39% in 2018. The number of robot installations has been growing rapidly for several years now. Between 2013 and 2018, India saw a compound annual growth rate of 20%."
Researchers from Texas A&M are collaborating on a USD1.2 million, National Science Foundation-funded project to improve the understanding of human-robot interactions in high-risk industries, such as offshore oil and gas.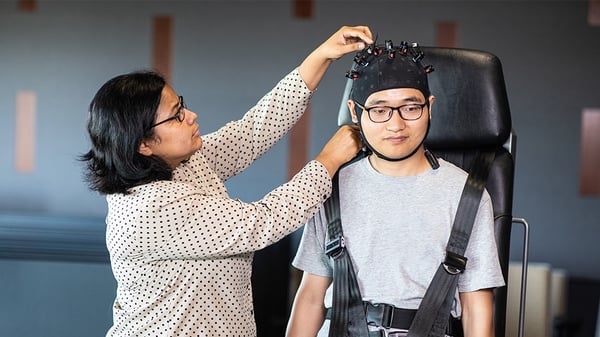 As part of the project, engineers will measure brainwaves and emotional states. Credit: Texas A&M
Via Texas A&M:
[researchers] will use wearable brain imaging to understand fatigue and stress states of workers as they interact with the robots in manufacturing facilities in Texas. The use of machine learning will enable the robots to react to workers' cognitive and contextual states. Researchers will also use this information to develop an augmented reality assistant that will provide workers with information needed to safely perform their jobs with collaborative robots.
Elsewhere...
Edmonton International Airport (EIA) in Canada is using drones from AERIUM Analytics to perform analysis of the site's more than two million square feet of runways, taxiways and aircraft handling aprons.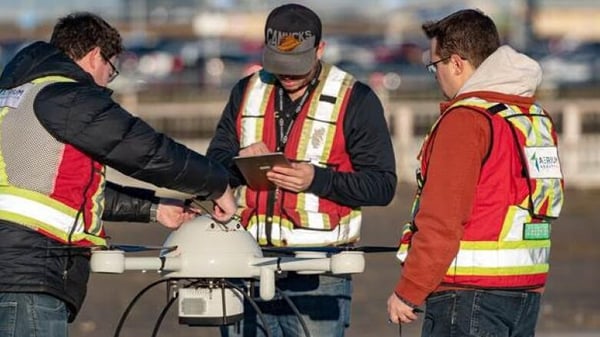 AERIUM has conducted around 3,000 drone flights at EIA. Credit: EIA
CBC News reported, Monday:
The information gathered by the drone will be used in the airport's annual assessment of its paved areas, which looks for pavement that is beginning to deteriorate. According to EIA, Edmonton is one of the only airports in Canada using the drone technology as part of its maintenance program.

In November, a remotely-operated mobile robot fitted with grippers from Robotiq will travel over Moon-like terrain near Noordwijk, in the Netherlands and collect some rock and soil samples.
But this isn't a typical teleoperation experiment. The bot will be controlled from the International Space Station by ESA astronaut Luca Parmitano, who might find that space presents special challenges when it comes to remote operation.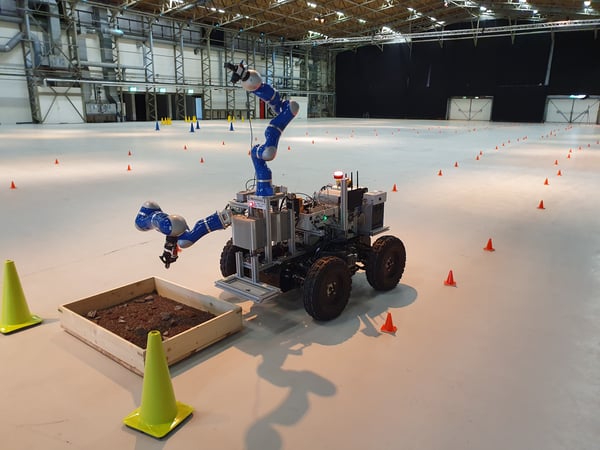 This mobile rover will be controlled from space. Credit: European Space Agency
Via Space.com:
Scientists expect he may face additional difficulty because of how the human body responds to space. Research has shown that microgravity can impair an astronaut's sense of touch or feel, as well as the ability to track moving objects – both of which are critical in this investigation's task.

Finally, remember the weird "gel-like" substance China's Yutu-2 lunar rover discovered a few months back? Well, China's National Space Administration (CNSA) released a pic of the substance in question this week, leading experts to conclude that it is most likely "glass formed by a high velocity impact" and not an alien lifeform as some people had hoped. Ahem.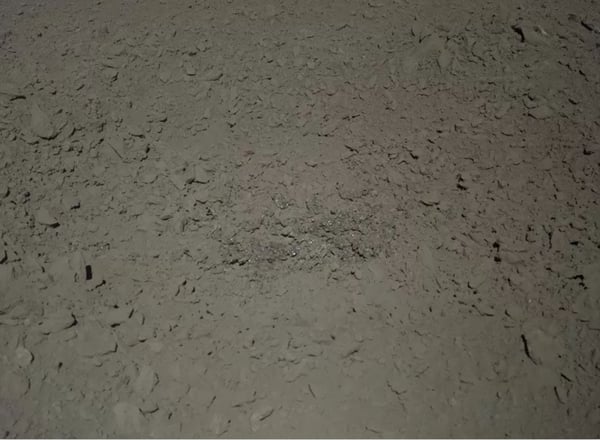 No one is leaving the moon until I find out who broke this fruit bowl. Credit: CNSA

Come back next week for more of the latest robotics news! Until then, please enjoy...
Five vids for Friday
1. The DLR's TORO humanoid was spotted showing off its dynamic walking skills in video released on Tuesday. Walking over uneven, rough and compliant terrain (grass, large gravel and a soft gym mattress, respectively), TORO manages to keep its balance thanks to some innovative control algorithms.

2. Berlin-based EvoLogics GmbH released video of "Poggy" on Wednesday. Poggy is an autonomous underwater vehicle developed as part of the BONUS SEAMOUNT project, which is tasked with creating innovative robots for marine surveying, analysis and monitoring. The bot's design features two propulsion thrusters and two independent "tails" that give the bot a unique look as it makes its way through the water.

3. Engineers from the UK and the Netherlands unveiled a "swarm gradient bug algorithm" on Wednesday. Designed to enable a swarm of tiny flying robots to autonomously explore unknown environments and return to their departure point, the algorithm has already been proven to work using a swarm of teeny, off-the-shelf quadrotors.

4. Meet Mantis, a "light, affordable and accessible" haptic force feedback robot arm developed by experts in human-computer interaction at the University of Bristol. (H/T SciTechDaily)

5. What does it mean to say that a robot is self-aware? And if robots do achieve human-like (or beyond) levels of self-awareness, what might the societal consequences be? Seeker explored these questions and more this week in a thought-provoking video featuring Hod Lipson from the Creative Machines Lab at Columbia University.