What's New in Robotics? 24.03.2023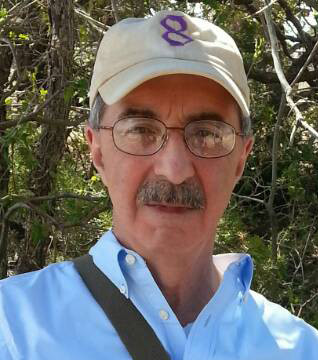 by
Tom Green
. Last updated on Mar 24, 2023 8:22 AM
Posted on Mar 24, 2023 8:22 AM. 8 min read time
News briefs for the week take a look at outdoor robots sprouting up in springtime. Robots made of DeWalt nail guns that shingle roofs, grass-cutting robots specializing in solar farms, robots that eliminate weeds using hundreds of teeny blades, automated robot piledrivers powered by the sun, Honda's sleek, new mobile robot for construction sites, and an autonomous, all-electric, AI baby carriage.

Spring just happened (20 March, at 5:24 p.m. EDT), and it's that time of year when the ground begins to thaw, birds return, and many vendors introduce their outdoor robots. Outdoors meaning robots for backyards, construction sites, farms, and major infrastructure projects most everywhere. In short, it's springtime for robots.
Robot roofers
If winter was rough on roofing shingles and some or all may need replacement, there's a new robot at the ready. On March 2, 2023,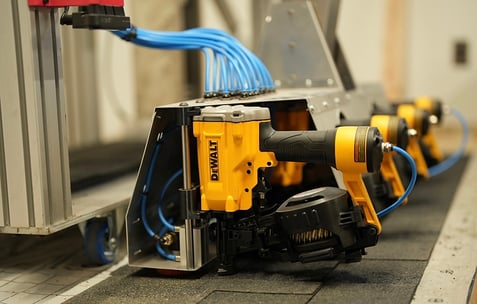 Renovate Robotics (Spokane, Washington) introduced a robot for roofing, including bitumen shingles. In addition, the technology is handy enough that it can be used to mount solar panels (another fair-weather chore).
The global roofing market grew from $151.80 billion in 2022 to $161.36 billion in 2023 at a compound annual growth rate (CAGR) of 6.3. The roofing market size is expected to grow to $193.26 billion in 2027 at a CAGR of 4.6%.
So, the $1.2 million that Renovate Robotics just got from VCs has a chance of flourishing and scaling.
The device, a line of DeWalt nail guns, snaps to the roof and moves along its surface on its X and Y axes, powered by a winch. As it moves along, it places shingles in position and nails them down. The roofing system requires an operator to monitor the progress of the work, and several others in place to set up, monitor and feed the system roofing material.
Solar farms need robots to trim the grass
Every solar farm, and there are 2,500 in the U.S. alone, needs a bit of lawn care, otherwise, they risk being overgrown by grass, which can impair their efficiency. Not much forethought was put into grass maintenance when they were built, some as long ago as twenty years.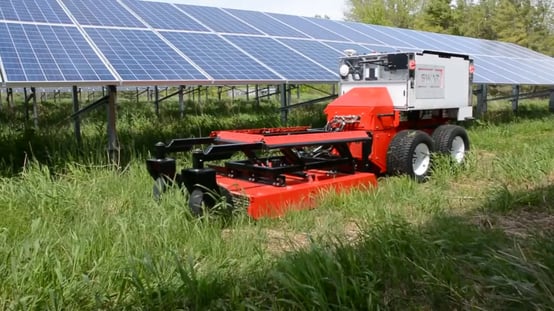 Enter Swap Robotics (Kitchener, Ontario) with its Swap mowers. "The solar market is a beachhead market for us," says founder and CEO Tim Lichti. "Solar vegetation cutting solves a massive problem for customers since cutting the grass and vegetation is the biggest ongoing expense once utility-scale, solar installations are built."
At 100% electric, his mowers can operate 24/7, making them attractive to buyers in a global market forecast in the tens of billions of dollars by 2030.
Swap recently netted $7 million in seed-round financing, led by SOLV Energy, a California-based solar provider. The round also features backing from SOSV's HAX division.
The company has already begun deploying its systems to select solar farms in the southern U.S., with plans to expand to other parts of the country throughout 2023.
"Swap charges through a subscription-based RaaS (robots-as-a-service) model," Lichti adds that the company has already lined up $9 million in contracts for the next three years.
Weed-snipping robot avoids herbicides
Weeds compete with crops for sunlight, water, nutrients, and space. In addition, they harbor insects and pathogens, which attack crop plants. In the U.S. and Canada annually, weeds destroy $1.39 billion in crops.
With the combination of expensive herbicides and the growing resistance of weeds to herbicides, alternatives to chemical weeding are in demand. FarmWise (Salinas, CA) claims that its newest farm robot, Vulcan, is a proven tech substitute at weeding that's inexpensive and beneficial for the environment.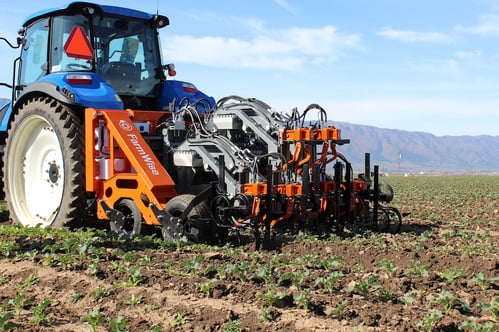 At the FarmWise website, a farm automation company co-founded by Sebastien Boyer, the company mission reads in part: "We have a growing population, and we can't expand the land or water we have, so we need to drastically increase the efficiency of the farming industry,"
Adds Boyer: "I think AI and data are going to be major players in that journey." And is what Vulcan is all about. Vulcan is powered by AI that directs hundreds of tiny blades to snip out weeds around each crop using machine vision to distinguish weeds from crops including leafy greens, cauliflower, artichokes, and tomatoes while snipping weeds with sub-inch precision."
The Vulcan is controlled directly from the tractor cab, where the operator has a touchscreen interface.
"It's all about precision," Boyer says. "We're going to better understand what the plant needs and make smarter decisions for each one. That will bring us to a point where we can use the same amount of land, much less water, almost no chemicals, much less fertilizer, and still produce more food than we're producing today.
"That's the mission. That's what excites me."
Solar-powered, piledriving robot
Springtime thaw in the Northern Hemisphere is a great time to drive 16-foot steel I-beams into the earth. It takes lots of piles to secure buildings, bridges, and wind farms, etc. before any construction begins. It's a dull, thankless but necessary part of most any construction project. Boom, boom, boom, the bored, piledrive operator feels the vibrations all day as the I-beams are sunk.
San Francisco-based Built Robotics (founded in 2016), a developer of construction robots, has a solution to dull, boring but necessary piledriving. A robot piledriver, the RPD 35, a fully autonomous, solar-powered, piledriving robot.
Construction is a potential automation arena ripe for robotics. As Tech Crunch writer, Bill Heater, remarks: "One of the most remarkable things about construction robotics is the sheer breadth of tasks that can potentially be automated.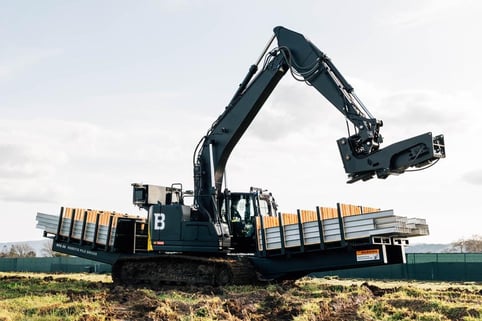 "As I've noted before," he adds, "the entire category is a prime target for robotics startups, given that it fills all of the big Ds of automation — dull, dirty and (quite often) dangerous. It's also one of those areas that have become increasingly difficult to staff, post-pandemic, even as construction work came roaring back."
Built's system, adds a lot of plusses to just driving I-beams. Going well beyond piledriving, the RPD 35 combines all of the steps in the piling process; from surveying to pile distribution, driving and inspection, the RPD 35 is a single package that hits the most stringent tolerances on the market. The "one package" offering could be a big differentiator in the market.
The global piledriver market forecast of $7 billion by 2028, is up from $2 billion in 2022. A market that might definitely have a place for a robot piledriving system that does it all.
The 2022 Inflation Reduction Act "Building a Clean Energy Economy" section includes a goal to install 950 million solar panels by 2030. With solar farms requiring tens of thousands of 12- to 16-foot-long piles installed eight feet deep with less than an inch tolerance, piles are a critical component of meeting that target.
Built Robotics, currently best known for its earth-excavating, autonomous heavy machine, Exosystem, is newly venturing into the piledriving space.
Honda debuts stylish worksite mobile robot
Even Honda is turning out a new 2023 spring look for construction sites. A very stylish mobile robot that looks more like it belongs in someone's driveway rather than a construction site, Honda's Autonomous Work Vehicle (AWV) is said to "represent a new category of capable work vehicle for companies that need autonomous operation or delivery solutions."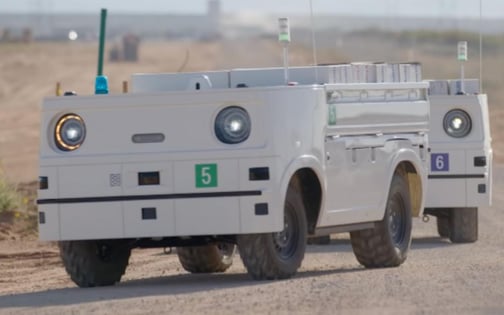 The AWV was unveiled at CONEXPO 2023 in Las Vegas in early March.
The current AWV evolved from Honda's former ATV (all-terrain vehicle) to basically what was basically an autonomous electric wagon (2nd-generation mobile robot) and then to the current 3rd-generation electric wagon that resembles a miniature, flatbed truck.
Engadget reports: "The AWV has a larger bed size (two pallets) and higher capacity (2,000 pounds); a higher self-driving speed of up to 10 MPH; a larger battery that offers up to 10 hours and 28 miles of endurance; better avoidance functions; and a lower bed for easier loading."
Honda is now in search of construction companies with which to partner, to work out any kinks or engineering flaws or oversights.
The robot baby carriage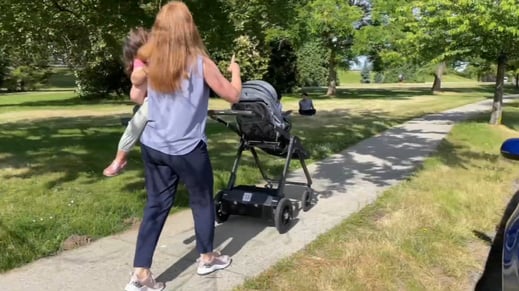 What would be a new spring without new babies? Just what every new parent needs this year: an autonomous baby carriage. While pushing the babe, want to flick through your cellphone while munching an ice cream cone? Ella is all about that and more.
CES2023 voted it one of the best in this year's show.
Ella is an electric, self-driving AI baby stroller from Vancouver, Canada-based GlüxKind that can even rock a baby to sleep. As the website says: "Glück means lucky and Kind translates to child (from the German)".
Management says: Ella is equipped with everything from autonomous 'driving' capability (only when no child is inside), a built-in white noise machine [seriously, a white noise machine!!] and 'brake assist' tech, as well as plenty of storage and a modular 'travel system' that makes connecting and disconnecting the bassinet a breeze."
Major faux pas: Ella is without car-seat integration. Oh well, there's always next spring.