What's New in Robotics? 23.06.2023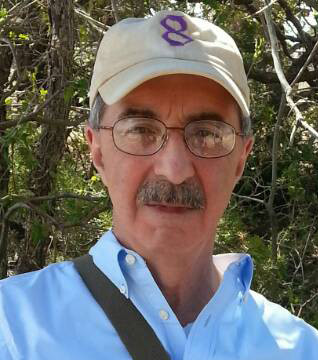 by
Tom Green
. Last updated on Jun 23, 2023 7:30 AM
Posted on Jun 23, 2023 7:30 AM. 7 min read time
News briefs for the week take a look at Ziggy, a mobile EV charging robot, for all those times when stationary charging is inconvenient; then a massive robot that climbs giant wind turbines by copying the way a Koala climbs trees, then to Taiwan where a UGV scours sewers in search of mosquito breeding grounds, then to another astounding first for ChatGPT: building a robot; and finally, a lightweight 3-lbs., exosuit to take on all sorts of chores, even if only to reduce tired legs at the office or climbing mountain trails.
Mobile EV charging robots
Electric Vehicle (EV) charging stations are proliferating by the tens of thousands in order to accommodate the anticipated millions of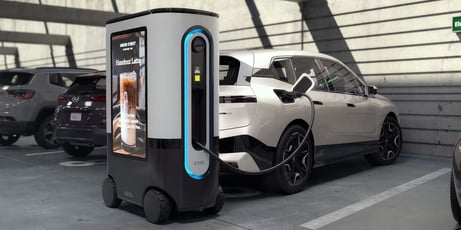 EVs (40% of total passenger car sales) expected by 2030. For the most part, EV charging stations are stationary. Drivers need to back into a station, get out and manually insert the charging plug.
For many, such an EV charging experience can be difficult, dangerous, or even impossible. In particular, those with permanent or temporary physical disabilities, pregnant women, and the elderly are prone to have problems recharging. Then too, there's the infuriating experience of underdeveloped EV infrastructure where there's never an available charger.
Enter Ziggy, a robotic, mobile EV charging station "that's designed to live in parking areas, where drivers can summon it through an app to come charge their vehicle," says Car & Driver.
Startup, LA-based EV Safe Charge, began development of Ziggy in 2019, with the mobile units scheduled for shipping in late 2023.
"Roughly the size of a refrigerator, Ziggy is a battery on wheels that will be able to autonomously navigate parking areas to reserve drivers' spots and charge their cars. And of course, it's got ads on it."
Koalas, robots, and wind farms
How about nature-inspiring technology? Northern Spain's Navarre-based KoalaLifter has developed a massive robot crane that mimics the way a koala climbs a tree. The koala's unique technique of wrapping its limbs around a tree and then hoisting itself up is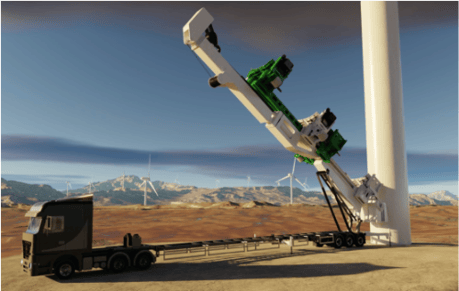 used to move the appropriately named KoalaLifter up into wind turbines to either build, replace parts or repair the giant structures.
Every year, more than 18 000 new wind turbines are installed and around 20 000 maintenance operations are carried out. The EU-funded KoalaLifter, with its autonomous, self-climbing capability, is "virtually independent of tower height, weight to be lifted, and wind speed limits."
"KoalaLifter System," says the company, "is a disruptive lifting device that uses friction collars to embrace the Wind Turbine Generator (WTG) tower to make possible an autonomous, self-climbing capability, eliminating the need for high-tonnage cranes."
The system operates without workers close to the loads, is transported by truck, and needs only one operator to position the system for its climb.
Taiwan's mosquito-hunting UGV
Led by Wei-Liang Liu, an investigator with Taiwan's National Mosquito-Borne Diseases Control Research Center, researchers designed an unmanned ground vehicle (UGV) to scour cracks and crevices deep in the sewers of Kaohsiung City, a major city (1.7 million) in the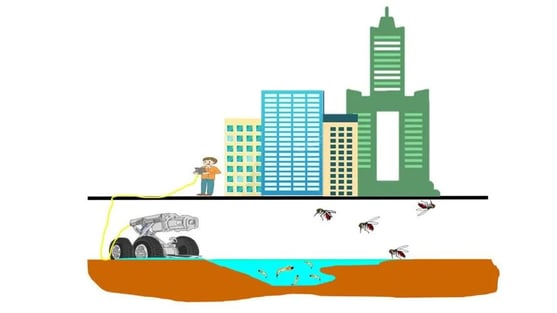 south of Taiwan.
Dengue fever, yellow fever, and the Zika virus lurk underground, are born to several mosquito species there, and then arise into Kaohsiung City to transmit viruses to the general population.
To eliminate the underground breeding areas would, say authorities, put a giant crimp in the city's mosquito population and the dengue virus devastation that afflicts the city.
The UGV has proven to be a highly effective mosquito hunter.
"Researchers combined a crawling robot, wire-controlled cable car and real-time monitoring system into an unmanned ground vehicle system (UGV) that can take high-resolution, real-time images of areas within sewers."
The system is annually deployed from May to August in five administrative districts in Kaohsiung City, particular emphasis is given to covered roadside sewer ditches.
And it worked! The UGV robot hunter helped dramatically drop the city's mosquito population by nearly 70 percent.
A double first-ever for ChatGPT and robots
ChatGPT not only designed a crop-picking robot, but also specified for which crop it should be built!
Researchers at EPFL (Swiss technical university) and TU Delft (Netherlands) have collaborated with ChatGPT-3 to design a robot, which turned out to be a mobile harvesting robot with an arm for tomato picking.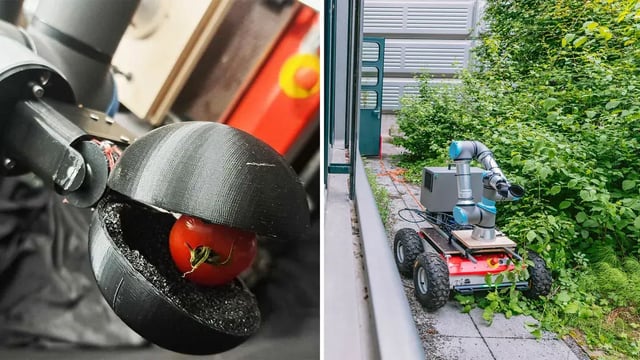 It's getting to be that ChatGPT, and generative AI in general, know no bounds as to being influencers of other industries and technology. And recently it was given a chance to impact the design of robots.
A group of roboticists picked agriculture and ChatGPT suggested tomato picking because of its high economic value. "We wanted ChatGPT to design not just a robot, but one that is actually useful," said Cosimo Della Santina, assistant professor, and Ph.D. student Francesco Stella, both from TU Delft (Netherlands).
With a global tomato market of $200 billion annually, it looks very much like ChatGPT picked well.
This could get interesting. Nature Machine Intelligence is out with an article where the roboticists state: "We show that large language models (LLMs), such as ChatGPT, can guide the robot design process, on both the conceptual and technical level, and we propose new human–AI co-design strategies and their societal implications."
That's an absolute bombshell!
For instance, could ChatGPT reconceptualize and redesign cobot welding or robot palletizing? Looks like we'll soon see.
For now, ChatGPT has shocked just about everyone by designing an agricultural robot…and to everyone's amazement, it specified which crop for it to pick.
The researchers, intent on utilizing ChatGPT for their design and build, also wanted to explore the varying degrees of cooperation between humans and Large Language Models (LLM), of which ChatGPT is one.
And as an extra bonus, ChatGPT suggested a new-age gripper made from silicone or rubber to avoid crushing tomatoes.
Okay, now let's see how well it sells. Maybe ChatGPT knows.
Off-the-rack, ready-to-wear robots!
As the evolution of exoskeletons (also called wearable robots) progresses, the hardware keeps scaling down while the variety of potential use cases continues to rise.
The cumbersome, heavy-duty frame for supporting paralysis patients is unnecessary for workplace assistant gear like that used for unloading trucks or pallets full of heavy cases and also as training outfits that enable athletes to increase strength and endurance.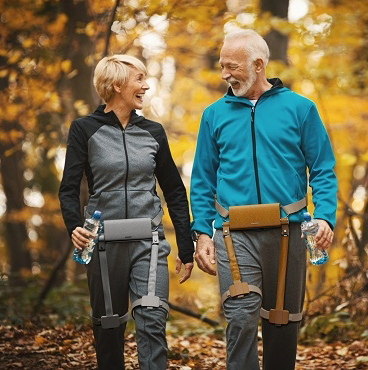 Evermore lightweight exosuits are now rushing into the marketplace to take on all sorts of chores, even if only to reduce tired legs at the office or climbing mountain trails.
One such newbie is Korea's WIRobotics (founded in 2021) which is out with a one-size-fits-all "ultralight, walking aid, wearable robot" named WIM.
"While wearable robots so far have been mainly used in the workplace, WIM is expected to become a wearable robot for everyday life for the general public," announced the new robot maker.
Co-CEO Lee Yeon-baek said, "WIM will be the first product of such wearable mobility, although weight, size, portability and usage time were challenges to overcome in order for existing wearable robots to enter the living and working spaces of ordinary people."
WIM, says the company's website, "weighs only 1.4 kg (3 lbs.) and has a compact size, so it is easy to carry and can be attached and detached within 30 seconds. While wearing it, it is possible not only to perform various tasks such as driving, but also to sit or lie down to take a break."
The company's other co-CEO Kim Yong-jae added: "WIM not only collects the wearer's posture and motion information, but also analyzes the wearer's strength and balance information, and selects a mode based on the data to selectively change walking posture, efficiency, and strength."