What's New In Robotics? 21.12.2018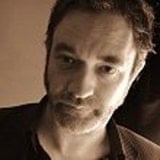 by
Emmet Cole
. Last updated on Dec 21, 2018 8:15 AM
Posted on Dec 21, 2018 7:00 AM. 10 min read time
-News from RealTime Robotics, Fraunhofer++
-Croatia's 1st industrial robot
-Cobot predictions for 2019
-Moxi finishes hospital trial
-Meet The Lovot
-Nuclear-powered bot for Europa?
-Five vids for Friday
-And much more!
Manufacturing & cobot roundup
Boston, USA-based Realtime Robotics has created special purpose hardware (including a new processor, dubbed the 'RapidPlan') that it says is able to provide real-time robot motion planning.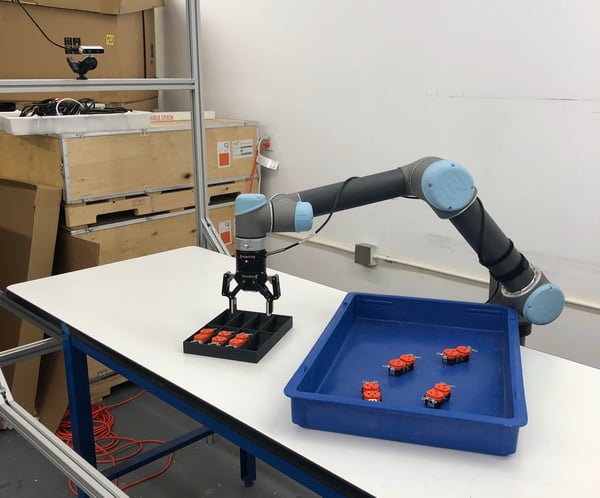 Credit: Realtime Robotics
Via IEEE Spectrum:
Despite decades of expectations that we will have dexterous robots performing sophisticated tasks in the house and elsewhere, the use of robots remains painfully limited, largely due to insufficient motion-planning performance [..] Until recently, this critical process has been implemented in software running on high-performance commodity hardware. The problem is that this software takes multiple seconds, precluding the deployment of robots in dynamic environments or environments with humans.
Germany's Gestalt Robotics and Fraunhofer are working on augmented robots and natural user interfaces to "bridge the gap between worker and machine." The researchers were assisted by cobot from Universal Robots and a Robotiq gripper...
Gideon Brothers, an automation startup based in Croatia, Europe, has developed the country's first industrial robot --an autonomous robotic platform for cargo transport in warehouses. (H/T Total Croatia News)
Yanfeng Automotive Interiors in Lüneburg, Germany released video showing how cobots have been incorporated into its production line. The firm uses a cobot from KUKA to screw armrests together, making its "production processes even more efficient"...
Los Angeles-based Elementary Robotics announced that it has raised US$3.6 million in seed financing for its "intelligent robot assistants." (H/T VentureBeat) Robotics investments in November 2018 reached US$639.3 million, according to The Robot Report's monthly investments recap.
Miller and Novarc have developed a collaborative pipe welding robot...
As 2018 draws to a close, experts and commentators have been identifying industrial automation trends to watch in 2019. And as you might expect, cobots figure prominently in most expert predictions.
For example, cobots are set to "take off" in 2019, according to Manufacturing.Net:
We're already seeing companies experimenting with cobot technologies and their task capabilities, and manufacturers are now realizing how cobots can boost production efficiency, create increased job demand and business growth with a great return on investment. Although large manufacturing companies, as well as smaller, low-volume manufacturers, are already implementing small cobot technologies, in 2019 I think this is definitely going to expand dramatically across industries.
Shinichi Tanzawa, President and CEO of the FANUC Europe Corporation told Robo Pro:
"We increasingly see more demand coming from small and mid-size companies, even from companies who have not been using robots in their production in the past. The interest in collaborative robots is strong all over Europe."
And Ryan Braman, Test Engineering Manager at TUV Rheinland of North America, told Industry Week that cobot market growth in 2019 will be driven by the fact that cobots have already proven themselves on the ground:
"We're also seeing a lot of big companies—and even low-volume manufacturers—already implementing cobots. So far, these companies have seen a really great return on investment, boosting business growth."
In other cobot and manufacturing automation news:
Elsewhere...
Maybe it's the time of year (the Consumer Electronics Show is coming up in January, after all), but this was a busy week for social and companion robot news.
Japanese startup Groove X unveiled The Lovot. Billed as a companion robot, The Lovot can't help with housework, Reuters reported, but it will "draw out your ability to love," according to founder and CEO Kaname Hayashi.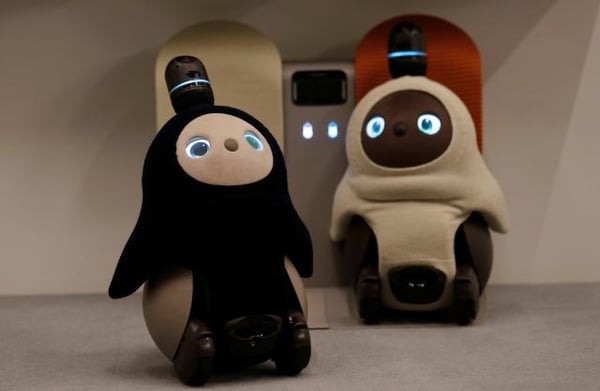 The Lovot communicates via squeaks. Credit: Reuters/Kim Kyung-Hoon

New York-based startup, Roboteam, announced that it has secured $21 million in series B financing, led by John Wu, Alibaba's former chief technology officer. Roboteam created the Temi telepresence home robot which will launch officially at CES 2019. (H/T VentureBeat)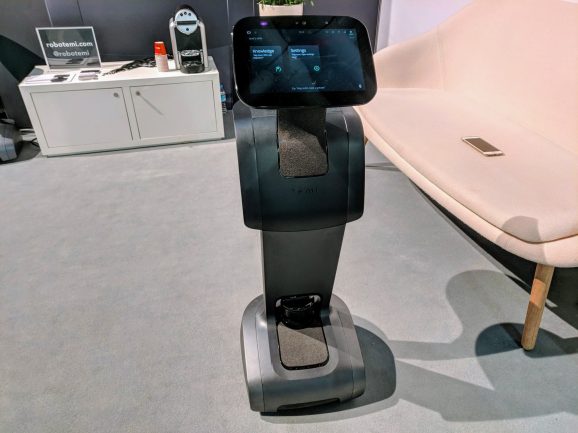 Temi is expected to retail at US$1,500. Credit: Roboteam
Meanwhile, Asian Robotics Review wondered whether robots could be "the remedy for lonely hearts":
Delivering up personal rental robots, maybe like Robots as a Service (RaaS) might be most effective. It'd be like a lonely hearts club for humans and machines. The RaaS provider would deliver a short-stay robot to a customer's home for a brief few nights of sleepovers for a compatibility test. With so many personal robots for sale, finding just the right robot might take a few months.
And Wired, reflecting on science-fiction's promise of ubiquitous domestic robots, asked: "So Where Are They?"
Diligent Robotics' nurse-assistant bot, Moxi, has just finished its first real-world trial in a Texas hospital. Moxi has six beta trials scheduled and Diligent Robotics aims to roll out the bot full time to hospitals in the second half of 2019. (H/T ZDNet)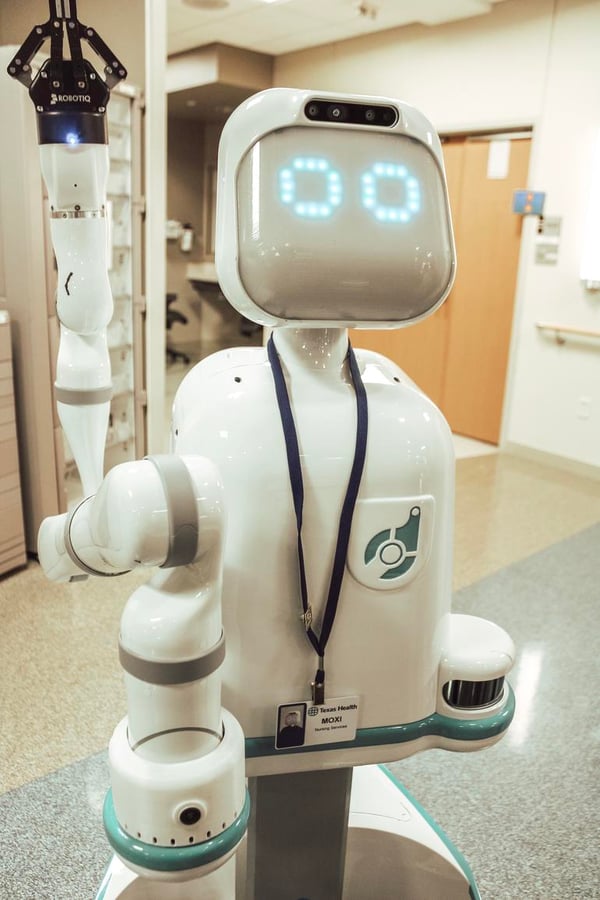 Moxi rocks a Robotiq gripper in this photo from its recent trial. Credit: Diligent Robotics
Augsburg-based German Bionic revealed its new Cray + exoskeleton model this week. Although specially developed for deployment in natural disaster-stricken areas, the makers say that the robotic suit could also be useful in traffic accident scenarios and after terrorist attacks.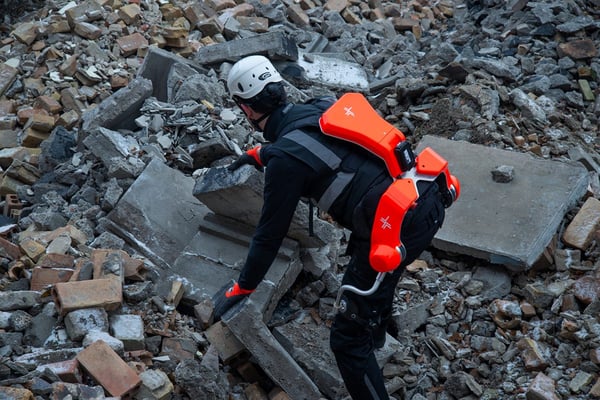 Credit: German Bionic
Could a nuclear-powered 'tunnelbot' assist earth-based scientists in the search for life on Saturn's moon Europa? Andrew Dombard, associate professor of earth and environmental sciences at the University of Illinois at Chicago and colleagues certainly think so.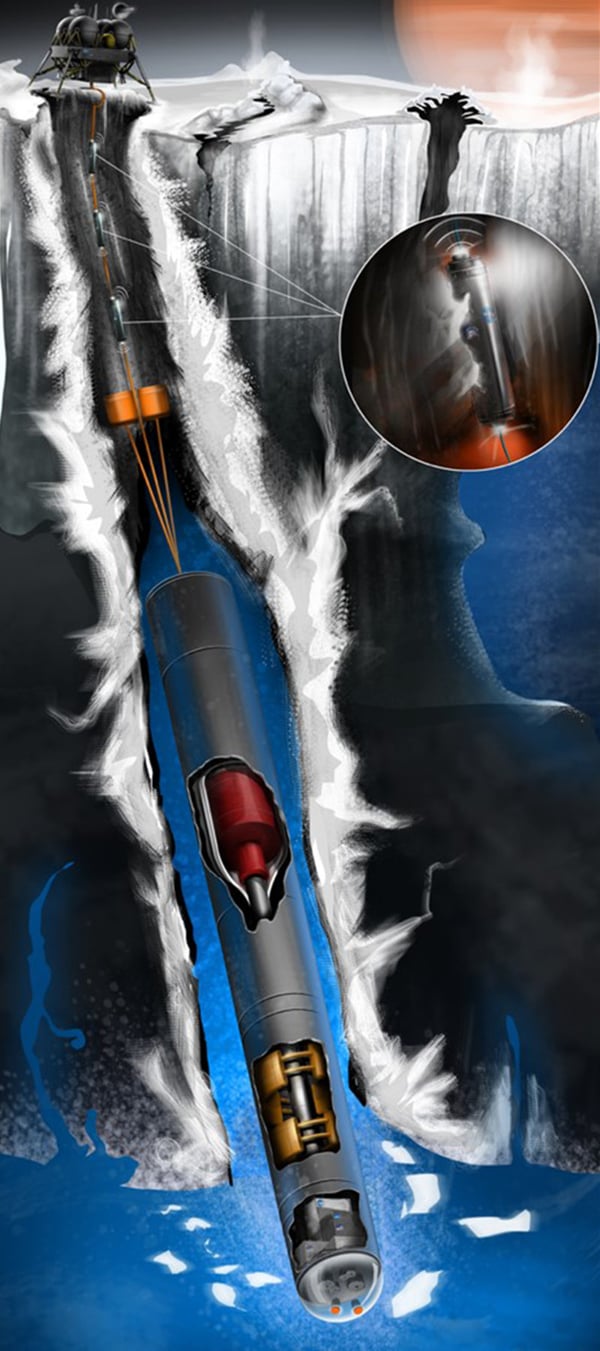 Credit: Alexander Pawlusik, LERCIP Internship Program NASA Glenn Research Center
Via PhysOrg:
"Estimates of the thickness of the ice shell range between 2 and 30 kilometers (1.2 and 18.6 miles), and is a major barrier any lander will have to overcome in order to access areas we think have a chance of holding biosignatures representative of life on Europa," said Andrew Dombard.
In other news:
Come back next week for more of the latest robotics news! Until then...
Five vids for Friday
1. Inspired by the genetic rules that govern the creation of Turing patterns in nature (e.g. a leopard's spots), researchers released video showing how they enabled swarms of 300 small bots to self-organize without following a preset pattern. (The team's research paper; MIT Technology Review has more.)
2. Controversial ex-Uber engineer, Anthony Levandowski released a time-lapse video this week that appears to show an automated car he built making the 3,099-mile journey from San Francisco to New York without any human intervention. (The Guardian has more.)
3. Hong Kong-based Robugtix released new video of its Z6 foldable robot this week. Although designed so that it can be carried in a backpack and brought to sites for inspection, exploration and search & rescue tasks, the Z6 is also pretty good at aerobics too. (H/T Digital Trends)
4. ANYmal took a trip to the "labyrinth of drains and tunnels" below Zurich, Switzerland this week. It's all part of the THING project, which is investigating whether ANYmal could be used for pipe inspection. The researchers also tested a variety of sensors attached to the robot's feet, as they work out how to help ANYmal recognize the condition of the ground it is standing on. The team soon discovered that not all shoes are non-slip.
5. As you might expect, researchers at Cambridge University are working on a variety of cutting-edge robotics projects from human-robot interaction studies to bots that build bots and bio-inspired walking robots. The university released video this week showcasing just a fraction of this exciting research.