What's New In Robotics? 19.07.2019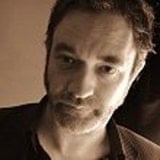 by
Emmet Cole
. Last updated on Jul 19, 2019 7:16 AM
Posted on Jul 19, 2019 7:01 AM. 8 min read time
Good morning. In this week's news mix: researchers unveil prototype natural language dialogue system for cobots and AMP Automation showcases safety-conscious cobot palletizing setup. We also meet Carlos the contactless robo-surgeon, coo at a long-distance pic of Curiosity Rover, marvel at GeorgiaTech's 'bristlebot' upgrade and much more!

Cobots & manufacturing
Researchers at SUNY Binghamton, Cleveland State University and the University of Washington have unveiled a prototype natural language dialogue system that could be used to enhance human-robot collaboration in industrial environments. Decribed in this arXiv paper, the system can augment its knowledge base and language capabilities over time. Watch it in action here...


Researcher Saeid Amiri told TechXplore:
"For a robot in a human-inhabited environment, the ability of using natural language to communicate with humans is of crucial importance. However, there are a few challenges in achieving this. One is that the language could be ambiguous, even in a human-human conversation. Secondly, unlike humans, a robot's knowledge of its surroundings (e.g., objects and people around it) is quite limited."
RG Robotics released video this week that shows a collaborative robot from Doosan performing ultrasonic welding tasks...

In an interesting piece for Production Engineering Solutions, Nigel Smith, managing director of industrial robot distributor TM Robotics, argued that the UK can "reclaim the robotics revolution" with simplified robot programming, with the "rapid increase" in sales of cobots providing evidence of a "growing demand for easily programmable robots."


AMP Automation released new video showing off the IPallet Cobot System. Watch out for a nice piece of safety-conscious cobot cell design around 1min15sec in and you'll see that if a human enters the workspace, the cobot (from Universal Robots) seamlessly changes its target location for placing the payload, thereby keeping the human safe while the bot continues with its work...
Driven by "the currently omnipresent vision of flexible and adaptable production of smallest lot sizes," human-robot-collaboration is "on the edge of really taking off," Dominik Bösl, head of robotics at Festo told Packaging Europe this week:
"[Robotics] is becoming more flexible, more accessible and easier to use. Hence, we will see a democratisation of automation technologies and a broader adoption of robotics. To achieve these goals, there are still some complicated tasks to be solved, e.g. robust object recognition in complex, unstructured environments or natural user interfaces, such as speech and gesture-based control or teaching by demonstration."

In other cobot and manufacturing news:
Elsewhere...
Advanced Osteotomy Tools (AOT) announced the first-in-man clinical use of its CARLO ('Cold Ablation Robot-guided Laser Osteotome') device at University Hospital Basel in Switzerland this week. CARLO is the first medical device to enable "contactless robotic surgery," says AOT, as it uses a laser instead of conventional medical tooling to cut through human bone.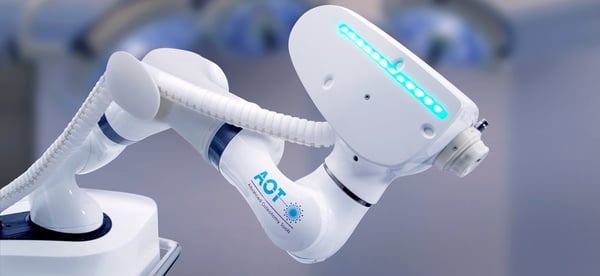 Credit: AOT
Professor Philipp Jürgens, cranio- and maxillofacial surgeon at the University Hospital Basel and co-founder of AOT, said: "Although the laser itself is not sensitive, Carlo can be stopped with the speed of light and easily removed should anything unforeseen happen, which is something that is not possible with today's conventional robot-assisted devices."
Meanwhile, NASA released a stunning long-distance photo of its Curiosity Mars rover this week, taken by the High Resolution Imaging Science Experiment (HiRISE) camera aboard the Mars Reconnaissance Orbiter. (H/T NASA JPL)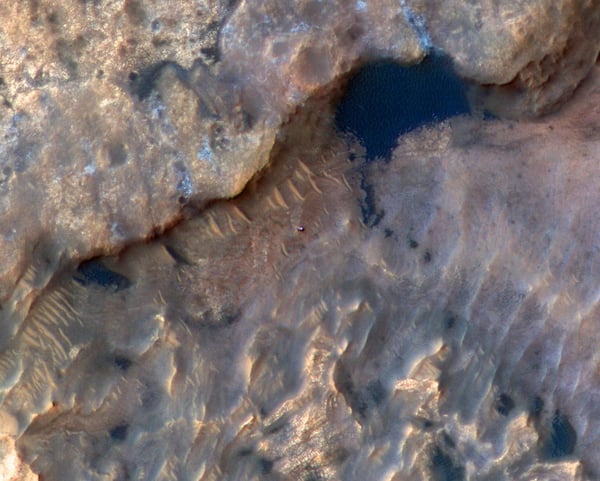 Credit: NASA
And in the same week that Alphabet revealed an air-traffic control app for drones, another form of drone control --disabling them from hundreds of meters away using a specially designed gun-- was unveiled by Drone Shield.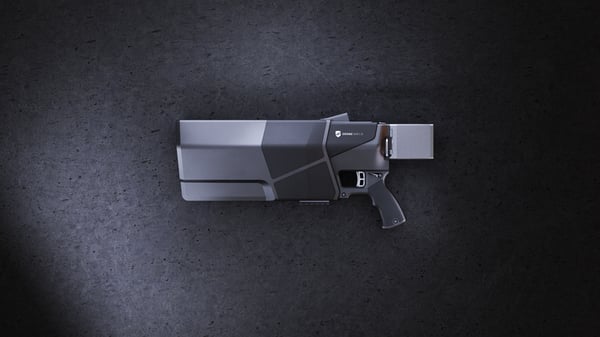 DroneGun MkIII has a range of up to 500 meters (.31 miles). Credit: Drone Shield
Via Drone Shield:
The product [...] allows for a controlled management of drone payload such as explosives, with no damage to common drones models or surrounding environment due to the drones generally responding via a vertical controlled landing on the spot, or returning back to the starting point [...] RF disruption activation will also interfere with any live video streaming back to the remote controller halting the collection of video footage and intelligence by the drone operator.
Don't expect to find the lightweight (1.95kg, 4.29lb) DroneGun MkIII in your local electronics store anytime soon though; it's only available to government agencies and the like.


Come back next week for more of the latest robotics news! Until then, please enjoy...


Five vids for Friday
1. California-based Made In Space, Inc. has announced plans to showcase the component manufacturing and assembly capabilities of its 'Archinaut One' space robot. The bot is expected to launch to low-Earth orbit on a Rocket Lab Electron rocket from New Zealand "no earlier than 2022."

2. Bristlebots, a staple diet of kids' robotics courses around the world, got a serious upgrade this week with news that researchers at Georgia Tech have created swarms of collaborating micro-bristlebots that can be moved by harnessing vibration from piezoelectric actuators, ultrasound sources or even tiny speakers. (H/T Georgia Tech News)


3. A team from MIT CSAIL unveiled a new system this week designed to enable users to create custom drones that can nimbly switch between hovering and gliding, all using a single controller. (H/T MIT CSAIL)
4. Bloomberg raised excitement among consumer robot fans this week with a report on Amazon's plans for a waist-high domestic robot. Currently at the proof-of-concept stage, according to the report, the robot is the focus of engineers at Amazon's hardware R&D facility, Amazon Lab126. (H/T Bloomberg)
5. In a TedX talk published Thursday, Bradley Hayes, director of the Collaborative AI and Robotics Research Lab at the University of Colorado Boulder, argues for "explainable AI" on the grounds that we can only trust AI "if we understand how it makes decisions and why."