What's New In Robotics? 19.04.2019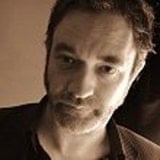 by
Emmet Cole
. Last updated on Apr 19, 2019 7:17 AM
Posted on Apr 19, 2019 7:02 AM. 9 min read time
Good morning. In this week's news mix, Fanuc reveals early-stage bin-picking system, RG Group and Doosan announce US partnership, and Renault showcases cobot adoption. We also praise the bots of Notre-Dame, run into Promobot (again), marvel at Boston Dynamics' latest video and much more!
Cobots & manufacturing
Industrial automation giant Fanuc unveiled an early-stage, artificial intelligence-based bin-picking system at TechCrunch's Robotics + AI Sessions this week. Designed to teach bots "how to pick the right objects out of a bin with simple annotations and sensor technology, reducing the training process by hours," the system can be used to train several robots at the same time, TechCrunch reported: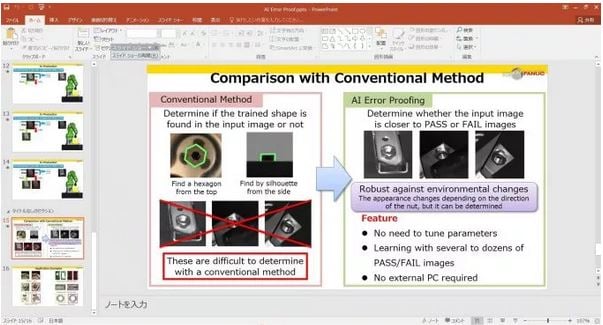 Credit: Screengrab via TechCrunch
[the] human operator just needs to look at a photo of parts jumbled in a bin on a screen and tap a few examples of what needs to be picked up, like showing a small child how to sort toys.
Eckhart showcased a surface inspection system that uses cobots from Universal Robots...
U.S.-based RG Group announced a distribution and integration partnership with cobot maker Doosan Robotics this week. Patrick Gross, vp of business development, via Robotics Tomorrow:
"After in-depth analysis of Doosan's collaborative robotic offering we have decided it's the right move for our company. It's truly an honor to be Doosan's first partner in the United States. I look forward to many years of mutual success between both organizations."
Robotics & Automation News interviewed Molly McCarthy VP sales & business development at Massachusetts-based startup Veo Robotics about the firm's forthcoming technology, which is designed to transform traditional industrial robots into collaborative robots...
Car manufacturing giant Renault offered some fascinating insight into its use of Industry 4.0 technologies this week --8,000 robots and counting-- and it turns out that cobots are an essential component of the firm's manufacturing processes: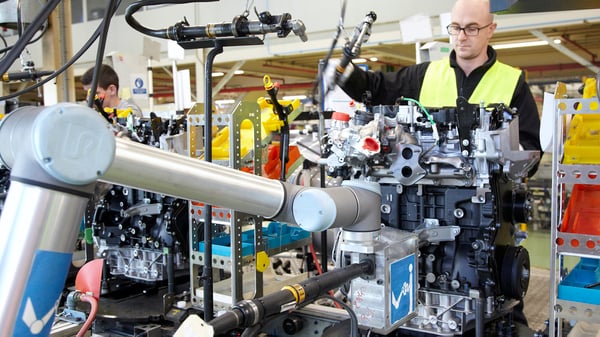 Human-robot collaboration at Renault. Credit: Renault.
Robots and machines of all sorts work alongside human operators. Automatic trolleys zip around continuously, carrying the required kits, articulated arms help operators in their work, a cobot or collaborative robot fits parts with a high degree of precision, alongside an operator... In industry 4.0, people and robots work together.
Somehow, this video manages to combine YouTube celebrity PewDiePie, a cobot from Universal Robots and a Robotiq gripper! I'd probably end up watching animal videos for half a day if I started doing YouTube background research though, so, slightly baffled and without taking sides in any online ratings battles, I present the following...
In other cobot news:
Elsewhere...
When news broke early this week that Paris' famous Notre-Dame cathedral was on fire and the steeple had already tumbled to the ground, many people feared that the entire building was going to be lost. Amazingly, with 30-45 minutes to spare before those fears were realized, firefighters managed to get the blaze under control, saving much of the structure and most of the priceless relics and artworks within it.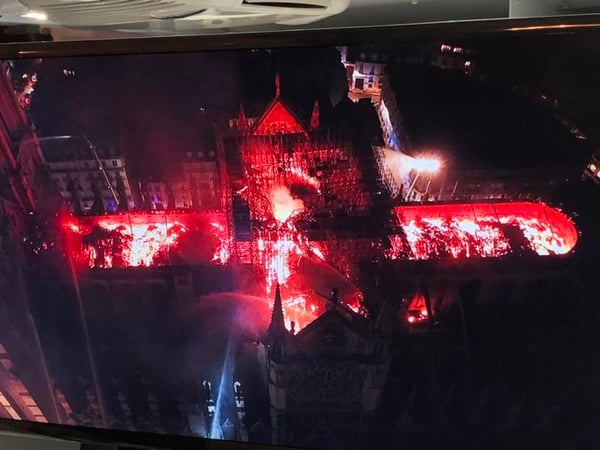 Image of Notre-Dame cathedral on fire taken by DJI's Mavic Pro drone. Credit: Paris Fire Brigade
According to Paris Fire Brigade spokesperson Gabriel Plus, robots were crucial to the mission's success. Via The Verge:
"The drones allowed us to correctly use what we had at our disposal," Plus said in comments translated from French. Firefighters also relied on the Mavic Pro's visible light camera and optical and electronic zoom, according to DJI's director of public safety integration, Romeo Durscher, who has Parisian contacts.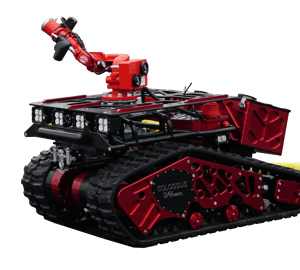 Shark Robotics' Colossus fire-fighting robot (payload: 1,200 lbs/544 kg) was also involved that night. Colossus headed straight for the interior of the building, enabling firefighters to remotely assess damage and direct water at key targets without putting themselves in danger. (Jalopnik has more on Colossus' role.)
The conditions Colossus faced were intense...
Prediction: The next time someone tells me that automation is in conflict with all that is good in human history and tradition, I'm going to counter with the story of the 2019 Notre-Dame cathedral fire and explain how history was saved that night through rapid, real-time human-robot collaboration.
Promobot, the Russian robotics firm with the extremely-apt name, has been in the news again (see here and here, for our previous coverage of Promobot's adventures). This time, 'Alex,' a humanoid TV news presenter developed by the company has been generating publicity controversy.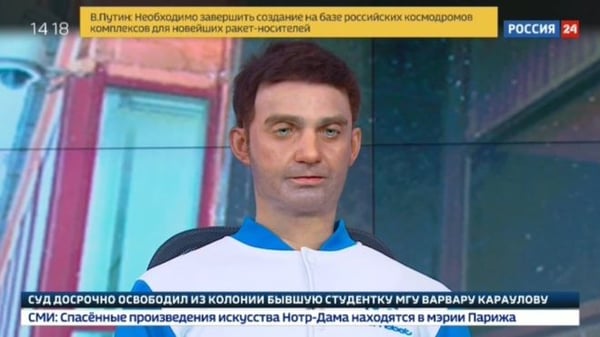 Credit: BBC
The BBC reports:
Production of the robot began in 2017 and should be fully complete later this year, according to Promobot. It said Alex had cost more than one million roubles (USD15,600; STG12,000) to develop and that it had received orders for 12 more humanoids.
More than half of all workers in Cambodia, Indonesia, the Philippines, Thailand and Vietnam face a high risk of job loss due to automation in the coming two decades, according to a 2016 report from the International Labor Organization, with female workers in the textile industry being hit particularly hard. This week, Mashable reported on a new video game from Shimmy Upskill that trains people how to operate textile robots, helping to keep them in employment despite the rise of automation: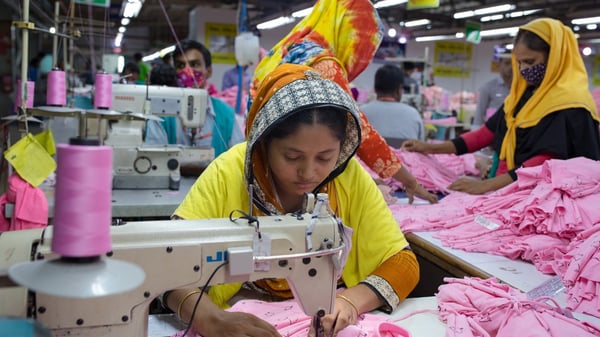 Credit: Shimmy Upskill
These [women garment workers] really are not even considered for technical training when they enter the factories," says Chisato Sakamoto, product manager at Shimmy Upskill. "They are not even in the pipeline, so through our software, we're really trying to create that access and trying to chip away at some of the barriers that prevent women from even entering this pipeline."
In other news:
Come by next week for more of the latest robotics news! Until then, please enjoy...
Five vids for Friday
1. Boston Dynamics' SpotMini is an impressive robot. Ten working together on a truck-pulling job is pretty spectacular.
2. Parents of teenagers rejoice! Toshiba and Preferred Networks are collaborating on a robot that can tidy bedrooms, performing feats beyond the capabilities of many humans such as placing toys in the toy box and socks in the laundry holder. (H/T BBC)
3. Hanson Robotics released video this week that shows the development of humanoid robot Sophia's legs, from their beginnings in a collaboration between the Rainbow Robotics Lab at the University of Las Vegas and the Korea Advanced Institute of Science and Technology. (The Hanson Robotics blog has more.)
4. South China Morning Post reported on how drone-based precision agriculture has enabled a Chinese lemon producer to reduce pesticide spraying times from a typical two weeks to just one day.
5. Researchers at the University of Alabama have developed an EEG-based, brainwave-reading system for drone operation. In video released this week, one participant in 'drone races' based on the technology explained that he focused his mental attention on familiar pieces of music to control the drone's movements!