What's New In Robotics? 18.01.2019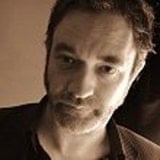 by
Emmet Cole
. Last updated on Jan 18, 2019 1:59 PM
Posted on Jan 18, 2019 7:02 AM. 9 min read time
Good morning. This week, Boeing announces collaboration with Japanese robotics firms, Finnish universities launch EUR32 million advanced manufacturing project and Fraunhofer spin-off gets funding for its robot programming system. We also catch up with China's lunar lander, discover how California police ended a standoff using a robot, meet a touchscreen-tapping, Nintendo-DS playing robot and much more...
Cobots & Manufacturing
Robotics start-up drag&bot GmbH, a spin-off of the Fraunhofer Institute for Manufacturing Engineering and Automation, has completed a seed financing round in excess of EUR1m (USD1.4m) for its system, which is designed to simplify robot programming. (H/T eeNews Europe)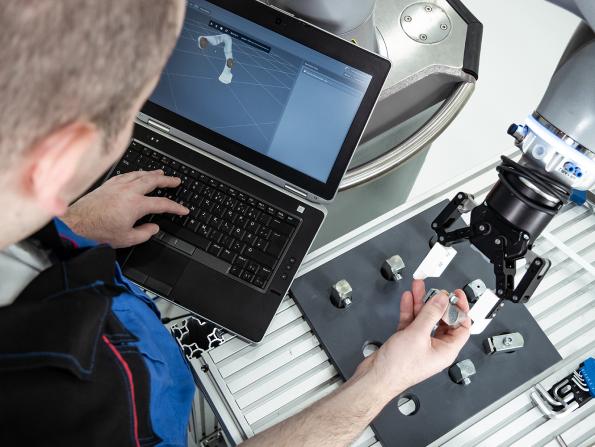 Credit: drag&bot
Boeing announced plans to work with Japanese robotics companies on the development of next-generation, electric propulsion aircraft. Via Nikkei Asian Review:
Mitsubishi Heavy is working with industrial robot maker Fanuc to automate airframe assembly and other processes. Kawasaki Heavy has fully introduced its own robotics technology in aircraft production. The collaboration with Boeing will also incorporate the "internet of things" and artificial intelligence to automate manufacturing.
Material sciences specialists 3M and Industry 4.0 solutions provider Eckhart announced the successful launch of the 3M Automated Taping System (ATS) this week. ATS is a cobot-based automated tape application system jointly developed by both companies and designed for applications in the automotive and industrial market.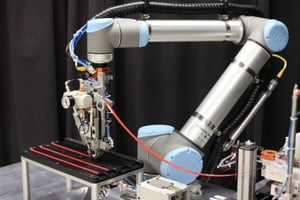 Credit: 3M
Business Wire reports:
Both 3M and Eckhart believe significant opportunities exist in the automotive and industrial space to use the 3M ATS to apply adhesion promoters, create extended liner tabs, and precisely position cut-to-length tape or die cuts onto components.
Finland's University of Tampere and VTT are set to coordinate research on robotics and agile production methods for SMEs through two EU-funded projects with a total funding of EUR32m (USD36.4m), both of which officially launched this week.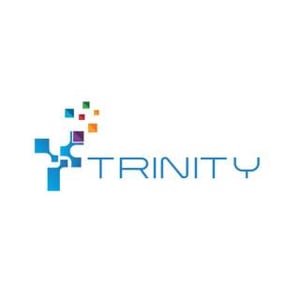 The TRINITY project is designed to provide SMEs with "new technical and standardized solutions," cost-efficient robotics systems for short production runs, tailored training and access to "Europe-wide competence networks." The University of Tampere will focus on human-robot collaboration in the manufacturing industry to enable the "manufacturing of short-run products of high quality." (H/T Industry Europe)
The World Economic Forum (WEF) has named the BMW Group Plant Regensburg in Germany as a 'Lighthouse of the Fourth Industrial Revolution,' recognizing its "pioneering role in the digitalization of industrial production."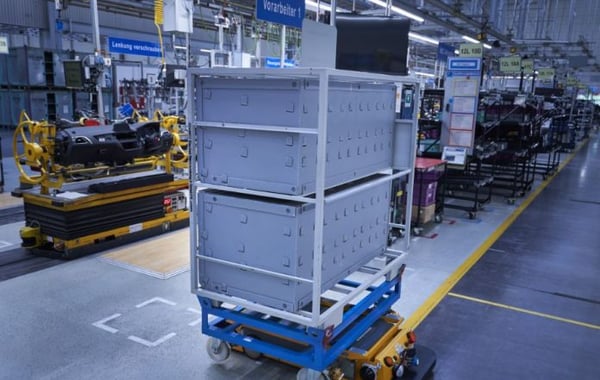 Inside the BMW plant. Credit: BMW
Via Industry 4.0 Today:
According to the WEF, especially by using the custom BMW Group Intranet-of-Things platform, the Regensburg Plant cut the time to deploy all new applications by 80% leading to a significant reduction in logistics costs.
Reliance, Ireland's distribution partner for Universal Robots, has formally opened a new 60,000sq ft facility to support growing demand for cobots. (H/T The Irish Times)
Robotnik Automation released video showing its mobile manipulator in action...
There's no doubt about it, Rick Haas, CEO of Mahindra Automotive North America, explained in an opinion piece for Detroit Free Press this week, "manufacturing is cool again":
Let's ensure that we continue to foster a full public and private sector commitment to advancing programs, like manufacturing apprenticeships and worker training, to provide a path for young people to achieve a rewarding career in advanced high-tech manufacturing. U.S. global competitiveness will depend on it.
And in other cobot and industrial robot news...
Robotics Predictions: The impact of IoT, collaborative robots and startups (Robotics Tomorrow)
Israel-Japan partners eye robot testers, autonomous forklifts on factory floor (Times of Israel)
Using AI in manufacturing processes surges quality and design (TechTarget)
Italy's Industria 4.0 Transformation (Automation World)
Techman showcasing collaborative robots at RoboDEX 2019 (DigiTimes)
Elsewhere...
For a few weeks, the moon played host to a tiny, experimental garden, courtesy of China's Chang'e-4 robot probe.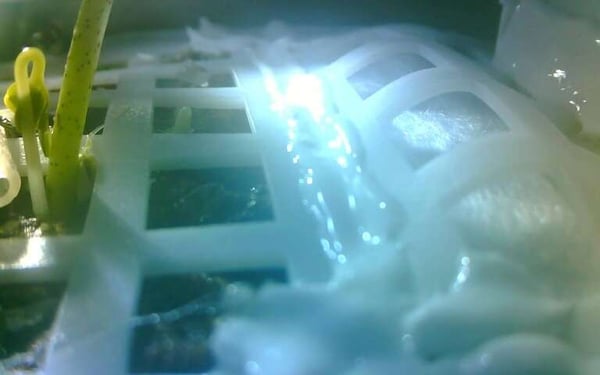 Cotton sprouting on the moon. Credit: China National Space Administration/Xinhua
A canister within the Chang'e-4 probe's lander contained seeds of cotton, rapeseed, potato and Arabidopsis, eggs of the fruit fly and some yeast, to form a simple mini biosphere, Xinhua reported:
After Chang'e-4 landed on the far side of the moon on Jan. 3, the ground control center instructed the probe to water the plants to start the growing process. [...] Images sent by the probe showed that a cotton sprout had started to grow, though no other plants were found growing.
Last Sunday, as the first lunar night since Chang'e-4's arrival fell, temperatures fell to -170 degrees Centigrade, making it impossible for any of the lifeforms involved to survive and bringing the short-lived gardening experiment to an end.
Looking for roundups of all the action from CES 2019? AUVSI explored the best autonomous technology, Bloomberg reported on robot's massive popularity at the event, and Robotics Business Review shared '4 floor takeaways.' For a bonus, be sure to check out Mashable's 'I went on a date with a CES robot. He was nice,' and Asian Robotics Review's 'Chinese Exhibitors Down by 20% at CES2019, But…'
The University of British Columbia, Canada revealed Wander Wood, an installation carved by a state-of-the-art eight-axis industrial robot from KUKA.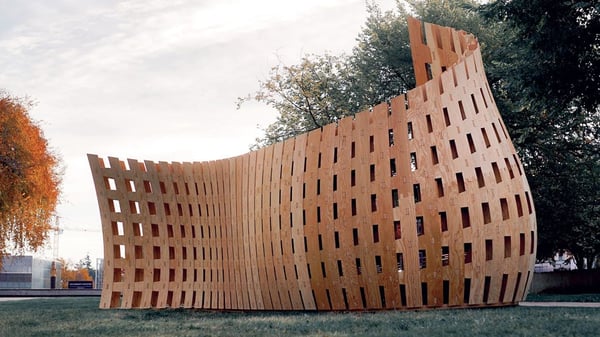 Credit: University of British Columbia
Ars Technica ran a fascinating feature on MASHbot, a "touchscreen-tapping, Nintendo DS-playing" bot developed by 'Funkmaster' (a hobbyist creator with a degree from University of Ontario Institute of Technology).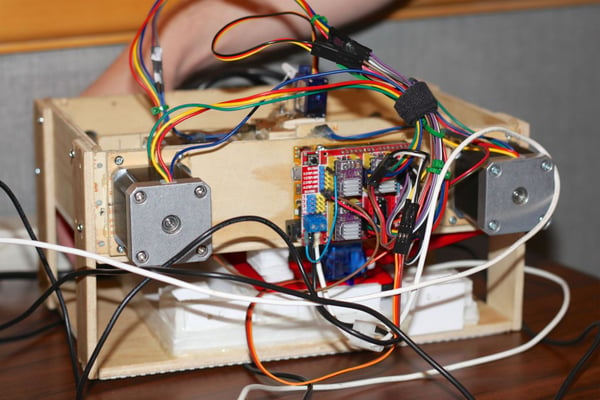 Free your fingers from touchscreen pounding with MASHbot. Credit: Kyle Orland
Meanwhile, in other news...
Hope you can join next week, for more of the latest robotics news. Until then...
Five vids for Friday
1. Assistive robots --developed for medical applications-- can transform peoples' lives by enabling them to carry out functions that once seemed impossible. KINOVA released video this week showing how its JACO robot arm is making a difference.
2. The Morteza Gharib Caltech Center for Autonomous Systems and Technologies (CAST) shared video of recent control tests of its extraordinary LEONARDO (LEg ON Aerial Robotic DrOne) bipedal drone.
3. Scientists from EPFL's Biorobotics Laboratory used the fossilized skeleton and footprints of a 300-million-year-old animal fossilized animal to develop a robot that enables them to explore how the prehistoric animal got around.
4. California police found a creative use for one of their robots when they used it to safely deliver a vape pen to a suspect, thereby ending a 6-hour standoff. (H/T Sacramento Bee)
5. The U.S. government unveiled proposals that would dramatically expand legal civilian drone flights while also improving security. Bloomberg's Alan Levin reported on the topic this week.