What's New In Robotics? 15.02.2019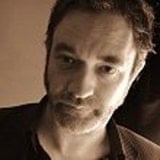 by
Emmet Cole
. Last updated on Mar 01, 2019 10:15 AM
Posted on Feb 15, 2019 7:02 AM. 10 min read time
Hi! In this week's news mix: researchers reveal grasping fundamentals, Universal Robots launches India partnership, and Ford announces USD1bn investment. We also see AntBot and Ai-Da in action, see the 1st debate between human and machine, meet a joint-melting robot and much more.
Cobots & manufacturing

In a ground-breaking study, researchers from Scuola Superiore Sant'Anna's BioRobotics Institute and the Australian Centre for Robotic Vision have revealed the "guiding principles that regulate choice of grasp type" and hand placement during human-robot object exchanges. (More: On the choice of grasp type and location when handing over an object, Science Robotics).
Ford Motor Company announced plans to invest USD1 billion in its Chicago assembly and stamping plants this week, creating 500 new jobs. The plans incude an all-new body shop and paint shop, modifications to the final assembly area and the addition of new stamping lines. The automotive giant is also set to deploy advanced manufacturing technologies at the facility, Future Car reported, including 3D printed tools and "a collaborative robot with a camera that inspects electrical connections during the manufacturing process."
In the latest of its "Doing with duAro" miniseries, Kawasaki TV hosts Johanna and Leith showcased some of the benefits the duAro dual-arm cobot can bring to assembly tasks...
Cobot giant Universal Robots and machine tool manufacturer Bharat Fritz Werner have announced a strategic partnership targetting India's all-important micro, small & medium enterprises (MSMEs). Praful Shende, CSMO, BFW commented: "Deployment of collaborative robot technology will help Indian organizations to realize the creative potential of their teams by engaging them in higher value creation activities. The BFW and Universal Robots alliance will act as a major catalyst for these initiatives."
Humans and cobots can collaborate on dance moves too...

Global third-party logistics provider GEODIS has doubled productivity improvements since deploying a fleet of 21 mobile cobots from Locus Robotics. As of mid-December 2018, the cobots had picked more than 6.5 million items, according to Kevin Stock (left), the senior vice president of engineering and Alan McDonald, senior director of continuous improvement. (H/T Modern Materials Handling)
After two years of steady growth, industrial robots sales in the UK fell by 15 percent in 2018 compared to 2017, according to new figures from the British Automation and Robot Association (BARA). BARA chairman Mike Wilson told Drives & Controls that a lack of end-user knowledge in the UK means that users are unable to identify opportunities and produce usable specifications for robotic automation. BARA recently launched the UK's first robot integrator certification scheme in association with the Robot Industries Association.
Can cobots communicate effectively with humans using wearable haptics? Italian researchers are aiming to find out...
The 10-nation ASEAN group has a combined GDP of USD2.5 trillion, larger than the GDP of France and Korea and 25 percent larger than India's. And it's a region that's embracing the advantages of industrial automation at a rapid pace. Asian Robotics Review's series of articles on the "bounty and promise" of the ASEAN is essential reading for those looking for an understanding that goes beyond the established giants --China, Japan and Korea-- of Asian automation.
Voelker Controls Company released video showcasing some fancy, small part pick and place work courtesy of a UR5 cobot from Universal Robots and the Robotiq Wrist Camera and Hand-E Adaptive Gripper...
In other cobot and industrial automation news:
Elsewhere...
Cries of "Noooooo!" were heard among space bot fans Wednesday as news emerged that NASA's recording-breaking, Mars-exploring rover Opportunity is (as feared) officially dead.
Designed to withstand a mere 90-day mission, Opportunity touched down on the Martian surface way back in Jan 2004. From that moment through to the summer of 2018 (when a planet-wide dust storm rendered the solar panels unusable) the bot has traveled 28.06 miles (45.16 km). That's further than any other vehicle on the surface of another world and along the way it sent back reams of data and helped terrestrial scientists make important discoveries.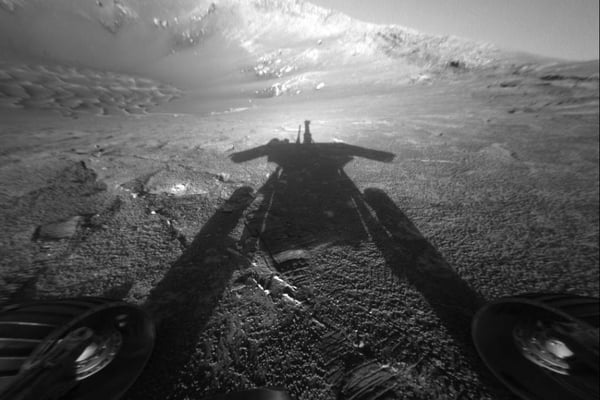 One of many stunning images sent to earth by Opportunity during its mission / Credit: NASA/JPL
14.5 years of operation is a spectacular achievement, especially given the extreme conditions Opportunity operated in. Consider this: Most of us get an average of three years use out of our laptops. If 'the laptop' were a unit of time measurement, Opportunity was operational for 4.83 laptops, its IT systems surviving all the while on a sole diet of software updates. That's impressive by any standard --even makeyup ones!
Colorado State assistant professor Jianguo Zhao has created new kind of robot that can melt down and then reharden its plastic joints to change their configuration. With new joint configurations come new motions, so this little reconfigurable bot (and bots like it) could end up with a large repertoire of moves at its disposal. (H/T IEEE Spectrum)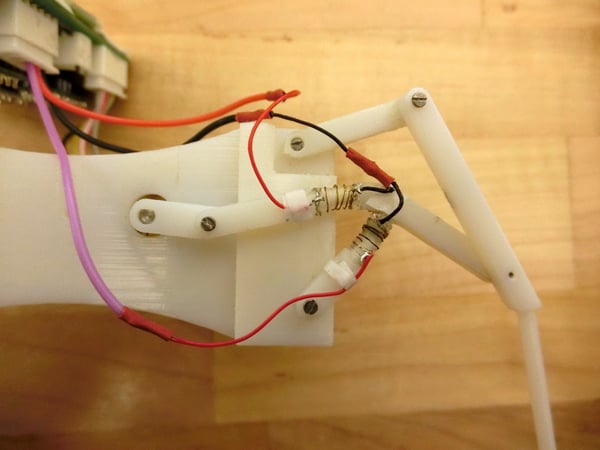 Credit: Colorado State University
President Donald Trump signed an executive order to launch the 'American AI Initiative' this week. Designed to boost the country's artificial intelligence industry, the initiative's five main goals are to: redirect funding, create resources, establish standards, retrain workers and engage internationally. (H/T MIT Technology Review)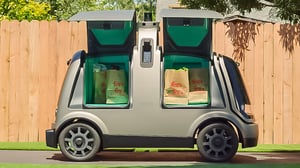 Driverless delivery startup Nuro has raised a whopping USD940 million from the Softbank Vision fund. Nuro's bots have a top speed of 25 miles per hour (40 km/h) and are already delivering goods in Phoenix, Nevada. The Nuro's top speed limit is similar to the speed and force limits that you'll find in cobot designs: it's there to ensure that if a collision occurs between human and robot, no serious injuries will result. (Ars Technica has more.)
UK workers want robots to take over "the unhealthy (83 percent), hazardous (77 percent) or monotonous (72 percent) jobs, according to the findings of the automatica trend index. (H/T Associated Press)
In other news:
Swing by next week for more of the latest robotics news! Until then, hope you enjoy...
Five vids for Friday
1. Desert ants navigate by tracking bands of polarized light and carefully counting their steps. Inspired by this ability, researchers created AntBot, which comes with UV light sensors to help it work out its direction of travel and a built-in 'step' counter. These skills could be very useful to robots in situations where GPS is not available. (More: AntBot: A six-legged walking robot able to home like desert ants in outdoor environments, Science Robotics).
2. Ai-Da is an art-making robot being developed by British gallery owner Aidan Meller and a team of engineers at Engineered Arts. Ai-Da will present its inaugural exhibition "Unsecured Futures" in May at the University of Oxford.
3. IBM made history on Tuesday when it hosted the first ever public debate between man and machine. First human chess players felt the power of AI. More recently, Go players have been squished by algorithms. Are humankind's skills in sophistry and rhetoric next to be brushed aside by an all-conquering AI?
4. A fascinating DW Documentary exploring the impact of automation and digital technologies on farming was released online this week.
5. Tim Swift, CEO of Roam Robotics (the firm that developed the Roam Robotics Elevate exoskeleton) sat down with Mercedes-Benz to talk about the technology, which enables people with invasive physical limitations to move around on skis as though they were without impairment.