What's New In Robotics? 13.12.2019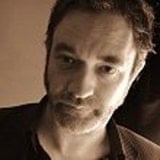 by
Emmet Cole
. Last updated on Dec 13, 2019 8:00 AM
Posted on Dec 13, 2019 7:00 AM. 9 min read time
Good morning. In this week's news mix: KUKA issues final call for Medical Robotics Challenge, Sanofi's cobots cut cycle times and some seasonal decorating with a UR cobot. We also peek behind the scenes at NASA's Assemblers Project, watch The Verge take a trip in an driverless car, delight in a new drone world record and much more!
Cobots & manufacturing
KUKA is developing a "sustainable business model" for its robotics subdivision with details to be "hammered out in the coming months," according to a press statement released Wednesday. The company also issued a final call for participation in its Medical Robotics Challenge, which incorporates the LBR Med cobot, this week. The deadline for submissions is Jan 05 2020.
Hurco has been showcasing its fancy cobot-based CNC machine tending system to the folks at MTD CNC...
The mobile robotics space will start to overtake the traditional industrial robotics market by 2022, according to a report released this week by leading analyst firm ABI research. Via Assembly Magazine:
"Many new verticals, like hospitality, delivery, and infrastructure, will demand systems that do not require external physical infrastructure to move about. While [automated guided vehicles] will thrive in intralogistics for fulfillment, especially in greenfield warehouses, [automated mobile robots] solve the challenges faced by many end-users by offering incremental automation that does not require a complete change of environmental infrastructure," explains [Rian Whitton, senior analyst at ABI Research].
Meanwhile, French pharma giant Sanofi is using cobots and AI as part of a company strategy designed to shrink costs, reduce lead times and cut cycle times, CFO Jean-Baptiste Chasseloup de Chatillon revealed this week.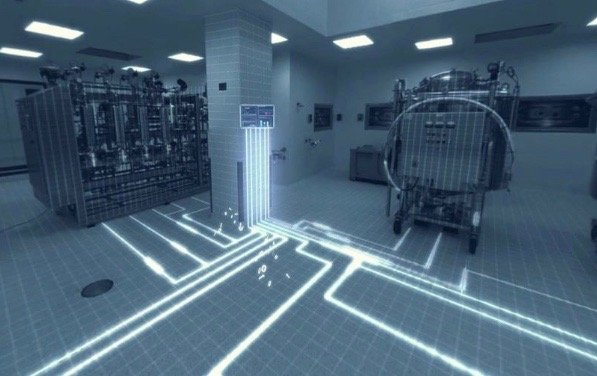 A mobile robot at work in a Sanofi facility. Credit: Sanofi
Via FiercePharma:
The new operations use collaborative robots, or "cobots," that work next to humans for some processes, and autonomous mobile robots that can travel along digital pathways to deliver ingredients and equipment. Processes in Framingham are all paperless, and its flexible facility design allows much of the same equipment to function for a variety of products.
And CADVISION PANOVA Group released cute video in which a UR cobot fitted with a gripper from Robotiq does some seasonal decorating...
Elsewhere...
Air France is testing an autonomous baggage tractor at Toulouse-Blagnac Airport. The bot, developed by Charlatte Autonom and dubbed 'Autonom Tract AT135' is being used to transport luggage from the sorting area to aircraft for loading.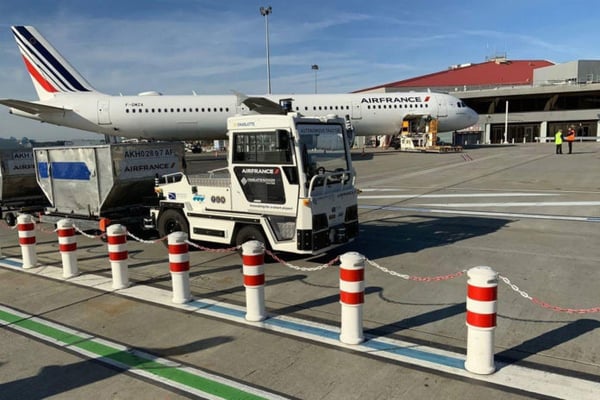 The unmanned Autonom Tract AT135 at work during the ongoing tests. Credit: Air France
Via Inceptive Mind:
The Autonom Tract AT135 is powered by electricity and has a battery of 32 kWh, a top speed of 24 km/h (15 mph), and it can handle up to 25 tonnes. Inside, it is equipped with powerful autonomous systems, including numerous sensors and cameras, as well as GPS technology that ensures safe and accurate movement.
Space bot firm Astrobotic --which was selected by NASA in May 2019 for a USD79.5 million contract to deliver payloads to the Moon in 2021-- has announced plans to open a new state-of-the-art headquarters for lunar logistics. Expected to open in May 2020, the 47,000 square foot (4366.443m²) facility in Pittsburgh, U.S.A., will house the company's spacecraft integration cleanrooms, test facilities, lab spaces, rover test labs, payload operations room, and dedicated mission control.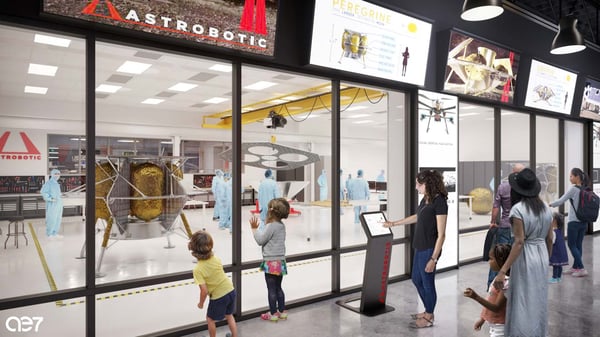 Artist's impression of the spacecraft assembly cleanroom;
capable of supporting up to 4 lunar lander missions simultaneously.
Credit: Astrobotic
Via Astrobotic:
Within the lab space, there will be environmental test facilities designed to simulate lunar and launch vehicle environments for mission hardware operations, a machine shop for parts manufacturing, a fluids lab for propulsion testing, and a high-power lab for battery assembly and testing.
Resarchers from Rensselaer Polytechnic Institute and NASA Goddard are working on a robot designed to capture and refuel satellites in space.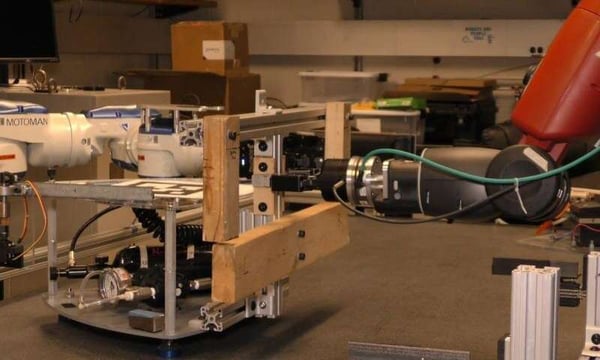 Credit: Rensselaer Polytechnic Institute
PhysOrg reported:
The robotic arm is being built for NASA by Maxar Technologies to be 7 feet long and thin so that it can operate as efficiently as possible in space [...] The researchers at Rensselaer are working with NASA to develop complex algorithms that will control the arm's movement, enabling it to accurately transport and dock a satellite to a berthing station for refueling.
Come back next week for more of the latest robotics news! Until then, please enjoy...
Five vids for Friday
1. Commercial drone maker PrecisionHawk announced a USD32 million investment from venture investors on Tuesday. The company plans to use the money to develop the next generation of its aerial data analytics platform.

2. Using a simple remote presence robot, medical specialists have been able to connect with patients in rural Saskatchewan, Canada to perform real-time diagnosis and monitoring. Prior to the bot's introduction, some patients had to travel up to 12 hours each way for an hour-long appointment. (H/T Saskatchewan Centre for Patient-Oriented Research)
3. The Verge's Andrew J Hawkins recently traveled in one of Waymo's fully driverless vehicles in the suburbs outside Phoenix, Arizona. With no human in the driver's seat and remote operators ready to assist if any problems arose, the bot handled the relatively simple journey very smoothly, even making a brief stop for a flock of pigeons in a parking lot. (The Verge has more.)
4. Zechen (Peter) Wei of Princeton broke the Guiness world speed record for the fastest quadcopter ascent to 100 meters (328.08 feet) with a record time of 2.732 seconds. The action starts @ 2m57s. (Patch has more.)
5. New video from NASA goes behind the scenes at the Assemblers Project, led out of the Langley Research Center. Their aim? To create an autonomous modular construction bot system that could be used to build structures on other worlds prior to human arrival. (NASA has the details.)