What's New In Robotics? 13.09.2019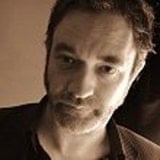 by
Emmet Cole
. Last updated on Sep 13, 2019 7:16 AM
Posted on Sep 13, 2019 7:01 AM. 9 min read time
Good morning. In this week's news mix: Shopify buys 6 River Systems for USD450m, ABB starts China factory construction and DHL's Americas Innovation Center opens. We also admit to a mistaken prediction, leap with a flying-fish inspired robot, admire a new inspection bot and much more!

Cobots & manufacturing
6 River Systems (the maker of mobile cobot 'Chuck' and other warehouse automation products) was purchased for US450 million this week by Canadian e-commerce software company Shopify. 6 River Systems provides "end-to-end fulfillment solutions that can double and triple the productivity of your warehouse associates." The company released video this week showcasing how its products fit together...
TechCrunch reports:
"Shopify is taking on fulfillment the same way we've approached other commerce challenges, by bringing together the best technology to help everyone compete," said Tobi Lütke, CEO of Shopify, in a statement. "With 6 River Systems, we will bring technology and operational efficiencies to companies of all sizes around the world."
DHL opened its Americas Innovation Center in Chicago this week. The new facility will showcase technologies including "automated guided vehicles that can ferry goods through warehouses, mobile robots that can facilitate order fulfillment in e-commerce operations and collaborative robots designed to help with repetitive tasks, such as picking and packing." (H/T Transport Topics)...

ABB announced on Thursday that construction work on its new robotics manufacturing and research facility in China has begun. Expected to open in 2021, the site represents a total investment of USD150 million by the robotics giant. Via ABB:
The new 67,000 m2 [219,816.3 feet] factory in Kangqiao, near Shanghai, will deploy the latest manufacturing processes, including machine learning, digital and collaborative solutions. The new factory will also host an onsite research and development center, which will help accelerate innovations in Artificial Intelligence.
Elsewhere...
Canadian startup Averro Robotics and Technology has successfully tested an inspection robot called 'Rudy' that can quickly scale and test guide-wires for damage while humans remain safely on the ground.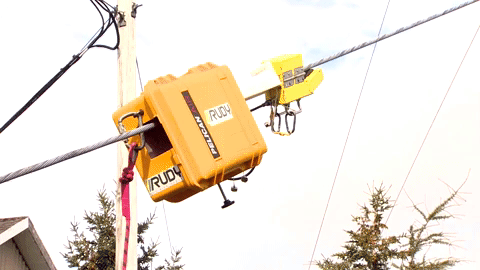 Rudy at work. Credit: Zach Goudie, CBC
CBC reports:
Guy-wires are critical infrastructure for all sorts of tall things; communications towers, ski lifts, flare stacks at industrial sites. Rudy tests the wires for breaks, corrosion and other damage. The robot consists of a drive system for climbing, a data recorder, and a magnetic rope-testing device, called an MRT. It's a job normally done by a team of technicians, but it's time-consuming, costly, and a little dangerous.

Engineers have retrofitted the 4-meter Nicholas U. Mayall Telescope in Arizona, USA with a robotic system designed to help scientists in their quest to understand dark matter.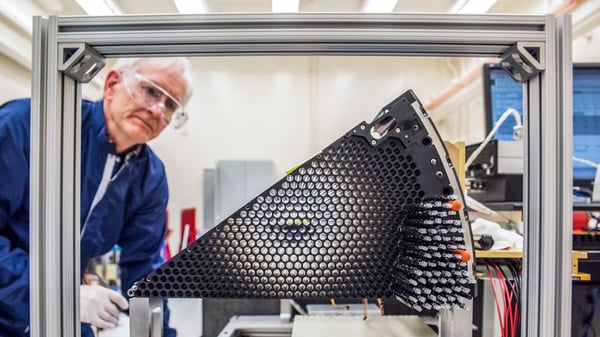 Credit: University of California/Lawrence Berkeley National Laboratory
Science reports:
The instrument has 5000 fibers attached to its 0.8-meter-wide focal plane. Each fiber tip can be repositioned in a matter of seconds by a tiny robotic actuator. The 5000 fibers snake down the back of the telescope to a temperature-controlled room containing 10 spectrographs, each analyzing the light of 500 galaxies simultaneously. The entire instrument can be reconfigured for a new patch of sky in a few minutes.
In last week's news roundup I suggested that it may be a while before we receive significant updates about humanoid bot Fedor. I couldn't have been more wrong.
Yevgeny Dudorov, executive director of Fedor's creators Androidnaya Tekhnika, has been talking with Russia's RIA Novosti state news agency this week following the robot's return to earth from the International Space Station.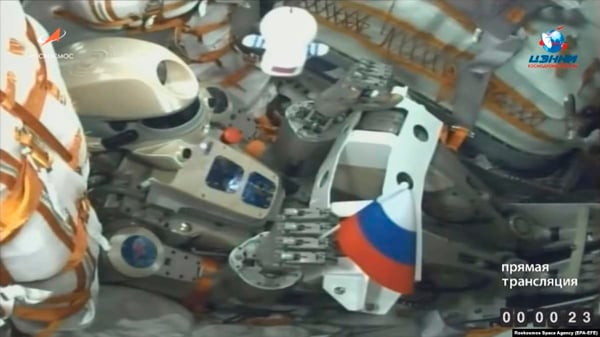 Credit: Roskosmos Space Agency
Unfortunately, even taking into account that Fedor was a first attempt, Dudorov's initial assessment of the robot's performance wasn't exactly positive. The design team is already working on a "less human-like" replacement, according to reports. Via PhysOrg:
Fedor turned out to have a design that does not work well in space [...] its long legs were not needed on space walks, Dudorov said. [...] There appear to be other issues. Footage of the robot ahead of the mission suggested it needed support to stand up. Cosmonaut Alexei Ovchinin complained to mission control that it took more than a dozen attempts to switch on the robot and suggested: "Maybe I should bash it with a hammer."
According to Fedor's most recent tweet, the bot is safely packed away in Moscow: "Now I'm in my case. I await directions for further tests after the flight," it said. While a more positive assessment followed later in the week, it seems certain that Fedor won't be taking any more trips into space and is most likely to end up in an exhibition hall or educational institution, an important piece of space-traveling humanoid robot history.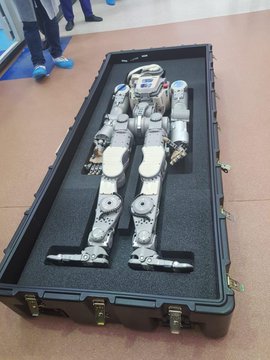 Fedor in its case, blissfully unaware of any criticism.
Credit: Androidnaya Tekhnika
Come back next week for more of the latest robotics news! Until then, please enjoy...
Five vids for Friday
1. It gallops. It recovers from a kick. It trots. It climbs stairs. It bounds. It performs a flying trot. It goes around in circles. And it bounces! New video from the Biomimetics Lab at MIT showcases Cheetah 3's impressive dynamic locomotion skills in a variety of environments.

2. Researchers from the UCLA Samueli School of Engineering unveiled a new design for swimming robots this week. Powered and steered by light, the prototype 'OsciBot' device could eventually lead to the development of new oceangoing bots and autonomous ships. Composed of a soft material called a hydrogel that expands in water and responds to light, the free-swimming OsciBot does not require batteries or tethering to a power source. (H/T UCLA Newsroom)
3. Staying with marine bots, researchers at Imperial College London unveiled a stunning, flying-fish inspired robot this week. Designed to collect water samples in hazardous and cluttered environments, the bot can travel 26 meters (85.30 feet) through the air and is propeled by just 0.2 grams (0.007 oz) of calcium carbide powder that reacts powerfully with water in a combustion chamber, producing a force 25 times the bot's weight. (H/T Imperial College London)
4. Engineers at the University at Buffalo revealed a new gripper design on Thursday that uses repulsion between magnets to adjust grip stiffness and absorb energy from collisions. The researchers hope that the design could one day be used to improve safety in industrial settings. (H/T University at Buffalo)
5. Meet the ShapeBots, a new breed of shape-changing swarm robots developed by researchers from the University of Colorado and the University of Tokyo. The ingenious design enables ShapeBots to individually and collectively change configuration to "display information, actuate objects, act as tangible controllers, visualize data, and provide physical affordances." (H/T Science)