What's New In Robotics? 12.04.2019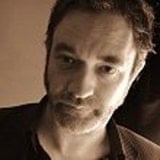 by
Emmet Cole
. Last updated on Apr 12, 2019 7:29 AM
Posted on Apr 12, 2019 7:14 AM. 8 min read time
Hi! In this week's news mix: Berkeley unveils dual-arm cobot for AI research, new cobot products launch, and what cobots and tractors have in common. We marvel at a recycling robot from MIT, wonder what went wrong with Israel's moon bot, giggle at a robot burglary suspect and much more!
Cobots & manufacturing
Researchers at Berkeley have developed a dual-arm cobot research platform that could one day lead to the widespread availability of low cost, general purpose cobots for use in homes. Their 'Blue' platform (which costs around US$5,000 to manufacture) is designed to build on recent advances in artificial intelligence and deep reinforcement learning to "master intricate human tasks"...

For now at least, the team's focus appears to be on accelerating the development of cobots for use in domestic scenarios. Via Berkeley News:
"AI has done a lot for existing robots, but we wanted to design a robot that is right for AI," Abbeel said. "Existing robots are too expensive, not safe around humans and similarly not safe around themselves – if they learn through trial and error, they will easily break themselves. We wanted to create a new robot that is right for the AI age rather than for the high-precision, sub-millimeter, factory automation age."
Robotiq launched three new products at the Automate show in Chicago this week: the AirPick and Epick vacuum grippers and a sanding kit for cobots...

Also at Automate, Productive Robotics unveiled its full line of teachable collaborative robots with a unique "enhanced human sense of vision". From The Robot Report: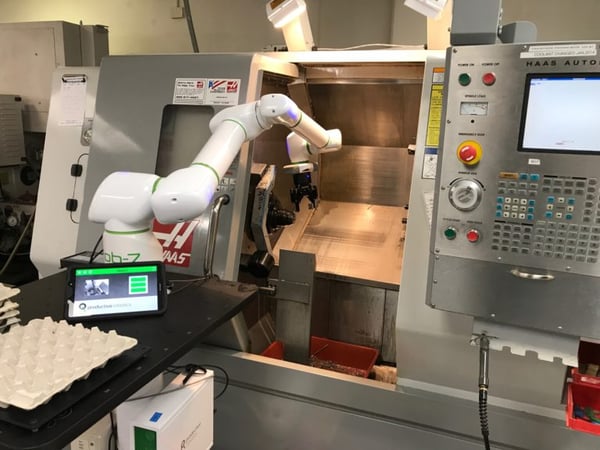 Credit: Productive Robotics
The company has added the OB7-Max 8 and OB7-Max 12 to its line of "no programming" cobots. The OB7-Max 8 and OB7-Max 12 can handle larger payloads with a longer reach than other cobots, at 8kg (2.2 lb.) and 1700mm (66.9 in.), and 12kg (26.4 lb.) and 1300mm (51.1 in.), respectively.
Ready Robotics also unveiled some new products...
The future looks bright for the global collaborative robots market which is expected to rise in value with a CAGR of 45.64% between now and 2027, according to a new report:
The market is largely driven by factors like growing need for user-friendly automation, increasing demand for robotics, low capital investment in Cobots leading to a high return on investment (ROI), heavy investments in the research & development field of robotics, the increasing applications of collaborative robots, and the rising government support.
The invention of the tractor revolutionized farm labor in ways that that could have not been predicted by its inventor, John Froelich. Similarly, the rise of the cobot is transforming manufacturing labor, writes Tom Green in a must read piece for Asian Robotics Review:
The cobot, first introduced by Universal Robots in 2008 in Denmark, transformed manual manufacturing at Linatex, a Danish plastics supplier, into "automated fabrication." Manufacturing hasn't been the same since. Trillions of dollars in future industries as well as the production of food were birthed when Froehlich rolled out his first machine in Waterloo, Iowa…which is less than 300 miles west of Chicago's McCormick Center. The cobot is on a trajectory to do the very same for manufacturing.
In other cobot news:
Elsewhere...
When Washington County Sheriff's Office received a frightened 911 call about a potential intruder, they quickly dispatched officers to apprehend the suspect. Entering with guns drawn, the fearless police officers and canine unit soon discovered that the 'intruder' was, in fact, a robot vacuum cleaner just doing its job. (USA Today has more. See 'Five vids for Friday' below for bodycam footage!)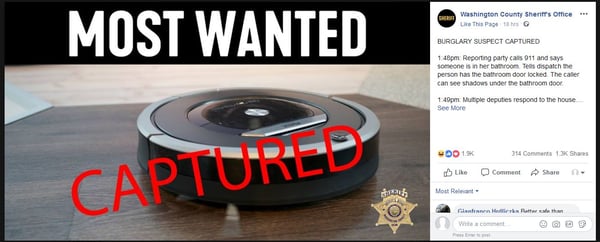 Credit: Washington County Sheriff's Office | Facebook
If at first you don't succeed, try again. Israeli lunar robot Beresheet crashed into the moon yesterday following an apparent failure in the bot's main engine.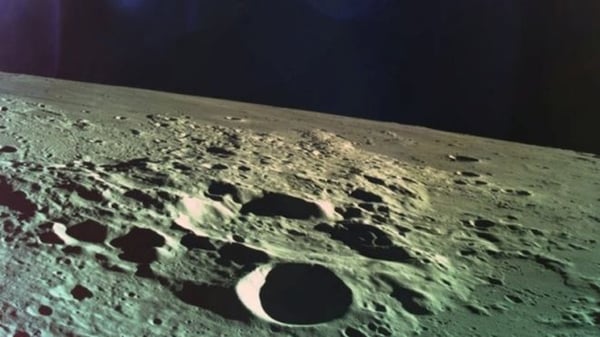 One of the last images sent back to Earth by Beresheet before it crashed. Credit: Reuters
The BBC reports:
The audience outside had been through a turbulent journey themselves as they watched the first part of the landing go to plan. As Mr Doron announced that the engine had cut out, groans filled the room. "We are resetting the spacecraft to try to enable the engine," he said. The engine came on seconds later and the audience applauded, only for communication with the spacecraft to be lost shortly after. The mission was over.
Leos is a telepresence robot designed to enable children with illnesses and disabilities to remotely visit the zoo from their hospital bed or from home.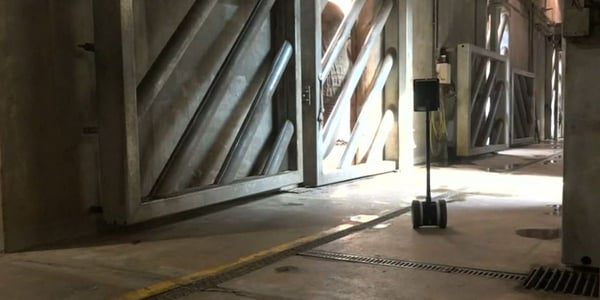 In a meta moment, an elephant looks at a robot, while the robot looks at the elephant and kids look on from remote locations. Credit: RTV
Via NBC 12:
Leos is controlled by a computer or mobile device, and accompanied by a zookeeper, who explains facts about the animals to the child controlling him. The robot can also access areas of the zoo which are generally off-limits to visitors. A hospital psychologist says access to live animals, even just via a screen, helps the hospital's young patients to deal with the boredom of being confined to bed.
In other reading:
Come by next week for more of the latest robotics news! Until then, please enjoy...
Five vids for Friday
1. Researchers at Harvard's Wyss Institute have unveiled ROMU --a robot that can autonomously drive interlocking sheet piles into the ground to assist with soil stabilization. It is hoped that swarms of the robot will help "combat erosion, restore damaged landscapes, and facilitate sustainable land management in a variety of settings."
2. "There's the bad guy!" Washington County Sheriff's Office has released bodycam footage of its officers dealing with a burglary suspect that turned out to be a robot vacuum cleaner.
3. Researchers at MIT CSAIL have unveiled RoCycle --a remarkable robot designed to automate the processing of materials at recycling plants. RoCycle uses in-hand sensors to detect whether an object is made of paper, plastic or metal.
4. Dr Dave Cameron, a lecturer in human-computer interaction at the University of Sheffield's Information School talks about his work with social robots.
5. Dr Ðula Nađ from the University of Zagreb recently presented a talk on underwater robot projects with a special focu on human-robot collaboration.