What's New in Robotics? 11.02.2022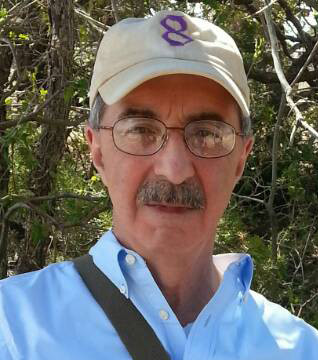 by
Tom Green
. Last updated on Feb 11, 2022 10:16 AM
Posted on Feb 11, 2022 9:16 AM. 9 min read time
News briefs for the week take a look at drones picking fruit, Ocado's next-gen logistics system, micro-plating lab cobots, seafloor robots collecting trash, no-code Wandelbots, and robots disrupting wire harness industry.

Drones as flying fruit pickers
Drones, usually categorized mainly as our eyes in the sky or for delivering packages, now have a real "hands-on" job: flying fruit pickers.
Israel-based Tevel Aerobotics Technologies builds what it calls FARs for Flying Autonomous Robots a/k/a quadcopter drones. FARs, while tethered to a power supply, use a vision system, AI/ML, three-foot-long, lightweight robot arm with picking gripper to pick only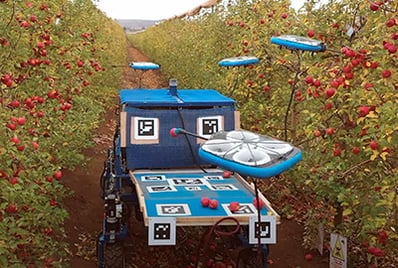 an orchard's ripe fruit (see video).
The quadcopter FARs utilize computer vision and AI to detect fruit and foliage, while identifying fruit type, size, and ripeness. During off-harvest months, the FARs are capable of performing additional tasks like pruning, trimming, and thinning of orchard trees.
With harvesters, especially fruit-picking workers, becoming ever more in short supply worldwide, which the pandemic has exacerbated, Tevel sees as an opportunity to market its patented FAR platform. VC investments seem to agree as Tevel has picked up a recent $20 million, adding to a previous $20 million from a January investment round.
"Our robots have excellent maneuverability – they can maneuver with six degrees of freedom," says founder and CEO, Yaniv Maor. "This enables us to pick almost all the fruit from trees, work with different orchard architecture — such as thick and thin trees, trellis systems, and round trees — and to pick many kinds of fruit with the same hardware."
Growers can custom order any number of FARs necessary, specify an exact number of days for harvesting (the FARs pick 24/7, day and night), and be assured that only ripe fruit are picked. With labor traditionally nearly 50% of an orchard's operating expenses, FARs significantly pare down or eliminate workers altogether.
Ocado slims down robots and grid
Ocado jumps out with Series 600 next-gen AMR: lightweight, easier to assemble, partially built with 3D printers, and running on a grid network that's also lighter, and takes "weeks rather than months" to install, claims Ocado.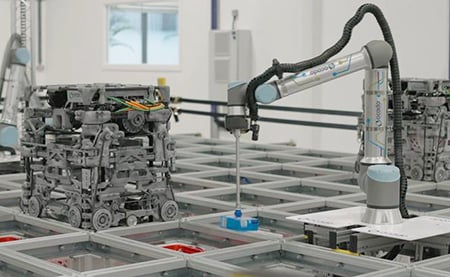 Premiering 26 January 2022, in what Ocado unveiled as "Ocado Re:Imagined", The new system, says Ocado, has the "world's lightest and most efficient grocery fulfilment bot, an automation for the most physically demanding job in the warehouse, the world's first virtual distribution center, and robotic arms that pick groceries directly from the grid."
Each of its Series 600 AMR are constructed from over 300 3D-printed parts, making for significant cost to build and time to build reductions, with an overall weight per robot the industry's lightest to date.
At the unveiling, Ocado's CEO Tim Steiner also unveiled a new on-AMR robotic arm to assist with picking and stock management. "Using machine vision, deep reinforcement learning and advanced sensing, the arm helps the overall pick and pack grocery by picking grocery items right on the grid"
Steiner also claimed that the new "On-grid Robotic Pick" will lead to lower labor costs, higher fulfillment throughput and warehouse optimization gains.
New 4-axis cobot for lab micro plating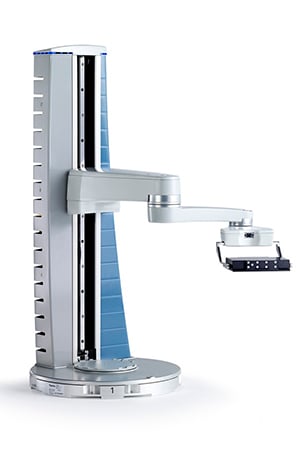 Using vision to maintain precision. Thermo Fisher's new Spinnaker Microplate Robot, says the company, is an ideal complement for bench work in synthetic biology, drug discovery, and biotechnology.
The 4-axis SCARA-type cobot "designed specifically for life science research" takes on the exacting, repetitious drudgery of lab microplate stacking.
The Spinnaker's robot vision capability and specialized software, which incorporates a location verification routine, enable easy configuration and/or teaching of automation solutions, including integrated, vision-assisted teaching and barcode reading that enables automatic confirmation of sample identification (see video).
The 4-axis SCARA's "flexible reach, infinite rotation and full gravity-neutral joints facilitate positioning when teaching or integrating instruments." The cobot's camera "can see issues that result in lost samples and cycle time before they become problems."
Robots as seafloor, trash-collection system
Although there are a number of surface expeditions operating to remove the estimated 26 to 66 million tons of seaborne plastic waste, most of it, well over 90%, is far from the surface, like on the ocean floor.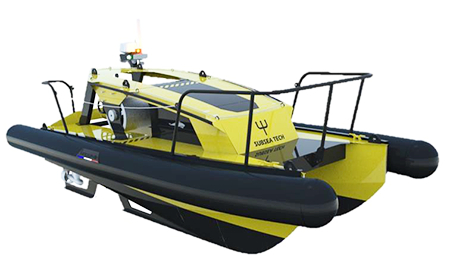 Until now, no one has stepped forward with a solution, other than the woefully inefficient SCUBA diving for trash. Recently, a promising solution has been developed and trialed by Technical University of Munich (TUM) called SeaClear. TUM, working with eight European partner institutions (as an EU-funded Horizon 2020 project), has developed a sea-floor-roaming robotic system capable of collecting underwater litter (see video). And it works!
In the clear water off Dubrovnik (Croatia), the SeaClear system, consisting of four robots each with a different but compatible task, succeeded at locating and capturing 90% of bottom trash. Further trials are scheduled in the port of Hamburg in May 2022.
The system combines four robots: an autonomous surface vehicle to sonar scan the sea floor to locate large litter pockets. An observation robot is then lowered to get close-up images to transmit to computers for analysis. A collection robot then hones in on computer-defined targets and extracts the littler, bringing it to the surface.
"We don't have the computing power at our disposal that we would on dry land," says Prof. Sandra Hirche, director of the chair and SeaClear principal investigator. "We do not have links to large data centers with supercomputers. So, we need highly efficient algorithms that run with limited resources. We are therefore working with high-efficiency sampling methods that arrive at precise predictions with minimal data. The AI system simply discards unnecessary information."
Hamburg is a good test. According to the Christian Science Monitor, Hamburg's harbor is murky and dangerous, and much of the sea floor is crammed with trash and toxic silt.
If SeaClear succeeds there, it's looking at a lifetime of work in harbors worldwide.
Wandelbots' no-code robots
Dresden-based Wandelbots blares out on its homepage: "With Wandelbots Teaching you can easily teach robots new skills without writing a line of code—as easy as 1 – 2 – 3."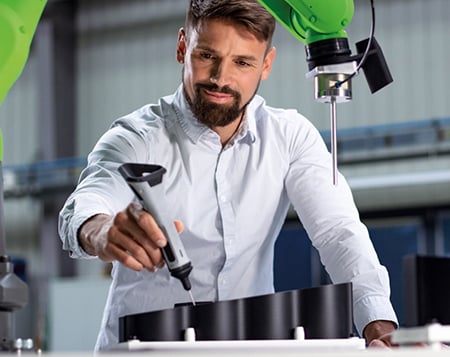 No-code robots, what for many might be very suspect, has found believers in the likes of BMW, Volkswagen, Fraunhofer, and Schaeffler, all of which are customers. The aging startup (founded in 2011; Wandelbots Teaching launched in 2020), has recently nabbed $84 million in Series C financing by investors who are also believers, which bumps their VC totals to north of $100 million.
Wandelbots has been busy showing its true believers and others that it's possible "to deploy a robotic army without the need for a lot of outside help, significant sums of money and/or robotic coding know-how."
Wandelbots has a magic wand it calls the "TracePen," which is used to mimic a motion, any motion, to train a robot in that motion's process. After the initial training is roughed out with the pen, it can then be fine-tuned with software without the need to apply coding.
In a recent interview, Annelie Harz, marketing manager from Wandelbots, said "we are gradually integrating the largest robot brands into our platform." Yaskawa is one. "We will certainly also integrate smaller robot brands that cover one or more niches. Or, even better, thanks to our Robot Integration Software Development Kit, robot manufacturers will soon be able to do it themselves."
5-axis robot to "transform wiring industry"
Amazingly, wiring harnesses for electronics—for everything from refrigerators to automobiles to flat-screen TVs—are basically still made by hand. Complexity has been the main reason. UK-based startup Q5D Technology reports that it is disrupting the century-old hand crafting of wiring harnesses to "speed up the process of manufacturing, lower costs and mitigate human error."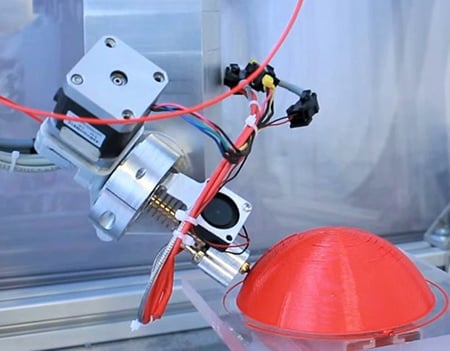 As co-founder Steve Bennington put it: "The way the world has made wiring for the last 80 years has to change!"
Q5D's tech solution, called the CU500, is a 5-axis robot and interchangeable polymer, silver and copper-compatible printheads that can be adapted for the rapid deposition of either polymers, metal pastes or wiring.
The CU500 could be used to create wire harnesses and to add conductive tracks to parts—even those with complex geometries—to intricate electronic devices, or household appliances or onto large aerospace and automotive parts (see video).
According to Q5D Technology, the CU500, because of its interchangeable printhead, allows it "to switch from depositing polymers or pastes to carrying out sintering, embedding or jetting on a single integrated platform."
The CU500 system "enables the machine to add layers to existing parts in a conformal fashion, unlocking the production of continuous prints with complex 3D shapes."
A recent $2.5 million funding round will be used to further the development of a more advanced multifunctional wiring and electronics 3D printer.