What's New In Robotics? 10.01.2020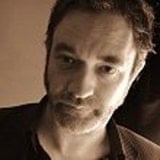 by
Emmet Cole
. Last updated on Jan 10, 2020 8:00 AM
Posted on Jan 10, 2020 7:00 AM. 9 min read time
Good morning. In this week's news mix: If Carlsberg used cobots, UR launches 'National Cobot Awareness Month' and new report predicts cobot market to hit USD5.6bn by 2027. We also cheer Ford's 'double Digit' purchase, marvel at Toyota's 'Woven City' and bring you a mountain of robot vids from CES 2020!
Cobots & manufacturing
It emerged Monday that drinks giant Carlsberg has practically "eliminated the risk of accidents" in its Fredericia, Denmark facility following the introduction of UR3 and UR10 collaborative robots. The company has achieved "zero incidents" since the cobots arrived and has purchased four more cobots to further enhance production processes.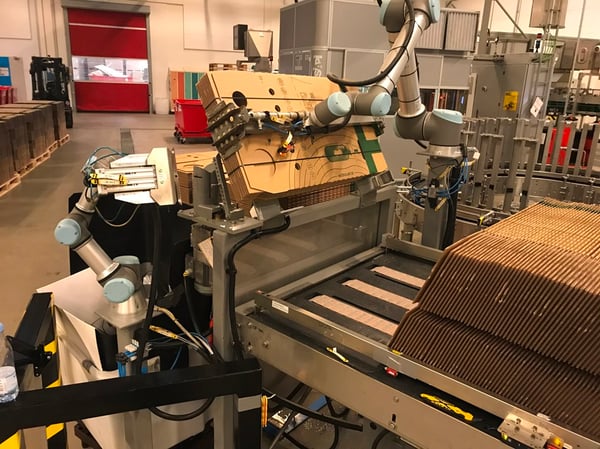 Cobots have improved worker safety during packaging operations. Credit: Carlsberg
Via Robotics & Automation News:
Thomas Kern Ruby, senior project manager at Carlsberg Fredericia [...] says: "Although our production line was highly automated, it still required some degree of human input [...] mainly during the packaging process which saw our workforce manually carrying packaging cartons from the pallet to the magazine. This was a monotonous and strenuous task and often staff endured repetitive strain or sustained severe cuts while removing the packaging cable."
On Thursday, Universal Robots declared January to be 'National Cobot Awareness Month.' "[We] want to send a signal to manufacturers that cobots are here to solve the monotonous tasks they simply can't staff," said Stu Shepherd, regional sales director of Universal Robots Americas division. "With an average payback period of only six to eight months due to increased productivity, quality, and consistency, they can make their investment back and then some before year end if they start now."
Samsung's stylish 'Bot Chef' dual-arm cobot showcased its skills at CES 2020 this week... (H/T The Robb Report)

Meanwhile, a new report from Interact Analysis predicts that the global cobot market will reach USD5.6 billion in 2027. (H/T Control Design)
Elsewhere...
On Monday, car giant Ford announced plans to purchase two Digit humanoids for making home deliveries. The announcement follows a successful partnership between Ford and Agility Robotics, which began last summer and marks a major milestone in the commercialization of humanoid robots.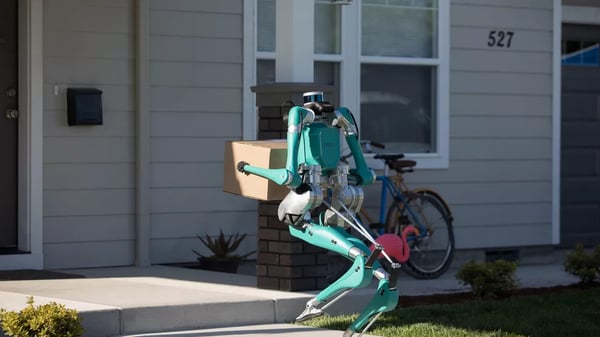 Digit is self-folding and could easily be paired with self-driving cars. Credit: Ford
Via c|net:
While Ford will take home the first two Digit robots, there's still a lot of research to do. Both companies said they'll continue to explore technologies to understand how Digit and Ford's autonomous cars can "talk" to each other and learn about their surroundings. The goal is to create a communications channel to keep out redundant information between a self-driving car and robot delivery person.
The world's largest technology exhibition, CES 2020, closes today in Las Vegas, Nevada and as always, the four day long event delivered a host of exciting --and sometimes ridiculous-- new automation and ideas to enjoy. (CES also means videos galore, so we're going to make an exception this week and load up on videos from here on out!)
On Tuesday, as the show opened, Toyota announced sensational plans to build a prototype city on a 175-acre site in Japan, where people will live and work side by side with Toyota's autonomous e-Palette shuttles, domestic assistant bots and host of other bots and sensors. Construction on 'Woven City' is set to begin in 2021....



Via TechCrunch:
"Imagine a fully controlled site that will allow researchers, engineers and scientists the opportunity to freely test technology such as autonomy, mobility-as-a-service, robotics, smart home-connected technology, AI and more, in a real-world environment," [Toyota Motor Corp President Akio] Toyoda said.
Meanwhile, also at CES, Sony launched Ballie, a cute-looking domestic assistant robot...

Sony also unveiled 'Vision S', its concept driverless sedan...

And Charmin unveiled a domestic robot that you never knew you needed (until you do)...

Come back next week for more of the latest robotics news! Until then, please enjoy...


Five (more) vids for Friday
1. UBTECH's Walker bipedal humanoid, now on its third version, showed off its skills in a domestic setting at CES this week. c|net's Lexy Savvides took a close up look.

2. Meanwhile, Engadget caught up with Reachy, an open source humanoid system developed by France's Pollen Robotics.

3. Russia's Robo-C bot (which also made an appearance at CES, see below) has been given some upgrades. Snazzy video released by Promobot this week highlights some of the robot's capabilities.
4. Also at CES, Omron officially launched its impressive 250kg (551.15lb) payload LD-250 mobile robot in the Americas.

5. Finally, for a fun, whistle-stop tour of the "good, bad and ugly" bots of CES 2020, check out this video from TWiT.tv.