What's New In Robotics? 07.02.2020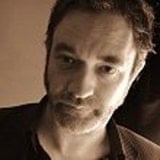 by
Emmet Cole
. Last updated on Feb 07, 2020 8:00 AM
Posted on Feb 07, 2020 7:00 AM. 9 min read time
Good morning. In this week's news mix: MiR and UR announce world's largest cobot hub, YuMi helps automotive firm improve productivity, and Japan tests cobot bartender. We also update our list of bots combatting coronavirus, cheer Maxar Technologies' space-based construction contract, find inner peace with a robot-created mandala and much more!
Cobots & manufacturing
On Tuesday, Mobile Industrial Robots and Universal Robots announced ambitious plans to build the world's largest cobot hub in Odense, Denmark. With help from parent company Teradyne to the tune of USD36m, the two firms are also set to move their headquarters to the new 32,000 m2 (334,000 square feet) facility enabling further collaboration between the two giants of collaborative robotics...
Via Universal Robots:
"We have found something very special in Denmark. The Danes' combination of innovative industrial design, combined with a practical business sense, have created a perfect combination for this emerging industry. The ability to make robots work in collaboration with humans in a user-friendly manner is something we have not encountered to this degree anywhere else in the world and we're very excited to expand our capabilities in Odense."
With Japanese companies finding it hard to fill service industry jobs due to ageing demographics, one Tokyo pub is trialing a cobot-based system (including a UR cobot fitted with a gripper from Robotiq) for bartending developed by Qbit Robotics... (H/T Reuters)
Meanwhile, new video shows how Faurecia, a leading maker of automotive seating mechanisms uses ABB's dual-arm YuMi cobot at its factory in Coligny, France to enhance productivity...
Elsewhere...
One week on and robots are increasingly a feature of efforts to contain the impact of the new coronavirus (2019-nCov). The Daily Mail reported on delivery robots being used to bring medicine and food to patients as well as collecting bed sheets and medical rubbish in a medical facility in Guangdong...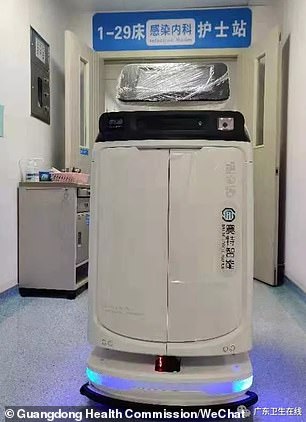 The bot is being used to bring meds from the hospital's pharmacy
to overworked medics, among other tasks. Credit: Guangdong Health Commission
Forbes reported on the germ-killing robots being used to contain the virus' spread, including Dimer, which offered the use of one of its bots to an airline at Los Angeles' LAX international airport for free...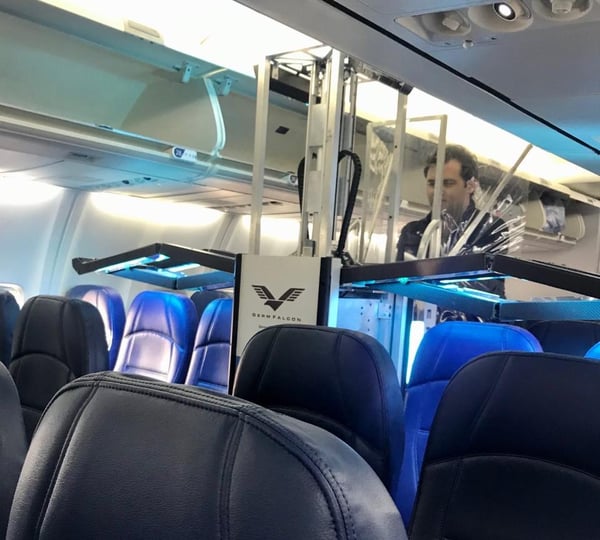 Dimer's GermFalcon uses high doses of ultraviolet light to zap bacteria and viruses. Credit: Dimer
Meanwhile, Xinhua reported that researchers from Chinese robot manufacturer Siasun and the Shenyang Institute of Automation are collaborating on "the research and development of a robot that can replace nurses in conducting throat testing to reduce the spread of the novel coronavirus." And sUAS News reported that Chinese agriculture technology company XAG has launched a 5-million-yuan special fund to support drone disinfection operations.
While most of these robotics initiatives have been applauded, others, especially the use of drones for surveillance, have attracted mixed responses...
Away from coronavirus news, NASA has awarded a USD142 million contract to Maxar Technologies to "robotically assemble a communications antenna and manufacture a spacecraft beam in orbit." The demonstration will take place in the mid-2020s on NASA's Restore-L spacecraft, which was created to service and refuel satellites in low-Earth orbit. (H/T Popular Science)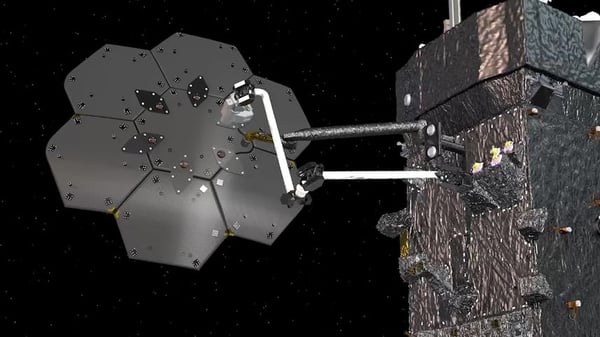 The bot will assemble a functional communications antenna and
manufacture a spacecraft beam, NASA says. Credit: Maxar Technologies
Meanwhile, subsea technology company Ocean Infinity has announced the establishment of a new marine technology and data company, Armada, which will launch later this year with a fleet of 15 unmanned surface robots.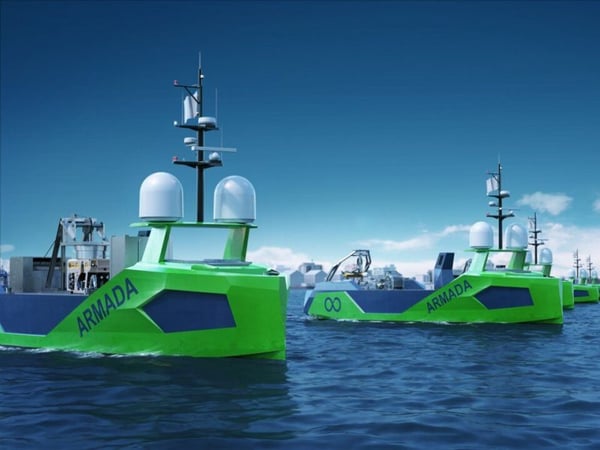 Artist's impression of the marine bots in action. Credit: Ocean Infinity
Via Offshore Technology:
Each unmanned surface robot will be able to perform data acquisition and intervention operations down to a depth of 6,000 metres. The robot ships will also be capable of remotely deploying a range of sensors and autonomous underwater vehicles (AUVs) for visual and acoustic data acquisition.
Come back next week for more of the latest robotics news! Until then, please enjoy...
Five vids for Friday
1. 'Android Alter 3' delighted an audience in the UAE this week as it conducted an orchestra through a beat poet-inspired score. (Reuters has more.)
2. Researchers at Clemson University have created a mobile cobot that can observe and mimic human actions. It's all part of efforts to teach robots how to understand human intent, thereby enabling even more effective robot-human teams.
3. Lufthansa Technik Group is exploring the use of drones for emergency deliveries of medical supplies. The 'MediFly' project's aim is to find out "how far unmanned aircraft systems can be used to perform acute transports of medical samples in a safe and reliable manner."
4. Researchers from the Bio-Inspired and Medical Robotics Lab. at Ben Gurion University have unveiled a remarkable continuous track robot that can build its own track into the air as it drives. (H/T IEEE Spectrum)
5. At the end of a long week, there's something soothing about this (world first) robot-created mandala, the result of a collaboration between Scribit and the Venerable Tenzin Priyadarshi, Director of The Dalai Lama Centre for Ethics and Transformative Values at MIT. (H/T Analytics India)