What's New In Robotics? 02.08.2019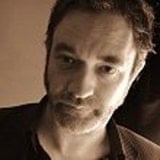 by
Emmet Cole
. Last updated on Aug 02, 2019 7:20 AM
Posted on Aug 02, 2019 7:05 AM. 8 min read time
Good morning. In this week's news mix: ABB reveals ATM-testing cobot, an experimental controller for dual-arm cobots and Attarobotics raises USD25m. We also meet a snail-inspired, laser-powered bot, watch researchers stomp on a fast-moving flat bot and much more!
Cobots & manufacturing
ABB revealed a new, cobot-based testing system this week. Developed for Abrantix, and incorporating ABB's dual-arm YuMi, the system has successfully been used to test common ATM operations including inserting cards, punching in PIN codes and withdrawing and inserting money. It even makes mistakes --such as trying to deposit money held together with a clip-- to ensure a realistic testing environment.
Via ABB:
"Previously, the test cycles could become bottlenecks and even risks in the critical path of a release. With the new YuMi-based solution, this is much more under control and employees can now focus on improving test cases and procedures or even develop new software features, while YuMi is testing the ATMs," said Abrantix CEO Daniel Eckstein.
Cobots on wheels? Yes, please! New video shows Robotnik Automation's impressive RB-VULCANO mobile manipulator in action...

Canadian robotics firm Attarobotics has raised USD25 million to support continued growth "including new hires, scaling manufacturing operations, the development of new technologies, and more," VentureBeat reported this week: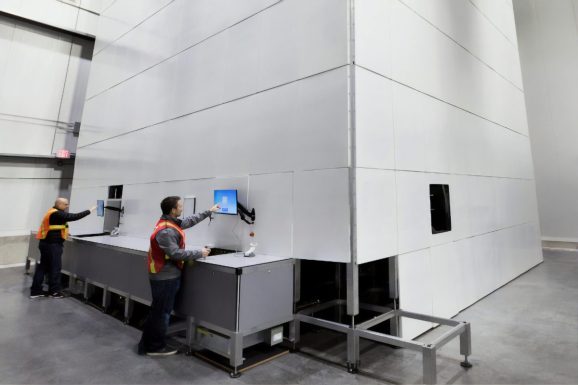 Credit: Attarobotics
Attabotics' novel fulfillment automation technology condenses rows and aisles of warehouse shelves into single, vertical storage structures. Orchestrated fleets of robotic shuttles within these structures move horizontally and vertically along the X, Y, and Z axes, retrieving goods and delivering them to the perimeter, where workers pick, pack, and ship them. The company claims its modular all-in-one supply chain product can reduce a retailer's required warehouse needs by 85% while accelerating shipping.
Researchers at LIRMM, in Montpellier, France released video this week showing off an experimental controller for dual-arm cobots, which they created with the aim of enhancing human-robot collaboration in object transportation tasks...
Elsewhere...
Researchers at the University of Warsaw, Poland have created a robot that can mimic the adhesive skills of snails, enabling it to crawl on horizontal surfaces, climb vertical walls and move across a glass ceiling. My favourite part? The propulsion system.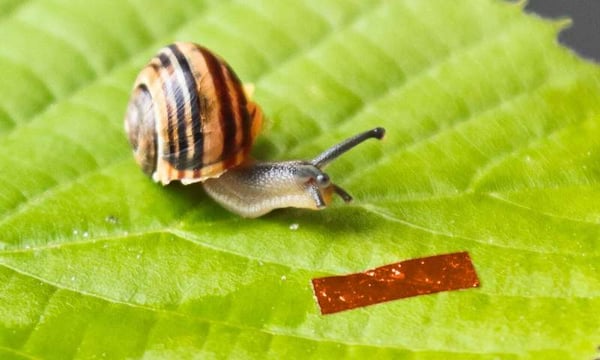 Photo of the snail-inspired robot next to a garden snail. Credit: UW Physics
EurekAlert! reports:
The robot propulsion is driven by light-induced traveling deformations of the soft body and their interaction with the artificial mucus layer (glycerin). The robot can crawl at the speed of a few millimeters per minute, about 50 times slower than snails of comparable size.
Auto giant Ford has acquired Quantum Signal in an effort to meet its ambitious 2021 target for rolling out autonomous vehicles. Michigan-based Quantum Signal specializes in self-guided machines, modeling and simulation.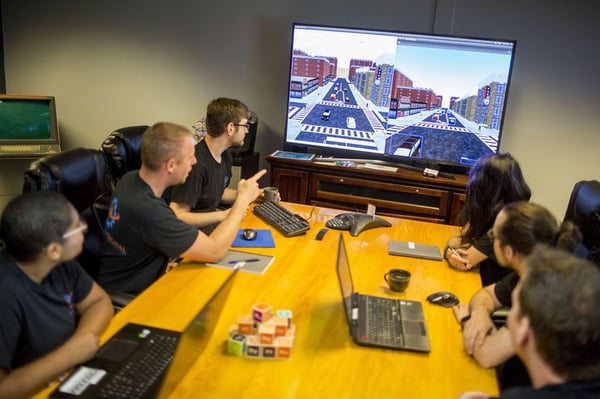 Some of the Quantum Signal team at work on one of the company's simulations. Credit: Ford
Via Bloomberg:
Quantum has a clear mission to create simulations and robotic controls that will guide Ford's robotaxis and self-driving delivery vehicles. "We know exactly where they're going to fit into our business and how they're going to help us move our business forward," [Randy Visintainer, chief technology officer of Ford's autonomous vehicle unit] said. "They're not a startup; they're an established company with a proven track record. We already have growth plans for them."
Meanwhile, Asian Robotics Review wondered whether some of those seeking elusive 'Level 5' autonomy for self-driving vehicles might be better seved by focusing on human-robot collaboration: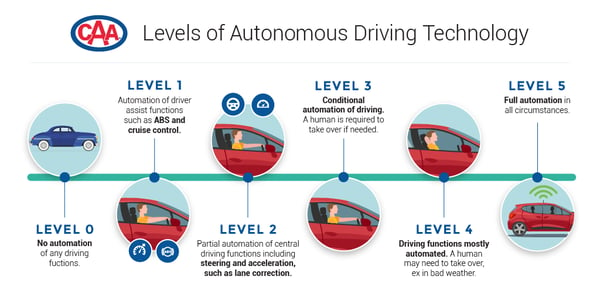 Credit: Canadian Automobile Association
On my desk is a stack of research reports from academia and private industry—some of the biggest names in both—that have spent large dollars, time and brainpower writing report after report that a human, together with an AI-infused computer is so much better at doing most anything than a human or an AI-infused computer alone.
In other news:
Come back next week for more of the latest robotics news! Until then, please enjoy...


Five vids for Friday
1. How's this for robo-biceps? NASA Jet Propulsion Laboratory has released new time lapse video showing the robotic arm on NASA's Mars 2020 rover maneuvering all 40kg (88lb) of sensor-laden turret. (H/T CNN)
2. Researchers at the University of California, Berkeley unveiled a prototype, cockroach-inspired robot that weighs less than 0.07 grams (0.002oz), but can move at 20 body lengths per second, carry six times its own weight and survive being stepped on. (H/T IEEE Spectrum)
3. Could drones be used to remotely monitor the health of whales and other large sea creatures? Researchers at the University of Canterbury in New Zealand are working on a prototype system to find out.

4. A collaborative project involving Korea's KAIST and Germany's DLR has demonstrated stable space robot teleoperation with a <500msec average roundtrip communication delay using real satellite communication.

5. Advanced robotics and artificial intelligence increase productivity and improve lives, says David Timis, EU Civics Outreach Fellow at Google However, but as society is radically transformed by these technologies what will happen to our jobs and what skills will we need to perform them?