What Happened @ Automatica This Week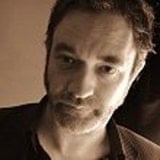 by
Emmet Cole
. Last updated on Jun 22, 2018 6:49 AM
Posted on Jun 22, 2018 6:10 AM. 8 min read time
It's been an amazing week at automatica 2018 in the beautiful city of Munich. As the show draws to a close, here's a quick roundup of the best --from cobots and robots that caught the media's attention, to exciting product launches and promising collaborations...


Launches & cobots of automatica 2018
Universal Robots unveiled its new e-SERIES generation of cobots...

(Engineering.com published a comparison between the New UR e-SERIES vs. 3rd Gen UR Robots, which you may find useful.)
We launched the Hand-E gripper, which is the first UR+ electric gripper that's ready for use on e-SERIES cobots...



Hand-E's accuracy and 50 mm parallel stroke make it ideal for precision assembly tasks, while its sealed design ensures reliability even in the toughest manufacturing conditions. Robotiq's product line of adaptive grippers --the 2F-85, 2F-140, and now, the Hand-E-- all connect directly to the new e-SERIES wrist.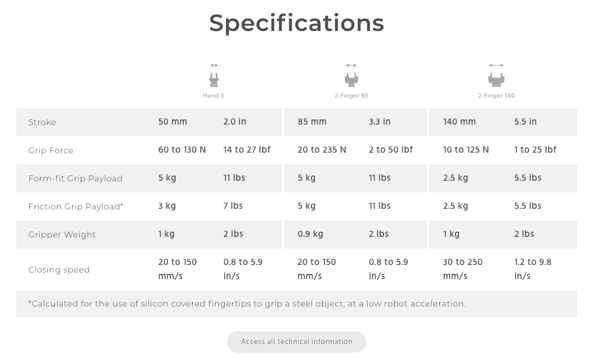 We were honored to be listed in the RBR 50 too as one the 50 "most influential companies in robotics"!
Omron unveiled its new 'i4' Scara robot family...
ABB and Kawasaki revealed a common interface for cobots, that features "a simplified human–robot interface with intuitive, smartphone-like navigation and icons." A joint collaborative automation demonstration at the show showcased Kawasaki's dual-arm "duAro" cobot working with ABB's dual-arm YuMI cobot.
The firms' collaboration is set to continue with work on "common safety standards" for cobots an important item on the agenda.
Pilz launched a range of "service robotics modules," one of which includes a cobot arm with 6 axes and a payload of 6 kg.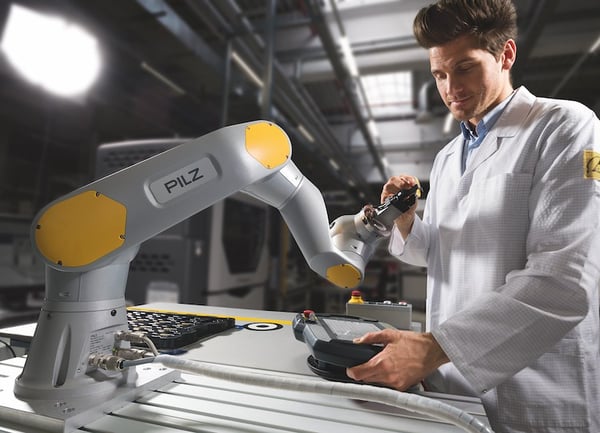 Pilz' new cobot.
ABB launched the newest member of its YuMi cobot range.
KUKA's Smart Factory just about blew our minds. KUKA also showed off its LBR iisy cobot.... (video from a previous trade show)
Mobile Industrial Robots (MiR) launched the MiR500 autonomous mobile robot. This beast can lift 500 kg (1,102 lbs) and automatically collect, transport and deliver pallets at speeds of almost 4.5 miles per hour...
Kassow, a new Danish start-up launched three cobot models, the most powerful of which (the KR810) can lift 10kg and has a maximum joint speed of 225°/s.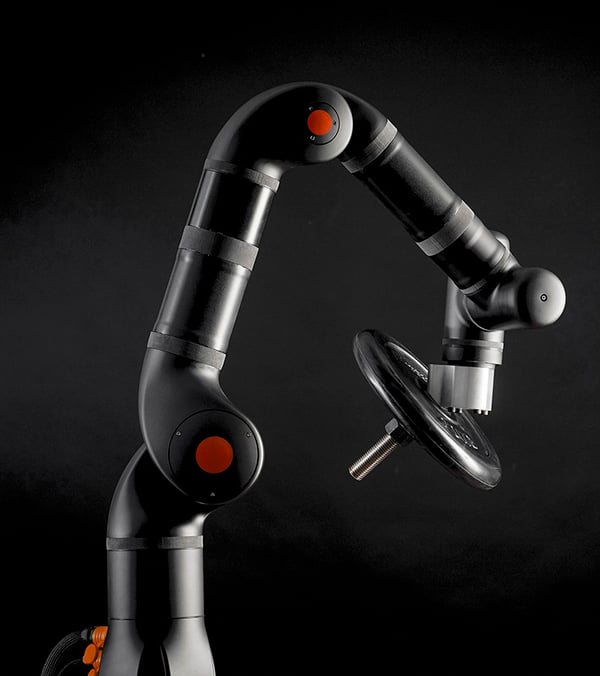 Kassow's cobot has 7 degrees of freedom.
Epson brought its dual-arm 'WorkSense W-01' cobot along. The Central and Eastern European market is most definitely on the firm's radar. Via Robotics & Automation News:
Volker Spanier, head of robotic solutions at Epson in the EMEAR region, says: "We know that robot adoption is likely to increase at between 10-20% year-on-year across Central and Eastern European countries over the next two years, the highest growth rate globally after China.
If I compiled a list of all the cool technologies at automatica 2018, I'd probably miss next year's event.
But you don't have to miss out. Catch up on even more cobot and robot action from automatica on the Robotiq blog. Try these posts for starters: Day 1, Day 2, Day 3.


Elsewhere @ Automatica...
The show wasn't all about cobots, of course.
Comau launched 'Mate' - a "compact, lightweight wearable exoskeleton" for workers...
The International Federation of Robotics published the initial findings of its World Robotics Report 2018 at the show...

Global sales of industrial robots reached the new record of 380,550 units in 2017. That is an increase of 29 percent compared to the previous year (2016: 294,300 units). China saw the largest growth in demand for industrial robots, up 58 percent. Sales in the USA increased by 6 percent - in Germany by 8 percent compared to the previous year.
ABB launched the 3rd-generation of its 'Foundry Prime' industrial robot arm and we caught up with a new system from Güdel system which enables you to perform the essential job of playing tennis doubles while watching television!


There may have been a few drinks too...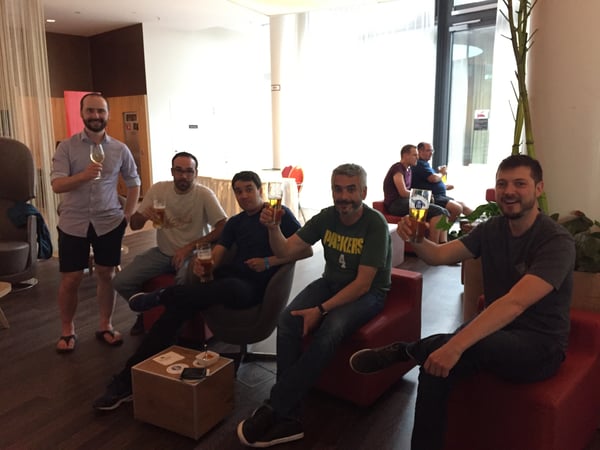 Thanks for a great week!

By the way, if you're feeling a bit automatica'd out, we understand. Kick back and enjoy these videos from other places...
Five vids for Friday
1. Researchers at MIT CSAIL have been working on a system that enables users to control a robot arm using a combination of brain and muscle readings.
2. IBM's Watson has been getting stroppy with its human overlords as part of Project Debator.
3. Bipedal robot Cassie has a new control system that lets the bot perform "blind walking" over disturbed surfaces, as a video released this week shows.
4. 'Creator' is the latest burger-making robot startup to open in San Francisco.


5. Prince William got to grips with a robotic hand in Liverpool.