Cool Toys and Production Stats on Day 3 of Automatica 2018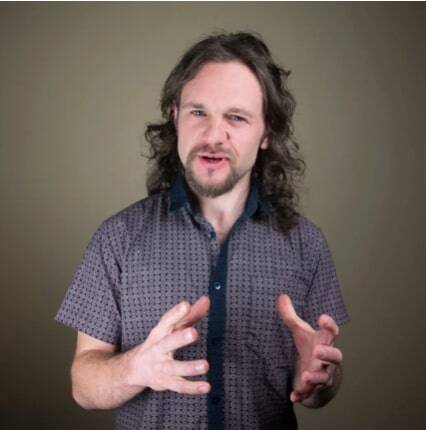 by
Alex Owen-Hill
. Last updated on Jun 21, 2018 2:28 PM
Posted on Jun 21, 2018 2:28 PM. 6 min read time
We experience an amazing demo from KUKA, get a present we will never forget, and see a system which can program your robot in seconds. It's the end of Day 3 at Automatica 2018.
Can you believe it!? Day 3 of Automatica 2018 is over.
There's just one more day to go. And we were just starting to get a hang of the whole event! We finally don't feel lost when we're trying to walk from Hall B4 to Hall A6. We know where you can find the best food and where you can find robot demos which will entertain you for ages.
We are looking forward to the final day tomorrow. But, before we head off for our relaxing evening meal, here are some of the fun things we've been doing today since our previous live blog post at lunchtime.
KUKA's Smart Factory is amazing!
The KUKA booth (Hall B4 Booth 302) is quite a spectacular sight to see. We first blogged about it yesterday evening. Well, today we were walking around it again.
Our technical support specialist David Levasseur was still a bit shaken up after his brush with death earlier today (I'm kidding, it was just a door). But, all was forgotten when he saw this incredible line of tiny robot models in the KUKA Smart Factory.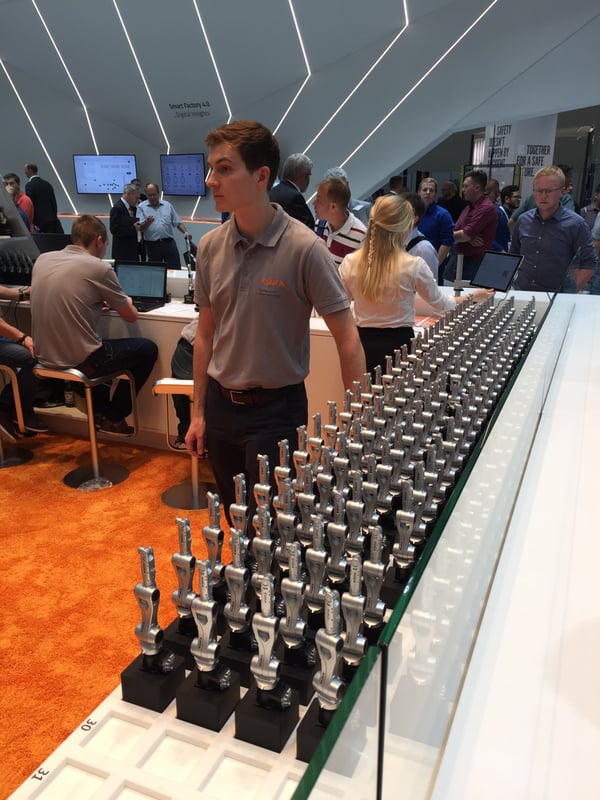 These little toys are not just a nice souvenir to take away from Automatica. They are also part of an impressive demo. The demo is actually making the models!
"I have to get one of those!" said David.
But, you can't just pick up one of the models. No. The demo is a real example of a just-in-time production system. You have to submit your job to the Smart Factory — in this case the job is "make a model for me" — and it will add your product to the queue. Each model is also engraved, which is a nice touch.
KUKA have set up the demo so that it automatically sends you notifications when your model is ready. It's just like our Insights service, which sends you a notification when your robot needs your attention! It seems that real-time robot production data is well-and-truly becoming part of the manufacturing landscape.
So, David submitted his order for a model to the factory, gave them his email address for the notifications, and we went for a walk around the other booths.
Robot production data keeps track of bin-picking
We also came across a great example of real-time production data at the INRA Vision booth (Hall A4 Booth 316).
As you can see, they had included a screen with production statistics for the demo. That reminds me! I wonder how productive our demos at the Robotiq Booth have been…
You can check out our production metrics live online via Insights (if you're reading this while Automatica is still on). As I'm writing this, it seems that our polishing demo has completed almost 5000 cycles in just four days! That piece of wood that the robot is polishing is getting very, very shiny.
Our teaching demo has completed 267 cycles, which sounds about right given that it is being reprogrammed by visitors all the time. Read yesterday morning's blog post for instructions on how you can see our live Insights data for yourself.
We're not the only ones recording for the internet
As we were walking around, we received news that our CTO Jean-Philippe Jobin was being interviewed by NEXT Robotics. If you haven't heard of it, NEXT Robotics is a fairly new German YouTube channel which covers industrial robotics. Keep an eye on their channel for the interview, which should hopefully be posted soon.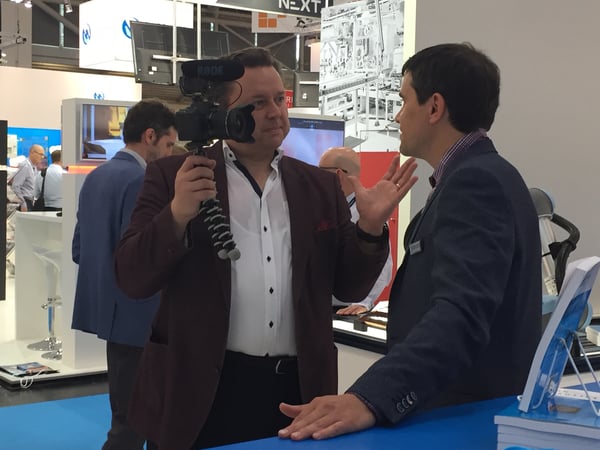 But, we didn't have time to answer questions! It was time for us to do some interviewing of our own...
We catch up with DLR's new programming system
From KUKA's Smart Factory to the Factory of the Future.
As we talked about in our earlier post today, easy robot programming has really been developing recently. Perhaps soon, we won't even have to program our robots? They'll just know what we want them to do. Until then, we'll just have to make programming as easy as possible, as DLR has been trying to do with their new system.
Franz Steinmetz from DLR (Hall B4 Booth 502) — the German Aerospace Center — explained to us how they have developed a system to program robots in seconds. This is a really innovative use of the part detection feature from our Adaptive Grippers. Usually, the feature is used so the robot can detect "yes, there's a part here." In this case, however, they are actually using it so that the operator can tell the robot "this is where I want you to pick up the part." It's a subtle difference but it makes for quite a powerful approach to programming.
While he was watching these little plastic models being moved around by DLR's robot, David Levasseur started to wonder how his KUKA model was coming along.
Congratulations! It's a tiny KUKA robot!
Just then, an email arrived with an exciting message...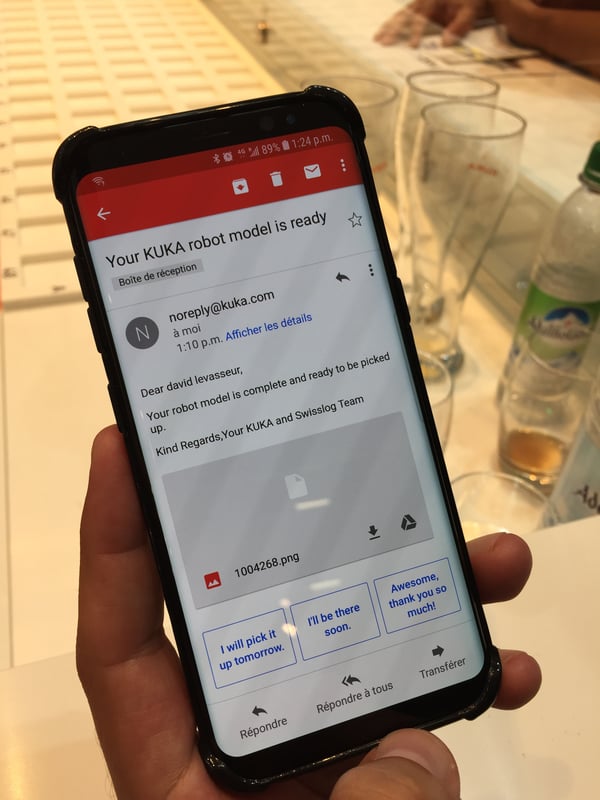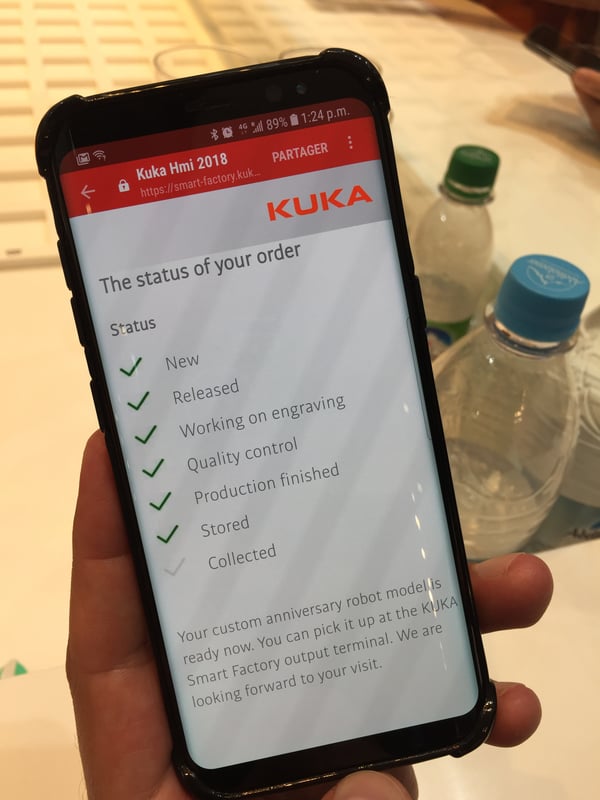 We quickly made our way back to the KUKA booth (we're getting very good at navigating the halls now) and David got his barcode scanned.
Was he excited? You bet!
That's what I call a useful, productive demo!
It's time to call it day
Well, that was more than enough excitement for one day. I think we'll have a quiet night this evening.
It's time to relax and recharge our batteries.
There's only one more day of Automatica 2018 left.
Until tomorrow!