The Future of Robotiq: A Chat with Samuel Bouchard @ Automatica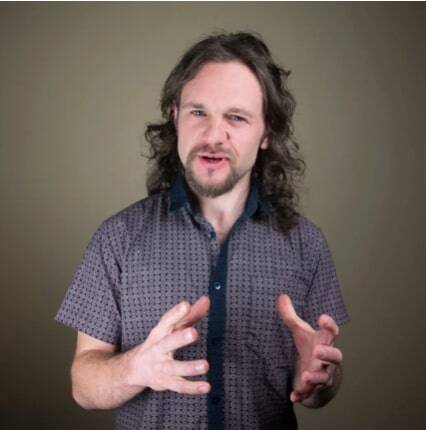 by
Alex Owen-Hill
. Last updated on Jun 24, 2022 10:24 AM
Posted on Jun 24, 2022 10:24 AM. 4 min read time
Today, we had the opportunity to sit down with Samuel Bouchard, CEO of Robotiq.
In our chat, he told us about how the robotics industry has changed over the past four years, with new companies emerging. He also discussed Robotiq's plans for the future and the importance of developing collaboration in the deployment of robotics.
Here's the summary of what he talked about…
What's different this year at Automatica compared to previous years?
Because we haven't seen each other for so long, people are happy to be back. It's a big industrial reunion. Also, there are a lot of new companies coming out of the woodwork that weren't here at the last Automatica. The comparison between 4 years ago and now is a big shift.
What new companies have you seen here?
There are some new companies we didn't know about before like Neura and Agile Robots. Also, The Big 4 robotics companies have come out with new robots we didn't know about. And the new UR 20 is at the booth just next to us.
It feels like some of the booths are quite conservative compared to other years. Have you felt that?
One thing we have to keep in mind is that, when everyone booked their booth space, we were in the middle of the pandemic. So, that could be a reason that people were more conservative. We'll see how it is at the next Automatica, which is planned for next year.
What does Automatica 2022 mean for Robotiq?
Automatica has always been an important show for us, every time there has been a big impulse forward in how we grow our business in Europe. This is the fifth show we've been to. It's always an important milestone and Europe is an important market for us.
How has Robotiq changed over the last 4 years?
It's mostly the shift towards cobot applications. Our goal since the beginning was always to simplify the integration. When we wanted to solve even more of the applications, we realized we needed to go one step further, with the machine tending, screwdriving, and palletizing solutions.
What has changed about the way Robotiq delivers solutions?
Developing plug and play components, the hardware part is bigger. It's all about the specs. When you talk about an application, it's more about the full workflow of the factory. It's quite different in how we define, develop, and how we keep them evolving. It's more of a software approach.
My goal with Lean Robotics is to make the book obsolete. Five years ago I presented how it should be done. Now the great thing is we have really shrunk the whole process. With Lean Robotics, it took 3 to 6 months to deploy robots using the process. Now we've shrunk that to a matter of weeks.
Are the application kits bringing in new users to robots?
Definitely. With plug and play components, you still need to do a bit of the integration. The early adopters were willing to do that. Now we're working with people who don't even know what a cobot is. It allows more people to adopt robots into their factories.
Are people more willing to use robots now?
With Covid, the labor shortage is the big driver. We've always said it was a problem that was growing gradually more painful. With Covid, the pain of labor shortage is much more painful and people know they need to automate.
Where do you see Robotiq being at the next Automatica?
We're going to keep developing the applications. We'll keep developing the application families and keep growing.
How will the Robotiq booth look at the next Automatica?
I think it will be fairly similar. We'll find even better ways to show what our software and products can do. That's who we are now, and I think the booth will be pretty consistent with what you see today.
What's your grand plan for Robotiq?
Our mission for the past 14 years has been to free human hands from repetitive tasks. We want to keep going there. We see a lot of cobots, but I still think we're at a really early stage. Most of the time, when we go into factories, they don't have robots. So there is a lot of potential.
How have you built such a strong community around Robotiq?
Over the last 2 years we have found we can, technically, work remotely. But we could only do that because all of that community was already built. We had already built a lot of these relationships and trust.
Events like Automatica are a big part to keep growing and nurturing those partnerships – the local partners, the robot makers, the end users.
In the end, deploying robots requires a lot of collaboration. I think having those bonds and abilities to work together is very important.