What Knocked Our Socks Off on the Last Day @ Automatica 2022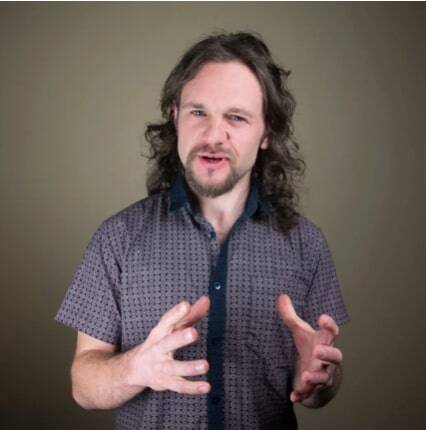 by
Alex Owen-Hill
. Last updated on Jun 24, 2022 12:29 PM
Posted on Jun 24, 2022 12:29 PM. 3 min read time
It was the 4th and final day of Automatica 2022 today and we were determined to go out with a bang!
We had seen a lot of amazing demos and booths over the past three days, but there was still so much left to explore. Every time we walked around a hall for another time, there was something else to see that we'd missed the first time around.
Today, we've seen everything from waffle-making machines to mobile robots to an inexplicable dinosaur.
Here's what knocked our socks off on this last day of Automatica 2022…
This popular machine fills the air with the smell of waffles
When you entered Hall A5, your nose was filled with the smell of fresh waffles! The reason for this delicious scent was the highly popular waffle-making machine on display in this booth.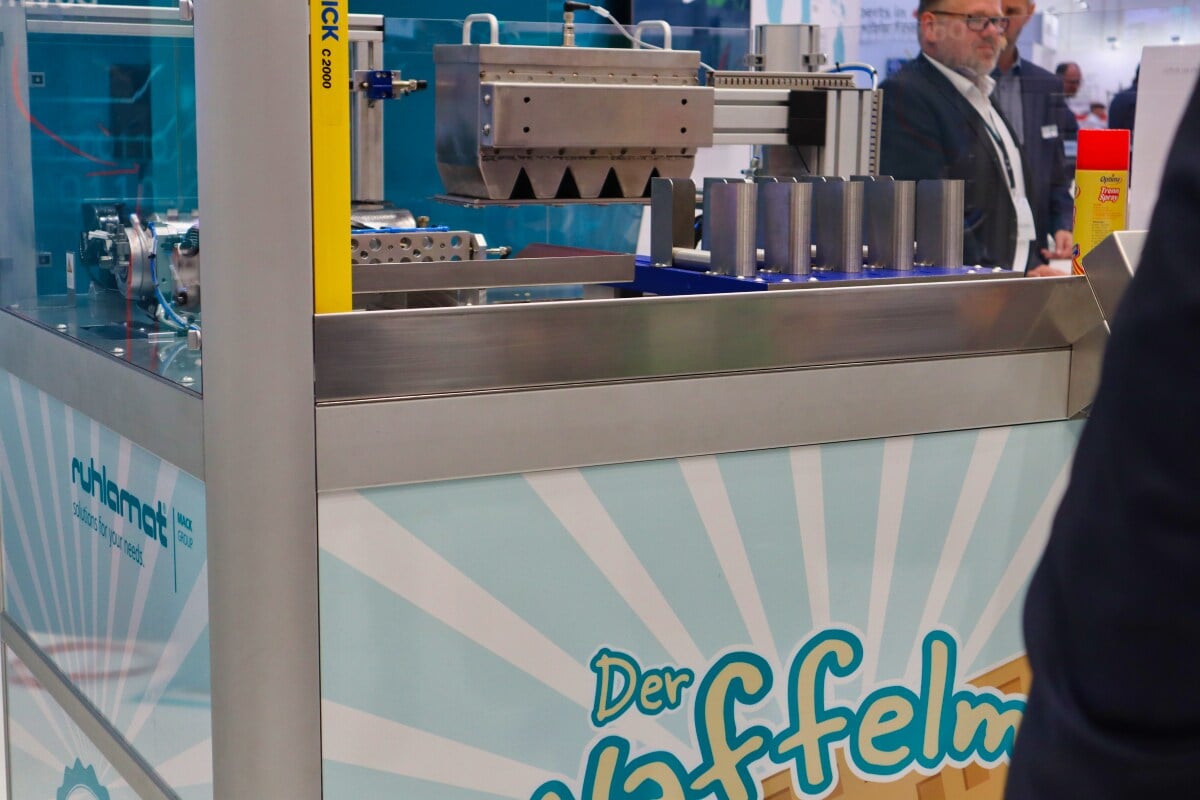 It can be hard to get people to stop by your booth. Some booths have bars, some have free coffee, Doosan offers free robot-made noodles in exchange for your business card…but waffles have got to be one of the most popular. They even had the company's name, ruhlamat, embossed into the waffles.
Mobile robots are all over the place
There are certainly a lot of mobile robots spread around the Automatica halls this year. As well as the man "walking his robot" that we showed you on day 1, there are plenty of "unaccompanied" robots.
I guess it says something about the advancement of autonomous guided vehicle technology that you can now just leave your robots to roams the corridors, providing a sort of mobile booth.
This one from Alnea even talked to you!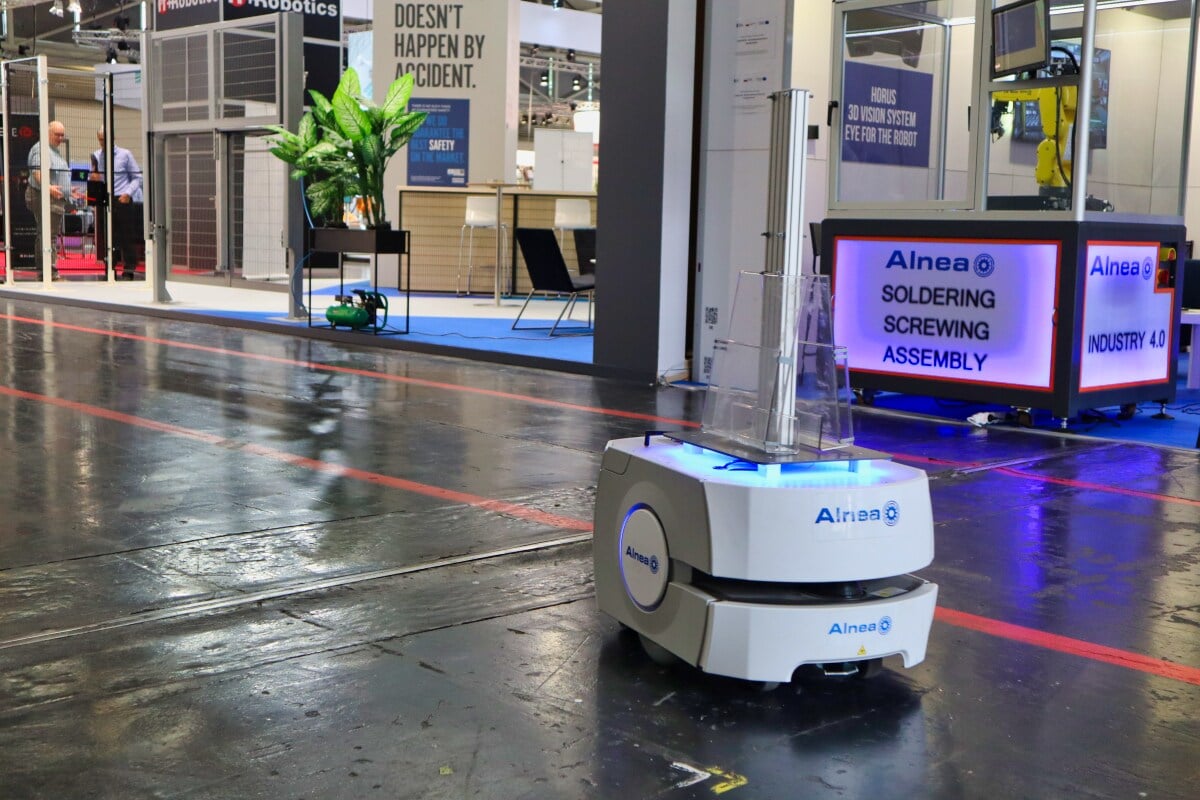 Our neighbors Triple-A are switching up our grippers
Right next door to the Robotiq booth, our partners Triple-A Robotics were using two of our components -- the 2-Finger gripper and our surface finishing solution. They were using it to show how you can switch between the two end effectors quickly with their tool changing technology.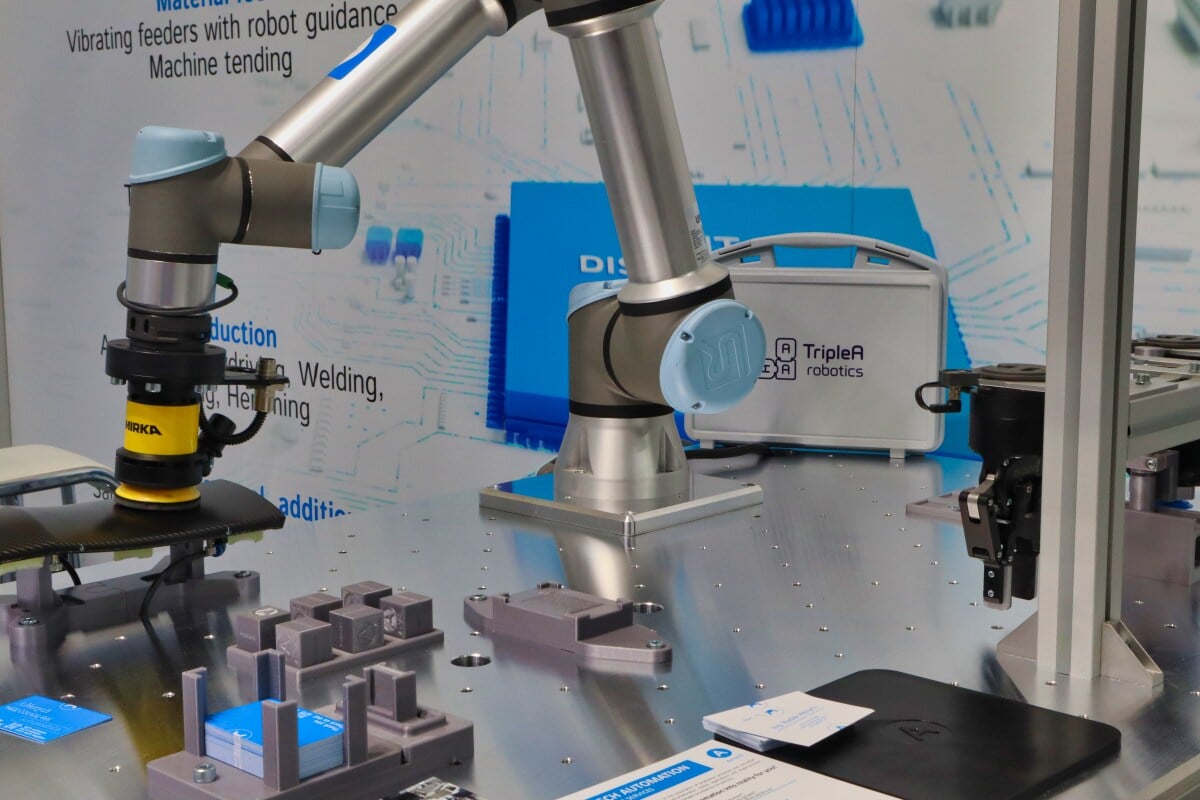 What's with this dinosaur?
This dinosaur on the IGUS booth was somewhat inexplicable! It slowly moved its head and had worryingly red shining eyes.

Iron Man himself is made by a Universal Robot?
Cobots are all over the place here at Automatica 2022 and there are certainly a lot of URs. We caught this eye-catching demo.
Did you know Iron Man's helmet was made by a UR!?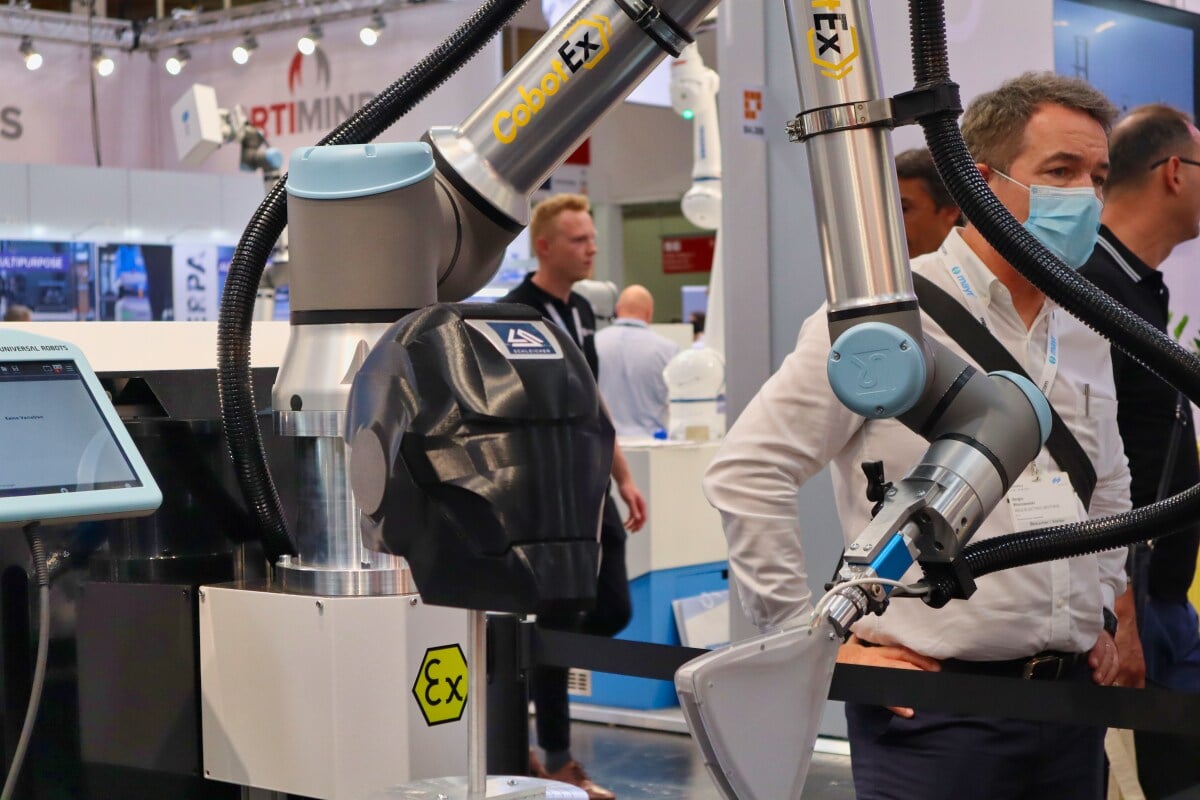 That's it! It's time to pack up for another Automatica and go home
Well, that's all for another year of Automatica. The last 4 days have been full of some fun demos, interesting conversations about robotics, and lots of catching up with old friends.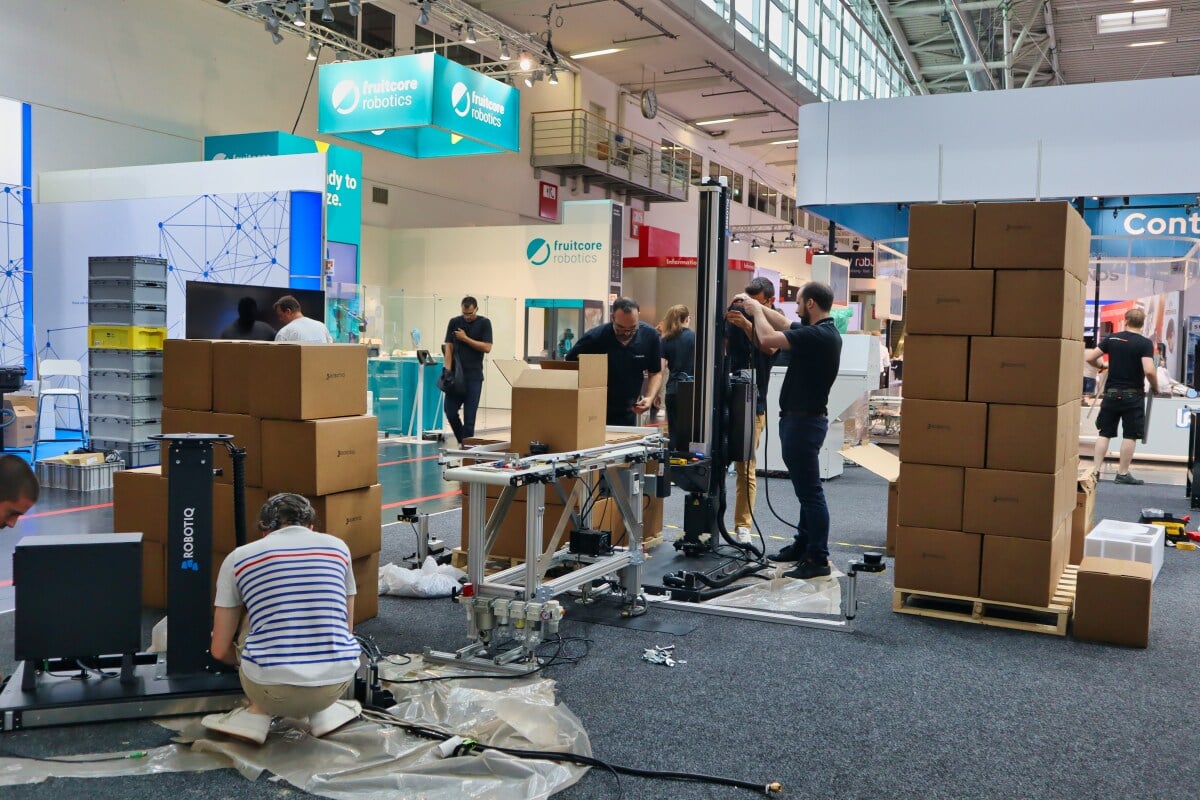 We can't wait to see what the next Automatica has in store!
For now, we need to take down our booth and go home.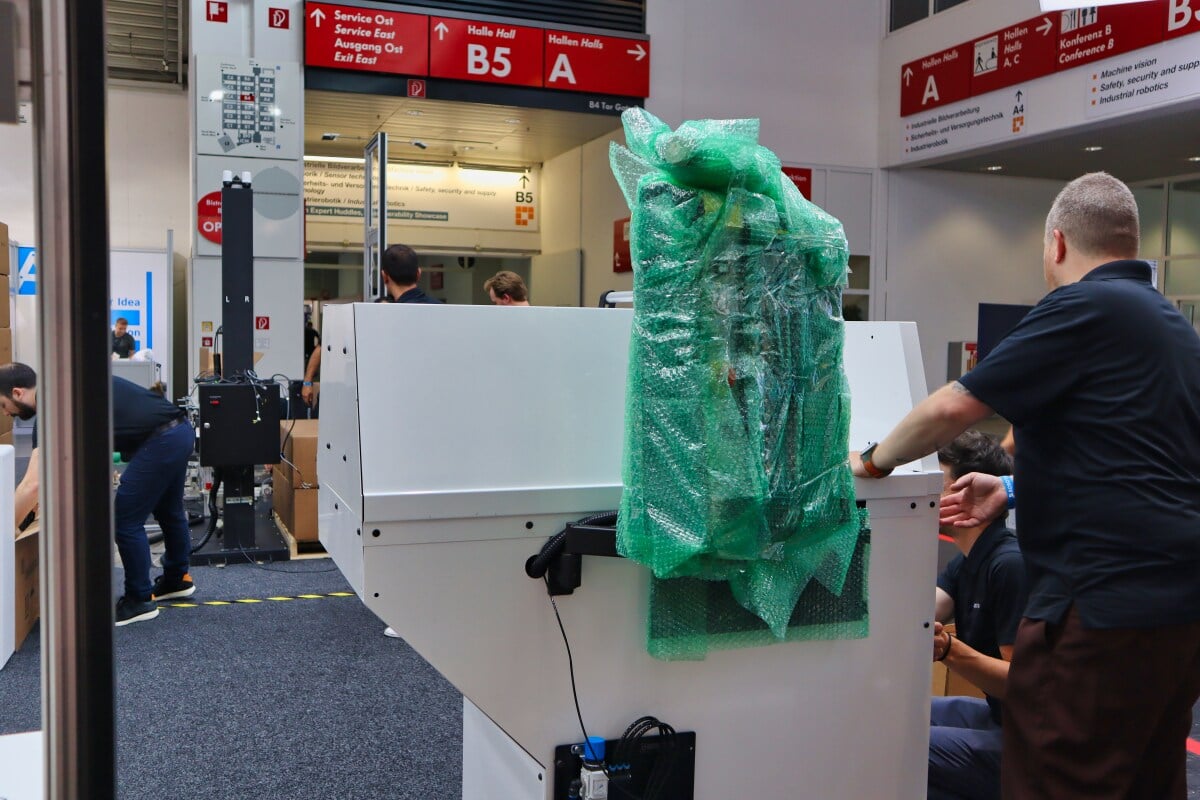 Thank you for joining us at Automatica 2022. Until the next time!