We Find Some Familiar Fingers at Automatica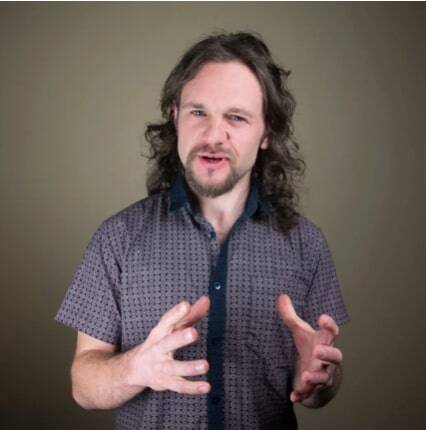 We've seen some familiar faces today - or perhaps I should say some familiar fingers! We have bumped into our 3-Finger Gripper twice so far in the halls of Automatica 2016, first at Fraunhofer IFF and then at STAMINA. Let's have a look at what they've been up to.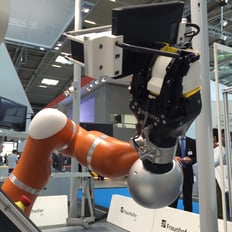 Here at Robotiq, we are always thrilled to see our products being used for cool research projects. Our 3-Finger Gripper is quite popular among researchers, which is why we made an eBook all about Cutting Edge Robotic R&D Projects which are using it.
Today, we met two robots which are included in the eBook. First, we saw ANNIE, a mobile assistive robot from Fraunhofer IFF. Then, just now, we met the guys from the STAMINA research project. They're using the gripper as pasrt of an autonomous robot for sustainable part handling in manufacturing.
Annie Will Inspect Your Work
We met up with Fraunhofer IFF in Hall A4, Booth 129. They have designed their robot, ANNIE, to be used in either manufacturing or in service robotics. ANNIE consists of an adjustable torso, an omni-directional mobile chassis, a sensor head and, finally, a Kuka lightweight manipulator with Robotiq 3-Finger Gripper. As she is a research platform, she has been used to develop a variety of technologies within the company in domains such as perception, navigation, safety and interaction.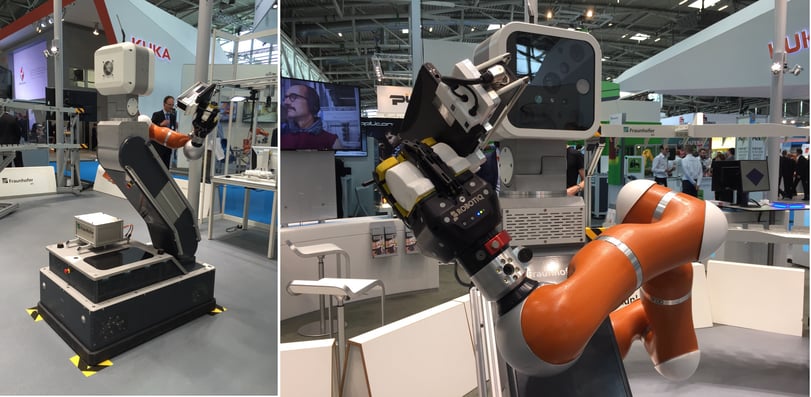 Here in Booth 129, ANNIE was being used to demonstrate an assembly task. However, it was not the "usual" collaborative robotics assembly task that you might think of. Today, ANNIE was carrying out inspection of human-assembled parts.
When we think of collaborative robot assembly, we usually think of the robot itself assembling the parts. But, what if the human worker assembles the part and then the robot does the inspection? That way, you can utilize both the high dexterity of a human worker and the accuracy of robot vision systems.
In this video, you can see ANNIE picking up and inspecting a part. It's an interesting approach to part inspection, and we're glad to have her in our R&D eBook.
Sustainable Part Handling with STAMINA
Our next encounter with the familiar Gripper was at Hall B5, Booth 129. Here we found STAMINA, a collaborative research project between seven European partners, both industrial companies (Peugeot Citroën Automobiles S.A. and BA Systèmes SAS) and universities (AAU, ALU-FR, UBO, INESC PORTO and UEDIN).
STAMINA stands for "Sustainable and Reliable Robotics for Part Handling in Manufacturing Automation." The project aims to develop a system which can perform fully automatic part-handing during assembly tasks. According to the project description, the automation level for part handling is usually below 30%, due to the complexity of the tasks. As part of the project, five researchers across Europe are taking an holistic approach to advanced mobile manipulation by tacking three challenging tasks in robotics: Depalletizing, Bin-picking and Kitting. You can read more about the project in the eBook.
Here at Automatica, the researchers had brought along a FANUC M-20iA fitted with a Robotiq 3-Finger Gripper, although the full system also includes a mobile base. In this video, the robot is able to pick up a part autonomously.
They told us that it was a challenge to pick up oddly shaped parts, but the 3-Finger Gripper managed it well. Good job guys!