Top 5 Robotiq Appearances @ Automate 2017 (So Far)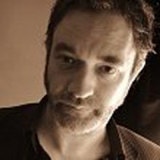 One of the most exciting things about Automate 2017 is seeing so much Robotiq tech (wrist cameras, grippers, and force sensors) being used in various booths. We took a quick trip around the exhibition area and compiled some of our favorite implementations.

Here's our Top 5 Robotiq Appearances @ Automate 2017 (So Far).
#5 ArtiMinds
German firm ArtiMinds (Booth #363) has created software that enables point and click cobot programming through an easy-to use visual interface.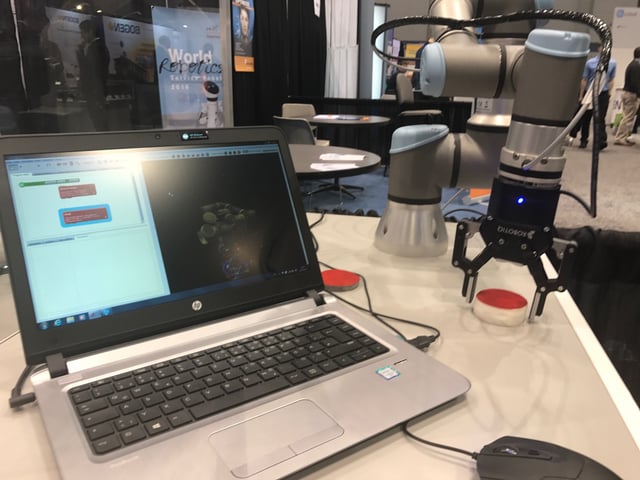 In this shot, a cobot system that uses a UR5 and the Robotiq 2-Finger Adaptive Gripper perpares to pick up an object. We really liked the simplicity of the software's visual interface.


#4 Dorner Manufacturing Corp.

Dorner Mfg. Corp (Booth #1059) is running a nice demo that shows a UR5 arm fitted with a Robotiq 2-Finger Adaptive Gripper testing electric fans as they move along a conveyor belt.

We really liked this implementation as it shows how cobots can be used safely and effectively in dynamic environments and when there are plenty of people around.



#3 Creaform

Fellow Québécois and 3D scanner maker Creaform (Booth #765) is using a Robotiq force sensor to automate its portable 3D scanners. Robotiq's force sensor enables the system to create highly-detailed 3D models of the object being scanned by helping the portable scanner to orient itself in space.


How space age is that?!



#2 Universal Robots

Danish cobot maker Universal Robots (Booth #1245) is running two demos with Robotiq technology --our wrist cameras and grippers.

In the first, a Robotiq gripper moves blocks on a Festo 7-axis rail:




In the second, a Robotiq wrist camera and gripper show their positioning (and artistic) prowess:



#1 Clearpath Robotics

Earlier today, we posted about Clearpath Robotics' (Booth #2047) integration of an Otto 100 robot with a UR5 and a Robotiq 2-Finger Adaptive Gripper to create mobile cobots.

It's really cool and deserving of #1 on our list.

Coming Next: What Blew Our Socks Off Today @ Automate 2017!