The Robotiq Booth is Ready at Automatica 2016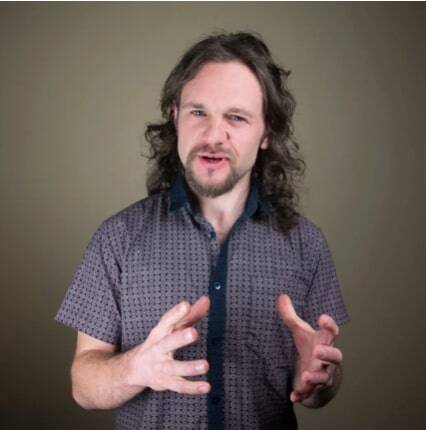 by
Alex Owen-Hill
. Last updated on Jun 20, 2016 12:35 PM
Posted on Jun 20, 2016 12:18 PM. 4 min read time
We are here at Automatica 2016! Here's an exclusive look at the event before the doors open. The trade fair kicks off tomorrow, but we've been getting our booth ready and having a sneaky look around.
We have arrived in Munich and it's looking to be bright and sunny week. All the exhibitors are getting ready for everything to kick off tomorrow morning. There's a feeling of suspense, being surrounded by all of these robots which are now mostly still and silent, but tomorrow will all jump into action together.
The Robotiq Booth is Looking Good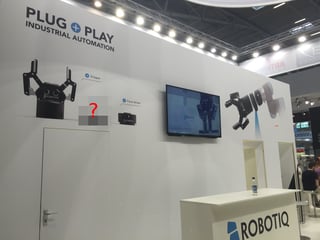 The Robotiq booth is up! And it's looking great.
This year, we're sharing the booth with a couple of "room mates":
Artiminds, who makes software to facilitate robot programming.
Frei Teknik, our Robotiq partner in Germany.
There's more than enough space for all three of us, as the booth is pretty big! We're very pleased with how it's all looking. We're in Hall B5, Booth 512.
If you're having trouble visualizing that, here's a picture of the floorplan. I've marked Hall B5 and our booth in yellow. Look for the booth marked "Frei Teknik."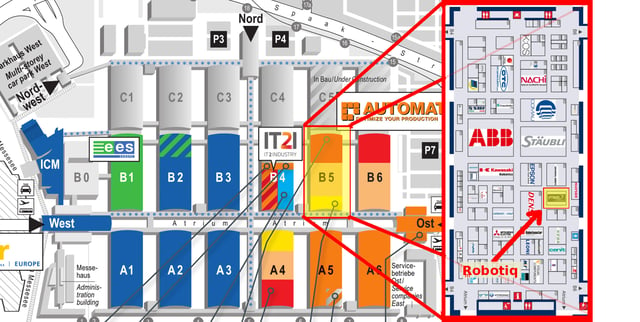 What's in the Robotiq Booth
So, let's have a look at what's in our booth:
Demo Tables - We have three demo tables this year: One for our Robotiq Gripper, another for our Robotiq Force-Torque Sensors and a third table for….sorry, I can't tell you that yet. You'll have to come back tomorrow to find out!
Reception Counter - There's a nice big counter, with comfortable stools. If you're in the building, come and have a chat with us. If you're not here, you can still chat to us over our Twitter channel or in the comments below.
Meeting Room - We've even got enough space for a meeting room! If you're interested in having a more formal talk with us, please book a meeting with us by signing up to the online MyAutomatica Matchmaking Tool.
A Sneak-Peak at the Exhibition Hall
We're inside the Neue Messe München Exhibition Centre, which is an impressive building.
There's three other conferences going on at the same time here: IT2Industry, Intersolar Europe and EES. We introduced them all in our blog post last week.
To be honest, when I wrote the post last week I thought "How on earth can they fit three huge conferences into the same conference center?" As we arrived here, the answer to my question became obvious. This place is huge!
Thankfully, although you're standing in a building that's 10 times the size of the Sydney Opera House, you don't feel the space so much because it's split into 18 self-contained exhibition halls. This makes it feel manageable because your brain only sees the hall you're standing in.

How We're Getting Around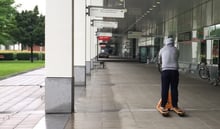 While it's still relatively quiet today, we have been walking around to have a sneak-peak of the other booths. We're only traveling on foot, but we've seen people using some quite ingenious ways to get around this giant building. Push-powered scooters seem to be popular, although we saw one guy using an electric pallet truck!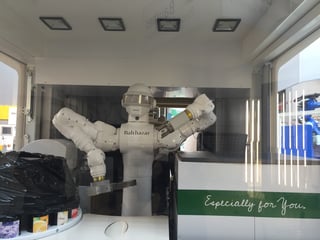 We passed this funky robot in one booth, looking like the third member of Daft Punk. What's it going to be demonstrating?.. It's a mystery. Is that ice cream boxes next to it? Perhaps it's fruit tea? We'll have to come back and get a look at it when it's up and running!
It's going to be a busy week, but we're really looking forward to it! If you're here at Automatica 2016, come along to the booth and say Hi. We're in Hall B5, Booth 512.