Sawyer Gets His Hand In at Automatica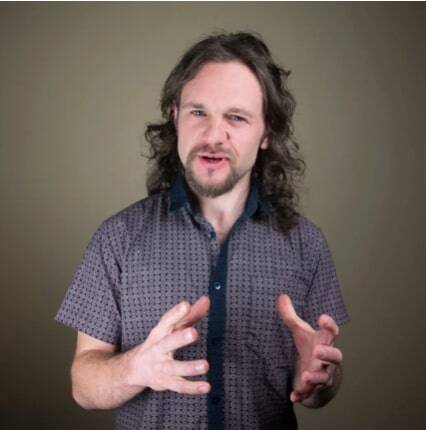 We met Sawyer today, the one armed collaborative robot from Rethink Robotics. This is his second stop in an around-the-world "Road Trip" which will end in November. Here at Automatica, he was demonstrating a cosmetics application. We think we know why.
Cosmetics seems to be a popular application for collaborative robots this year at Automatica, which doesn't surprise us. On Tuesday, we saw the Balthazar robot making some custom cosmetics in various fruity flavors. Today, we went to see Sawyer in the Rethink Robotics booth (Hall B4, Booth 309). When we got there, Sawyer was picking-and-placing some hand cream packets.
We've introduced Sawyer before on the Robotiq blog, and he features in our Collaborative Robots eBook. Today at Automatica, Sawyer was visiting as part of his 2016 around-the-world "Road Show", which kicked-off at the start of this month in New York. As this is only his second stop, he was still looking lively and fresh. Perhaps by the time the the Road Show finishes in Mexico in November, he'll be as tired as we are after a whole week at Automatica! Then again, he is a robot, so will probably still be as fresh as he is now.
Why Sawyer Wants Hand Cream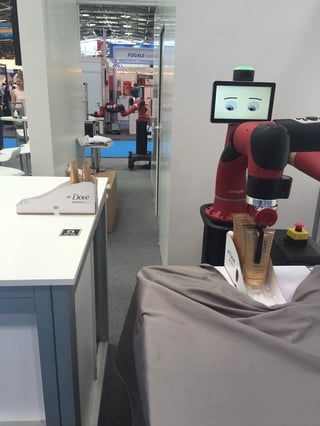 Although Sawyer was announced in March 2015, his inaugural appearance in Europe happened only recently, at the Hannover Messe 2016 this April. Germany is a key market for Rethink Robotics, so the robot's presence here Automatica is important for their global expansion. Demand for Sawyer is rising rapidly in the manufacturing industry, as it is for other collaborative robots.
"German manufacturers looking for flexible, easy-to-deploy automation solutions are increasingly turning to collaborative robots to improve efficiency and meet customer demand." said Rethink Robotic's Jim Lawton earlier this year.
The fact that Sawyer is demonstrating a cosmetics application here at Automatica is no accident. Cosmetics is an important industry here in Germany. Statistics on the market volume of cosmetics and personal care showed that the German cosmetics industry had the greatest market volume in Europe in 2014. This industry was valued at approximately 13 billion euros, outranking cosmetics indutries in France, UK and Italy in that order.
Another Robot for Industry 4.0
The company is also using Sawyer to "deliver on the promise of Industry 4.0." We've heard about it again and again at this year's Automatica - Industry 4.0 is the big thing for 2016. KUKA, Hirebotics and Comau, to name just a few exhibitors, have all been talking about it.
According to estimates which we introduced on our blog in March, we probably won't see the first "Industry 4.0 factory" until 2020. However, Sawyer is another robot that is moving us one step closer to the connected factories of the future.