RUC 2017: Universal Robots' CTO on Cobots & Industry 5.0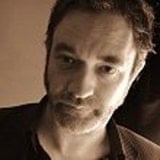 by
Emmet Cole
. Last updated on Sep 11, 2017 3:10 PM
Posted on Sep 11, 2017 3:10 PM. 2 min read time
RUC 2017 Day One
Universal Robots' cofounder and CTO Esben H. Østergaard talks Industry 5.0 & transforming traditional human-machine relationships.
Esben H. Østergaard is a visionary in the world of cobots.
As cofounder of Universal Robots and the firm's CTO, Østergaard has a proven track record of identifying and meeting future manufacturing needs.
With this in mind, it shouldn't be a surprise that while many of us are busy getting our heads around Industry 4.0, Østergaard is already outlining his vision for Industry 5.0 --a rethink of the manufacturing process that involves new ways of understanding the relationship between human and machine.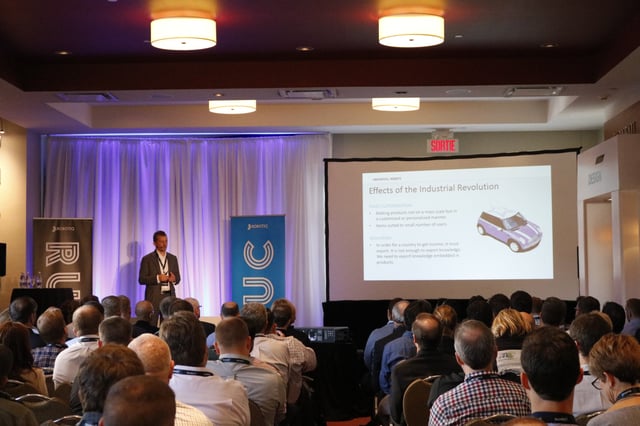 Caption: Esben H. Østergaard explains Industry 5.0 at RUC 2017.
Industry 5.0: Rethinking The Human Machine Relationship
So what does Industry 5.0 look like? Well, for a start, traditional human-machine relationships will no longer be relevant.
Østergaard explains that Industry 5.0 is primarily about giving power back to the worker.

This is achieved by deleting blue collar jobs and replacing them with new blue-white collar production workers (i.e., helping existing blue collar workers to upskill).
Industry 5.0 puts the human back into production with robots.
It's also about helping to build love and passion for your product on the factory floor.
So, the traditional either/or logic of human vs industrial robot no longer applies.
Instead of 'Man VS Machine' and 'Man OR machine' Industry 5.0 is about 'Man AND Machine,' Østergaard explained.
Another compelling reason to provide human workers with value-added tasks in the future is that many workers do not work to survive, but for self-satisfaction.
With all this in mind, Østergaard called for "bottom up autmation," driven by and for the needs of manufacturing workers.
Voodoo Manfacturing is one of many firms that has already benefitted from the visionary work of Østergaard and his colleagues at Universal Robots.
Considering the fact that Universal Robots' cobots have already been used for everything from pick and place to serving beer and flying airplanes, the possibilities opened up by Industry 5.0 and the new human-machine relationships it entails are almost endless!

Next from RUC 2017: A recap of the other highlights from Day 1!