Product Testing: Use Flexible Robots Instead of Rigid Modules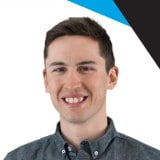 The manufacturing world is getting more and more sophisticated. With more performant products and customers always asking for better product; manufacturers need to find ways to test product to make sure they answer their customers' needs. One of the best ways to make sure a product meets your high standards is to do assurance quality or product testing on a sample of the whole production. By doing so, the manufacturer can characterize or identify the weakness of the product and change the design or establish a specific lifetime for the product. However, it is sometimes complicated to reproduce a human like motion again and again. You cannot ask one of your employee to test the car seats for 100,000 times straight... Well, why not use automation to imitate human motion...
Classic Product Testing
The good old way to automate a product testing method is to recreate human motion with a fixed testing module. Like in the video below where a human sitting position is imitated by pneumatic cylinders and wooden shapes, the simulation is quite accurate. So the chair can be tested for X number of cycles and the manufacturer can check if the expected life cycle is good, or not for their requirements.
The down side is that even if the ''simulated weight'' is set to 175 pounds, there is no feedback loop to insure that a constant pressure is applied on the chair. If there is a leak in the air hose, or if the angle of the air cylinder changes during the test, nobody will notice and the test won't be accurate. There are very minimal chances that the test will not perform right, but if you are doing it wrong for several thousand cycles, it is pretty much useless as a product testing routine.
The other thing is, you can only test certain chairs with this test module. The height, the position and the settings of the air cylinders have very little flexibility. If you want to test a couch or another style chair, the test module won't work. You will need to adapt the cylinder and it may need some time and money to do so.
The new way to test products
There is a new way to test product these days. In fact, with industrial robots, product testing is at a whole new level. With flexibility, this technique can be used for different purposes and with a single cell you can test a whole lot of different applications. In the following video you can see that the robot can test: front doors, rear doors and tailgate doors. The robot is not only opening them, but it also tests their rigidity. Other than being flexible, the robot is using a feedback loop to provide essential information on the forces impacting the car parts and how the car reacts to this force.
Another cool aspect of this cell is its space saving capacity. You can simply imagine the space that a couple hundred air cylinders would occupy to test the car doors... it would just be too much. And the setup would be good for only one car model, so it would have to be re-designed every time a new car model is released. With the use of robots, this is ancient history, you simply need to reprogram your robot and you are good to go. Notice the difference between the chair seat test and the car seat test, which one do you think is more accurate?
Flexible Product Testing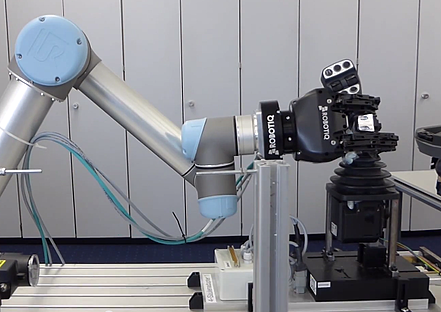 If you need to test smaller products than cars and you have a little background in robotics, you should go with a smaller cell to get started such as a Universal Robots with Robotiq tools. In fact, with a collaborative robot like Universal Robots you can install and program your robot in a few hours with simple hand guiding. If you then add a Robotiq FT 150 Force Torque Sensor and an Adaptive Gripper, you can test a wide range of products. In the following video, the manufacturer needed to test joysticks to make sure crazy gamers would be able to play for an infinite number of sleepless nights. To do so, the manufacturer needed to have force limited pressure on all the buttons of the joysticks and have force feedback to characterize its product. Using this setup, it was easier to have quick feedback on the product and make the required modifications instantly to the production.
Bottom line... you want to keep your product testing module cheap, easy, flexible and accurate. Whatever your technique make sure to analyze the different options available. You can find some examples in our Resource Center. If you need further information on Robotiq products that can be fitted on a UR robot for product testing or other applications, make sure to click on the link below.