Farmer and Application Engineer Brings Work Home with Robotic Milking Machine: Meet Robotiq's Catherine Bernier

by
Philip Fine
. Last updated on Aug 18, 2016 7:00 AM
Posted on Aug 18, 2016 7:00 AM. 7 min read time
Catherine Bernier jumps out of airplanes, earned a black belt in karate and spent a good chunk of her life wanting to become an austronaut. While her sky-high ambitions may not be taking her to NASA, they have led her to manage a company straight out of university and to now bring her motivation to a group of Robotiq sales staff who will propel the company higher.
Robotiq was founded after lab-mates Samuel Bouchard, Vincent Duchaîne and Jean-Philippe Jobin decided to commercialize some of the mechatronic work they and their professor Clément Gosselin had created at Laval University in Quebec City. That was in 2008.
Today, Robotiq counts more than 30 full-time staff, and our Grippers and sensors operate in 40 different countries. We felt it was time to start telling the stories of our team members.
When something in her life goes zig, Robotiq's Application Engineer Catherine Bernier seems to go zag: she grew up on a farm but aimed to become an astronaut; learned how to work with lathes and mills in Cegep (junior college in Quebec) but eventually focused on robotics; studied engineering in university but after graduation went on to manage an entire company.
Catherine takes regular forays out of her comfort zone, whether that means writing blogs in English when she first interned at Robotiq or completing over 150 jumps as a skydiver. Her sense of discipline is an overarching trait. That seems to have been honed by doing chores growing up on her family farm and burnished with the training it took for her to achieve a black belt in karate.
Catherine oversees a team of distributors who sell Robotiq products. She's there to motivate the salespeople, provide them with technical information and to jump in and help close deals.
Rural life never really left Catherine, who commutes 40 km each day from the dairy farm where she now lives with her fiancé Étienne and 120 animals. But the automation in her life seems to have snuck into the barn. Rather than using the automatic milkers as we usually see on farms, the dairy farm has a milking robot tending to the cows.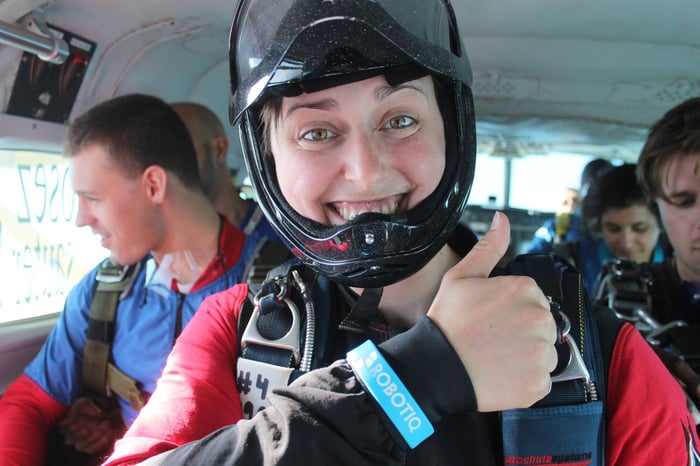 Meet: Catherine Bernier, Application Engineer
In 1996, when Catherine was six years old, Montrealer Julie Payette reported to the NASA Johnson Space Center in Houston, Texas. Three years later, Payette would become the eighth Canadian in space and little Catherine would draw up plans to build her own telescope. She may have been tasked with feeding pigs and checking on birthing sows on her family's 2,000-strong pig farm but space travel was what the girl in the rural Quebec town of Saints-Anges thought about constantly. With a penchant for taking apart household items to see how they worked and a love for science magazines, Catherine saw herself eventually walking the same path as her hero Julie Payette.
Space travel was a lofty ambition but that did not diminish her parents' encouragement. "They never stopped us from dreaming or achieving our goals. Whatever we wanted to do, they gave us tools, like discipline and important values," she said. "It was a combination of everything that made us achieve great things." (One of her sisters, Patricia, has been finding success as a singer, recently competing on Quebec's version of The Voice.)
Just like Payette, Catherine enrolled in engineering, still with thoughts about becoming an astronaut. At Cegep, she learned design and machining and, later at Laval University in Quebec City, she supplemented her engineering classes with courses in management. She comes from Quebec's Beauce region, an area of the province whose residents are traditionally seen as entrepreneurs. "It's a good one," she says of that stereotype. "I always wanted to start my own business and be my own boss."
During this time, she not only became an accomplished martial arts practitioner, but she also tried her hand at scuba diving, and then got serious about skydiving. "My first jump, I was afraid," she admits, but says the adrenaline and a credo to always challenge herself kept her continuing the activity every summer. "I love to do unusual things in order to live life to the maximum."
Catherine got a taste for robotics at a Robotiq internship during her second year of university. However, she decided to head in another direction and pursue a goal more down-to-earth than winning a spot at NASA: managing a company.
She got hired at a plant that manufactured punch and dies for window manufacturers, and where she had interned during Cegep. She was appointed manager. While Robotiq had also come calling with a job offer, she chose, once again, to push herself beyond her comfort zone. She would helm this family business that had just seen its founding owner die.
Catherine was ready for the challenge – even envisioning one day buying the company. But the business was not ready for her and unfortunately the company lost its greatest hope to get back on track.
She had worked out a plan to find new customers, even though she received lukewarm encouragement from the owners. "Their argument was 'We never had to look for customers, why should we start now?'" Despite that, she tracked leads – companies she saw could benefit from their product – contacted them with product information and then followed up to close the deals. In the 11 months she was there, she secured 10 new clients for the company. During that time, she also identified some problems with delivery times and a lack of procedures for quality assurance.
Her concerns were falling on deaf ears. She had no choice but to quit. "I'm still a little bit sad," she says.
Catherine decided to call Robotiq CEO Samuel Bouchard and ask if there still might be a job for her. There was, and it would even require the management skills that had been both honed and underestimated at her previous job.
At Robotiq, she would be managing a group of distributors. "It's like my little company inside the big company."
She started working at Robotiq in April of this year and, by July, was overseeing her team. Her work focuses on supporting her distributors and helping them increase sales. She's quick to give a spiel on why a feature like Plug + Play helps Robotiq stand out. On the other side of the coin, she also knows there are other good robotics companies out there. Her golden rule is to never bash the competition. "Everyone has something good and everyone deserves a piece of the market," she says.
She is planning on regularly visiting her distributors in the northeastern US, the UK and Canada to try and find out what they need for their customers. "I take note of what the customer wants in order to improve the product" and brings those forward to R&D. She will also show up at key conferences and seminars, where clients who have shown interest will benefit from a more hands-on demonstration of the product.
In her last job, she was on the ground visiting actual companies to generate leads, but, at Robotiq, that lead generation is already done for her. She commends the company for their blog posts, advertisements and other communications that generate traffic to the website. It's those leads that will be among the new quotes, requests for demonstrations and sales.
Her life, which began with tending to farm animals has come almost full circle. Fiancé Étienne and his father own a dairy farm on which the couple live.
Two years ago, the farm decided to invest in a milking robot. Rather than a farm worker attaching a milking unit to a cow, the cow actually goes through a smart door and approaches the robot itself, with the help of some feed placed near the robot. "They will go right to it when they feel they need to be milked," says Catherine, who is very happy with the results. "Before, we were milking twice a day, and now some cows are going three to four times a day. We're producing more milk."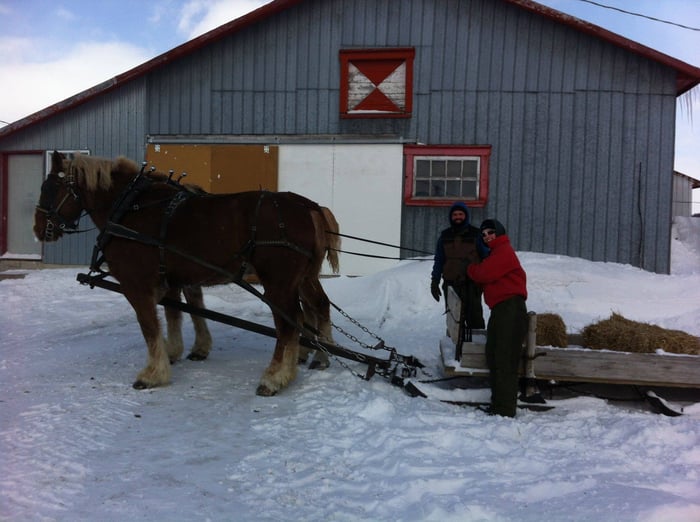 "It's really a trend we're seeing on the farms. People want to automate more. It's a good thing if people can enjoy life more than just working 24/7."
But what about little Catherine who did all those chores on the farm and learned such self-discipline? Is she denying that to the possible children in her future?
She says there are always things to do on the farm, from cutting wood to picking up rocks in the field, and adds, "If we don't have anything for them to do at home, my kids will go and work at the neighbors."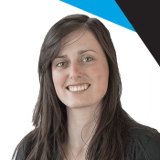 Her dreams of being an astronaut have been set aside with seemingly little sadness. So, is her current life, working at a robotics company and living on a farm with her childhood sweetheart (with whom she plans to marry in September) better than the life of an astronaut? "For what I have in life? Yes."
Still, she has not completely lost her desire for space travel. "Maybe we'll be able to go as tourists."