Exclusive: Automatica 2018 Before the Doors Open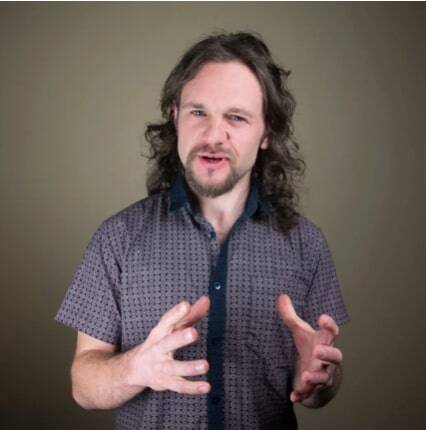 by
Alex Owen-Hill
. Last updated on Jun 18, 2018 4:19 PM
Posted on Jun 18, 2018 4:03 PM. 4 min read time
Do you want an exclusive look behind the scenes at Automatica 2018 before the doors open tomorrow? Robotiq has set up shop and we're getting ready for an exciting week ahead!
The buzz of an electric screwdriver echoes round the giant hall, the hum of computers loading up, the sound of a Robotiq team member asking "Does this cable plug in here?"
Around us, teams from all over the world are setting up tables, building backdrops and re-calibrating their robots.
Yep. We're here at Automatica 2018!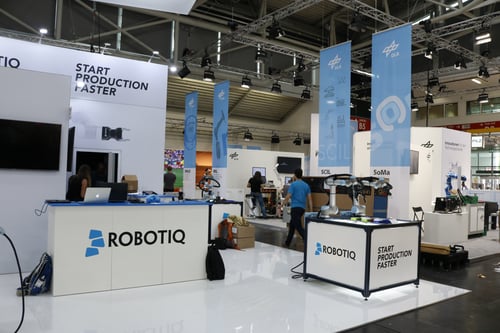 We're in Hall B4, Booth 405.
And this year, there's a lot of us! Since we last came to the Automatica trade fair, back in 2016, our team has grown a bit. Two years ago there were a only a handful of us from Robotiq. This year, we've brought an army… well, maybe that's a bit of an exaggeration, but there are certainly a quite a lot of us.
Today, we've been setting up our booth and getting settled in.
Before the doors open to the public, we want to give you an exclusive look at Automatica 2018 and the Robotiq booth.
What is Automatica 2018?

Some people say it is "the most important trade fair" in the automation industry. It's certainly one of our favorites. Automatica is held every two years in the Neue Messe München Exhibition Centre in Munich, Germany. This is the third time we've attended.
The show mostly focuses on the industrial side of automation, but there are always some interesting developments from robotics research too. There's a huge range of automation technologies on show, including integrated assembly solutions, industrial robotics, safety technology, machine vision and positioning systems, to name just a few.
Tomorrow the doors open and thousands of delegates will flood into the six huge halls, from industries as diverse as automotive, chemicals, food and beverage, logistics, packaging and many more.
If you're here at Automatica and you need some help orienting yourself, check out their very useful online system.
Also, here's where our booth is in relation to everything else. Finding one of the booths on these drawings is a bit like a game of Where's Waldo?: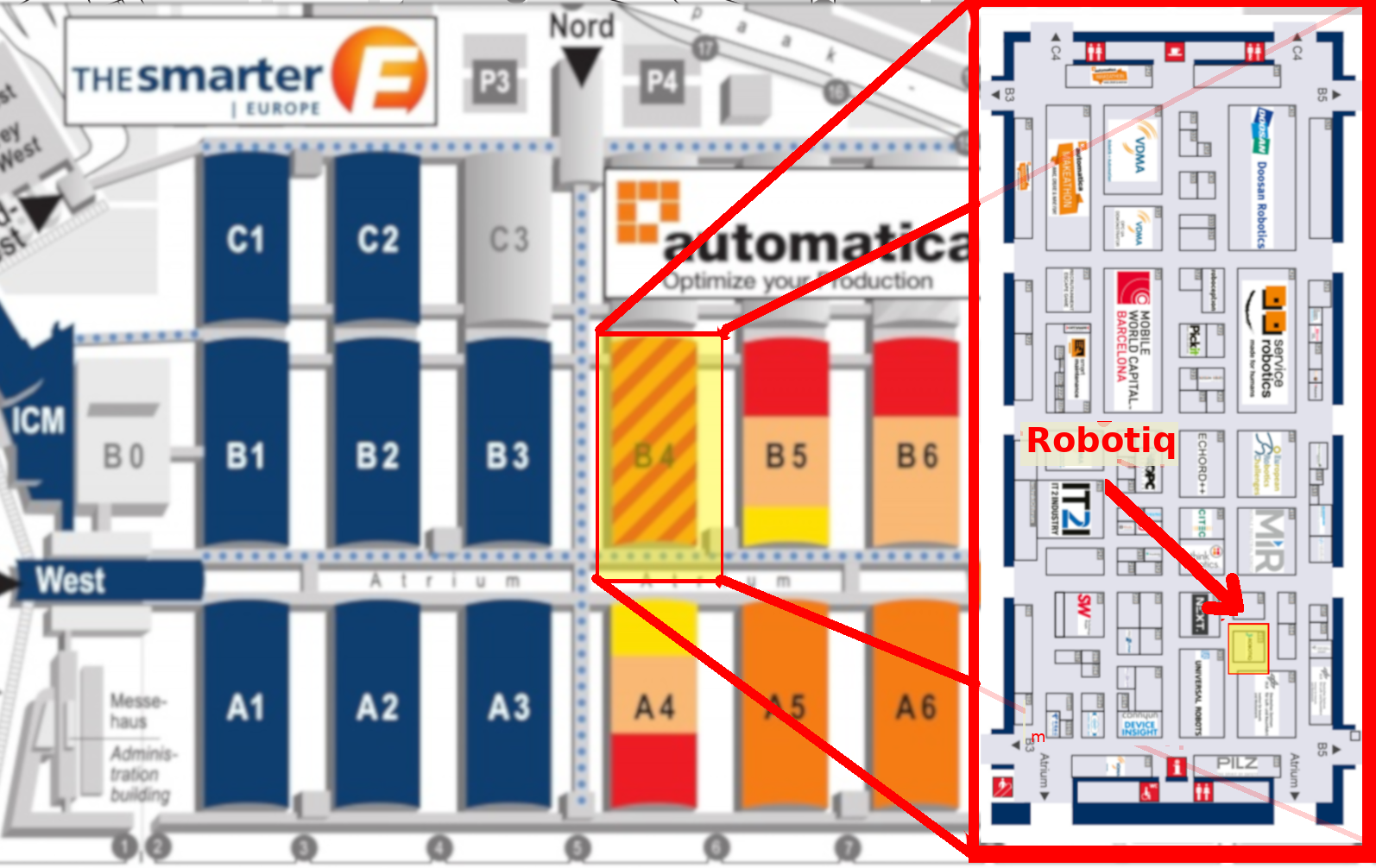 How do you turn on our robot again!?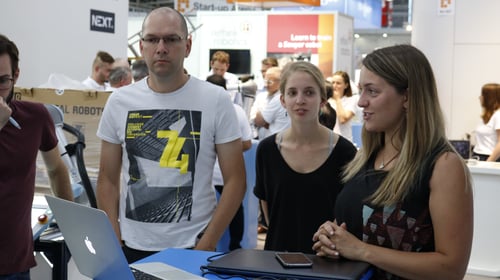 Today we've been very busy today, despite the fact that there are no members of the public here yet.
What have we been doing? Building and learning.
Everyone in the team needs to be on the same page before we can start explaining our products to the public.
Our Events Coordinator, Fanny Borgeat, made sure everyone knew what was going on. In the background, you can see our friends at NEXT robotics having their own team pep talk.
This year, we have a Teaching Station where people can try out programming applications for themselves. But, first we had to learn how to use them ourselves! After all, it's no good having a demo if not everyone knows how to use it, is it?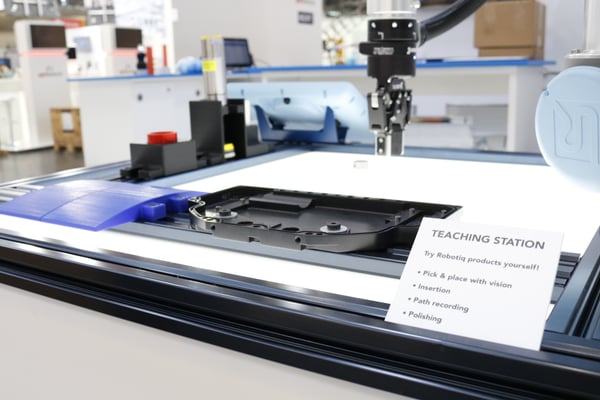 Integration Coach Louis Bergeron explained the polishing demo, which uses the Robotiq FT 300 Force Sensor.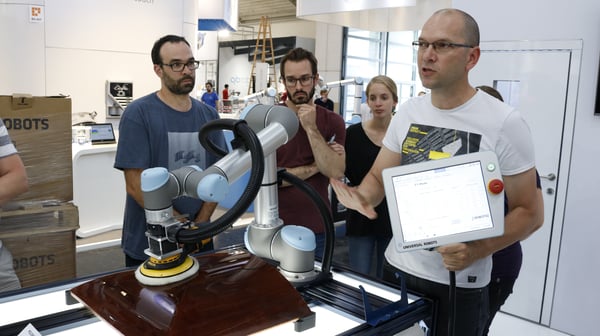 Don't worry, those boxes and that ladder in the background will be gone by tomorrow... we hope.
Then, Integration Coach Nicholas Francoeur explained our precision assembly demo, which uses both the Hand-E and 2F-140 Adaptive Grippers, the FT 300 Force Sensor and the Wrist Camera.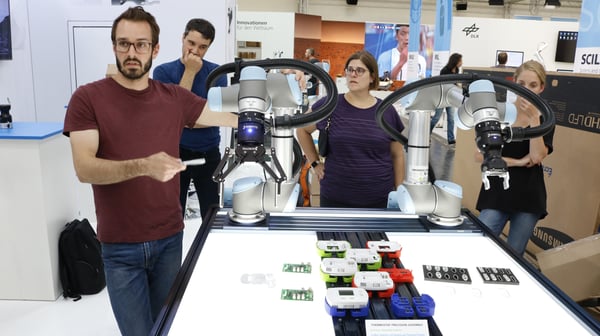 Everyone listened carefully, though perhaps they secretly wished they were watching the football (soccer) on the big screen behind them.
The robots are loading up for tomorrow!
The robots are all loaded up. They're ready and waiting for tomorrow. And so are we.

Our booth is now ready and we are having a well deserved rest before it all kicks off.
Roll on tomorrow and the start of Automatica 2018!