Day 2: What Knocked Our Socks Off Today @Automatica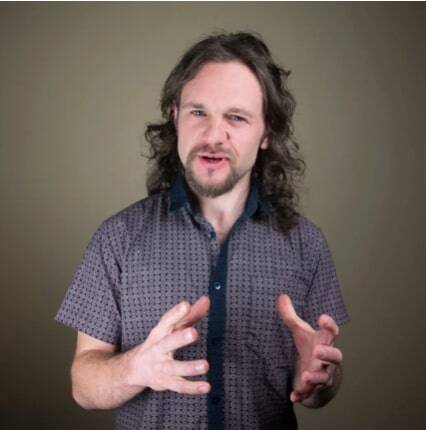 Today has been even busier than yesterday for us here at Automatica 2016. It has been practically non-stop. There are so many things happening at the same time and not enough time to see them all!
We are now relaxing at a well-deserved party with Universal Robots. But before we get to that, let's have a look as the things that knocked our socks off today.
The Fastest Chocolate in the West
Yesterday, we mostly hung around in Hall B5. But today, as we told you earlier when we met ROB Technologies, we have been venturing further afield. The great thing about going to other halls is that you get to see more of the booths. The downside is that you have to walk long long distances. This place is huge!
Stäubli was one of our first stops today, not too far from our own booth in Hall B5. We were impressed by their pick-and-place robot, moving pieces of chocolate at lightning speed. As big chocolate fans, we probably could have watched it for hours, it was quite hypnotic…but unfortunately we had to keep moving. We had somewhere to be.
An Interesting Talk on Hospital Robots, Probably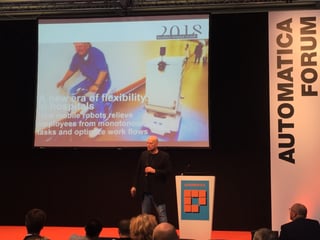 After a brisk walk to Hall A5, we passed by the AUTOMATICA Forum. There are presentations here all day with programs devoted to various topics, including Service Robotics & Startups, Smart Factory & Digitization and China. We were due to come back later in the day for a presentation on Hirebotics, which we'll tell you about in another post.
As we passed, there was an interesting looking talk going on about robotics in hospitals. The project was looking at how mobile robots could be used to relieve hospital employees from monotonous tasks and optimize workflows. Unfortunately, we couldn't hang around to listen. There are too many events going on here!
A New Safety Concept from Bosch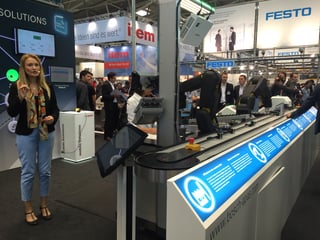 Where were we headed to in such a hurry? To the presentation at the Bosch booth (Hall A5, Booth 306) about the new collaborative robot kinematics for their APAS robot.
The APAS is a collaborative robot with safety in mind. It is covered in a sleek, black covering which incorporates safety sensors for detecting collisions, which they call its "safekin." However, it is more than a mere physical bumper. Just like the MRK Systeme sensor sleeve for KUKA's KR 5 SI (which you can read about in our Collaborative Robots Ebook) the APAS sleeve includes non-contact safety sensors. You can see in this video how the robot stops before the presenter even touches it.
Safety is one of the big features of the APAS and Bosch have had its safety concept certified by the German Employer's Liability Insurance Association.
The basic APAS can be extended with optional 3D-camera system, a gripping system and additional software packages. It is designed for direct and safe collaboration with people, as you can see in this video.
Robots in Balls. Whatever next?
Everything in Automatica seems to have been designed to grab people's attention. And it works! As we were walking back from the Bosch booth, we couldn't help but chuckle at this marvellous display - a KUKA robot in a pool of balls! We resisted the temptation to jump inside.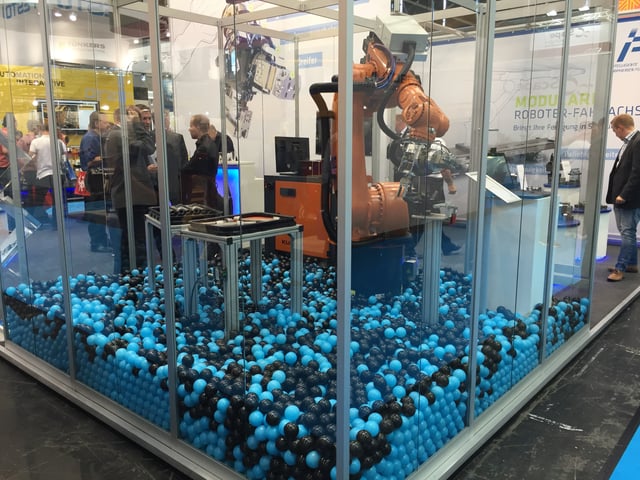 Time to Recharge Our Batteries for Tomorrow
Finally, it's time to put down the robots for the day and have a few beers. No soccer today. This evening, we joined the guys at UR for bit of a party.

If you read yesterday's post, you might be thinking "There seems to be a lot of beer at Automatica!" Well, we're in Munich after all - home of Oktoberfest. It would be strange not to drink beer!